Robert P. Jones via #WhiteTooLong: Why We Must See Beyond a White Baby Jesus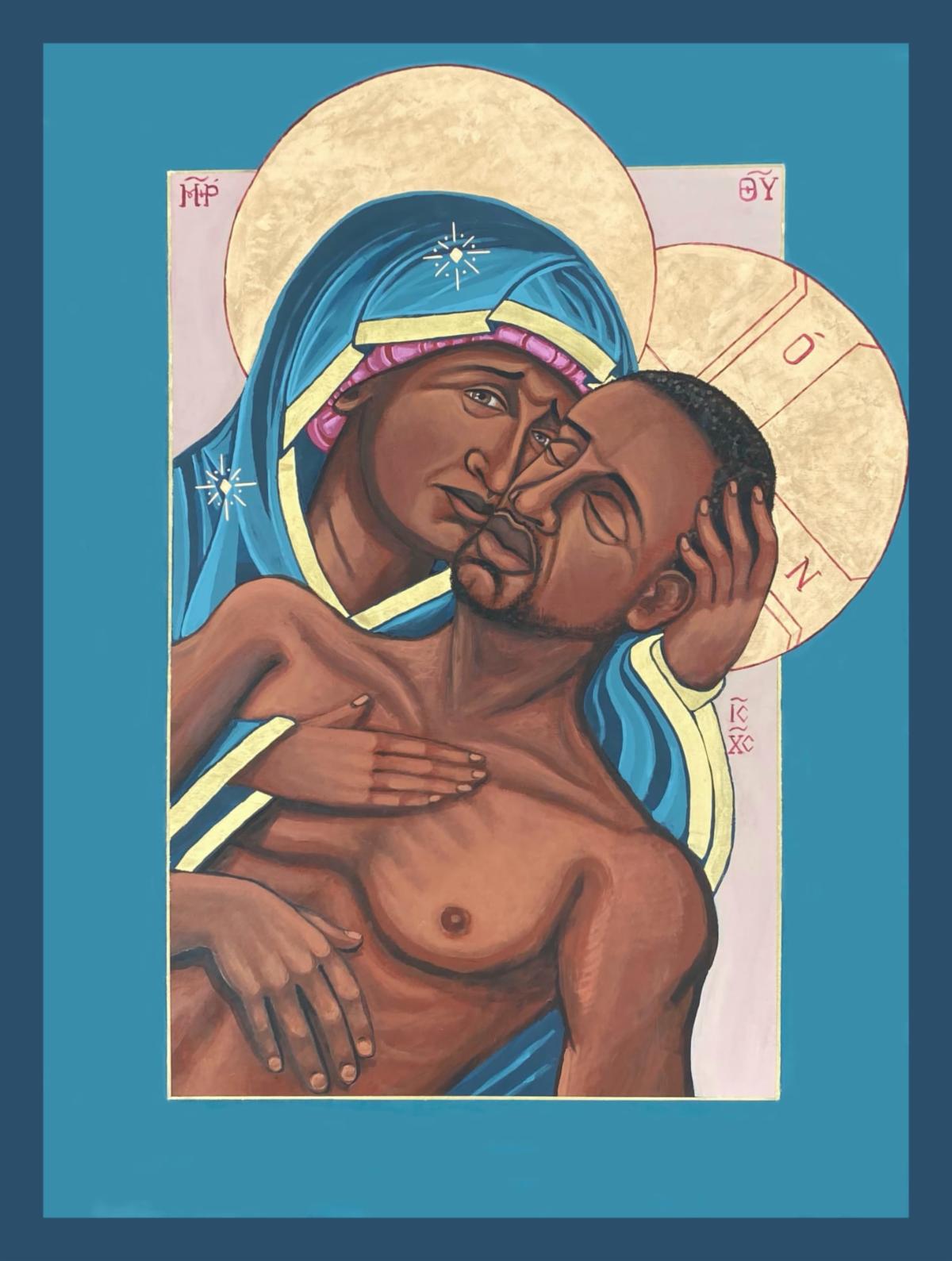 Robert P. Jones via #WhiteTooLong: Why We Must See Beyond a White Baby Jesus
A painting depicting Mary cradling the body of a crucified Jesus recently went missing from the Catholic University of America's law school. This happened after the painting and its artist, St. Louis-based Kelly Latimore, were targeted by a conservative website. The issue? Mary and Jesus are depicted with brown skin, while the image of Jesus resembles George Floyd. Religion News Service reports that both Latimore and CUA received "racist and offensive" comments, with Latimore even receiving death threats. Writing on his #WhiteTooLong Substack about representations of Jesus during the Advent season, Jones observes: "On white Christian mantels and white Christian church lawns across the country, nativity scenes continue to depict…a white holy family surrounded by throngs of other white folks." He notes that the only brown-skinned figure is usually Balthasar, one of the three wise men who bears the gift of myrrh. "But everyone else—notably the angel and the baby Jesus, the two images connected with the divine—is white." Jones also points out that many people have visceral negative reactions to any depiction of Jesus with something other than white skin. "It's these pre-verbal, pre-rational reactions, the unexpected dissonances, that help cast light on those dim corners where white supremacy still lurks in our theology. That uncomfortable realization creates the space for theological healing and growth." Read and subscribe to the #WhiteTooLong Substack here.
---
Many Americans Support Religious Exemptions. Fewer Support People Who Claim Them
Kelsey Dallas of Desert News expands on findings from the latest PRRI-IFYC study on COVID-19 vaccinations and religion: some of the same adults who view vaccine refusers with suspicion say COVID-19 vaccine mandates should include religious exemptions. Dallas states this has caused "complex—and sometimes conflicting—beliefs about religion's role in the COVID-19 crisis."
The PRRI-IFYC survey found that nearly 6 in 10 say getting a COVID-19 vaccine is a way to obey the religious call to love one's neighbors, though Dallas notes how very few see the tension between supporting vaccination and living out their faith. The demographic splits from this study are severe—73% of Republicans favor allowing religious objectors to receive exemptions, compared to just one-third of Democrats (33%). Dallas highlights that the number of Americans who are skeptical of religious objectors is higher than the number who favor offering religious exemptions to vaccine mandates.
---
A High-Profile Televangelist Died From COVID-19 After Discouraging Vaccines, and Some Christian Leaders Don't Want to Talk About It
After the death of televangelist Marcus Lamb two weeks ago due to COVID-19, conservative Christian leaders responded with positive assurances that avoided the reality of the situation: "Lamb had led his global Christian network, Daystar, for months in spreading inaccurate information about coronavirus vaccines," Michelle Boorstein reports for The Washington Post. The virus, vaccines, and vaccine mandates were likened to "the devil trying to attack followers of a true God," by Lamb and others on Daystar, and Boorstein links this to experts stating there is "skepticism of anything that appears secular." She cites data from the PRRI 2020 Census of American Religion noting that 14.5% of Americans are white evangelical Protestants. According to the November 2021 PRRI-IFYC survey, white evangelical Protestants remain the religious group with the lowest percentage of vaccine accepters, though they have steadily grown more acceptant, from 45% in March to 65% in November.