Robert P. Jones: It's the Culture, Stupid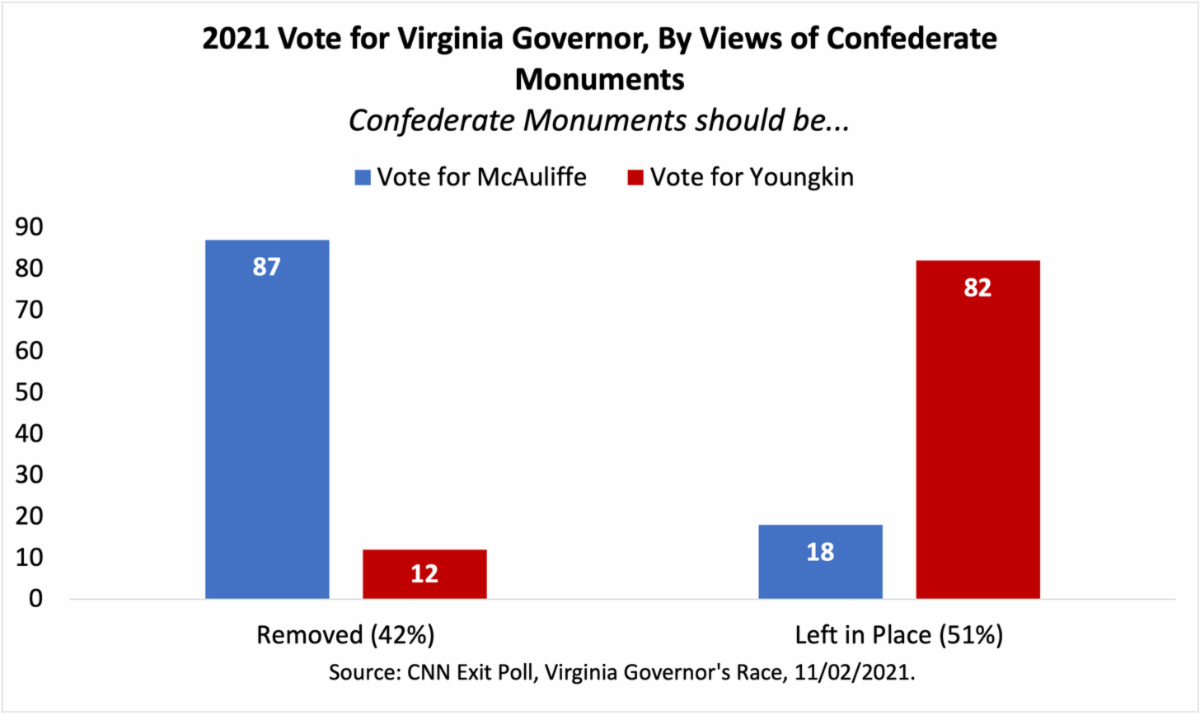 Robert P. Jones: It's the Culture, Stupid
In his latest #WhiteTooLong Substack post, PRRI founder and CEO Robert P. Jones discusses how strongly racial attitudes correspond with vote choices in the Virginia elections last week: "Among the 42% of Virginia voters who believe that Confederate monuments should be taken down, nearly nine in ten (87%) voted for the Democratic candidate Terry McAuliffe. Among the 51% of Virginia voters who believe that Confederate monuments should be left in place, more than eight in ten (82%) voted for Republican candidate Glenn Youngkin." Jones writes, "In recent years, public opinion surveys have been clearly telling us that our two political parties are polarizing not over competing economic visions but over disparate visions of American identity. …If we really want to heal the soul of the nation and achieve our country, we can't continue to paper over racial injustice with economic policy. 'It's the culture, stupid'—or less euphemistically, 'It's white supremacy, stupid'—must be the new mantra of political analysts today." Sign up to receive Jones's columns directly to your inbox each week here.
---
Biden: Families Separated at the Border under Trump Deserve Compensation 
Zeke Miller and Colleen Long of the Associated Press report that President Biden supports government compensation for immigrant families separated at the border under the Trump administration's "zero tolerance policy." About 5,500 children were separated from their parents, who faced criminal prosecution for crossing the border illegally. Initially, the government considered payments of around $450,000 to each family affected but has since changed the figure. PRRI data from 2020 shows that the vast majority of Americans (76%) opposed a border policy that separates children from their parents and charges parents as criminals when they enter the country without permission, including 53% of Republicans, 63% of white evangelical Protestants, 69% of white Catholics, and 75% of white mainline Protestants.
---
Department of Labor Looks to Roll Back Religious Exemption Expansion
Julia Love of Reuters reports that the U.S. Department of Labor announced a proposal that would rescind a Trump administration rule that broadened religious exemptions to include "employers who hold themselves out to the public as carrying out a religious purpose." Prior to the Trump rule change, which went into effect in the last days of the administration, the exemption was applied to a more narrowly defined set of religious groups. Love reports that, according to the Trump administration, the rule was necessary to ensure "the full participation of religious organizations in the federal contractor system. But critics of the rule, including LGBTQ groups, warned that it would open the door to discrimination." PRRI 2021 data shows that a majority of Americans (63%) oppose allowing small business owners to refuse service to LGBTQ people if doing so violates their religious beliefs. However, a majority of white evangelical Protestants (62%) say that they support allowing small business owners to refuse to serve LGBTQ people, up from 54% in 2019 and 51% in 2015.