Report: Trump Thinks Socialism Will Be Tough to Beat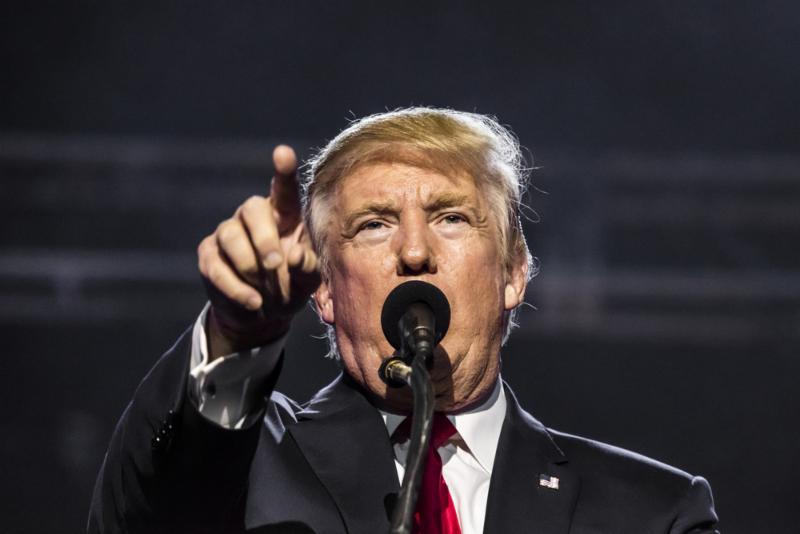 Report: Trump Thinks Socialism Will Be Tough to Beat
A new report in The Daily Beast alleges that President Donald Trump believes socialism will be tough to beat in 2020. Candidates such as Sen. Bernie Sanders (I-VT) and Sen. Elizabeth Warren (D-MA) are two politicians named in the report whose populist message could prove intriguing to voters. Sources told The Beast that the appeal of socialism and "free stuff" has been brought up in private conversations with donors. "Trump's private concessions don't reflect the message he and his party organs have typically pushed in public. Over the last year, the president, his campaign, the Republican National Committee, and a host of other prominent GOP campaign groups have sought to paint much, if not all, of the Democratic field as 'socialist,'" reports The Daily Beast. A 2018 PRRI survey found that many Americans were still split over how to define socialism. PRRI's David Tigabu writes, "A majority (54%) of Americans identify socialism as a system of government that provides citizens with services like health insurance, retirement support, and access to free higher education, according to PRRI's 2018 American Values Survey. Forty-three percent of Americans say socialism is a system where the government controls key parts of the economy, such as utilities, transportation, and communications industries."
Are All of Your Friends White?
An editorial in the student newspaper at Tulane University challenges the reader to look at their friend groups and ask—are all your friends white? Student Shahamat Uddin explains the social struggles facing students of color at the school. "At a predominantly white institution, Brown and Black students do not have the luxury to pick and choose friends from a larger population that looks like them. White students at Tulane can, by contrast, walk into their first dorm hall meeting and probably see a large group of people that share their lived white experiences." Uddin cites PRRI data from 2014 that shows 75% of whites have entirely white social networks without any minority presence. More recent PRRI data shows that nearly three-quarters (74%) of Americans say that they interact with someone of a different race or ethnicity in the workplace, 46% say in their friendship circle, and just 7% say that the interactions happen at school.
Politico: All is Not Well At Liberty University
A new Politico exposé on Rev. Jerry Falwell Jr. draws attention to concerns about Falwell Jr.'s behavior from within his professional and social circles. Among the concerns are how Falwell Jr. has used university funds to advance his private interests. "We're not a school; we're a real estate hedge fund," a senior university official with knowledge of Liberty University's finances tells writer Brandon Ambrosino. "We're not educating; we're buying real estate every year and taking students' money to do it." The sprawling article also details Falwell Jr.'s intimidation tactics within the Liberty community, as well as the rise of his political influence. According to those closest to Falwell Jr., the evangelical leader has gained more influence from associating with President Donald Trump, than vice versa. "In Trump, Falwell has found the opportunity to secure his status as one of America's preeminent Christian political leaders—the chance to finally obtain the national relevance of his father," Ambrosino writes. What remains to be seen is whether the broader evangelical community will take issue with Falwell Jr.'s personal life. PRRI data shows that in 2011, 61% of white evangelicalProtestants said that a public official who commits an immoral act in their personal life cannot still behave ethically and fulfill their duties in their public and professional life. When the question was asked again in 2016, that number had fallen to 20%.
Does Kentucky's Governor Speak for the State on Abortion?
According to a recent op-ed by Kim Greene in The Courier Journal, Republican Kentucky Gov. Matt Bevin does not speak for most of the state when discussing abortion. Bevin has continuously fought against having Planned Parenthood abortion licenses in Kentucky and says that his message reflects what most Kentuckians think about abortion. "We need a governor who represents Kentuckians. Not one who will attack reproductive health care and work tirelessly to take away Kentuckians' reproductive rights. And certainly not one who will weaponizea regulatory process to deny an abortion facility license to Planned Parenthood of Indiana and Kentucky, as Gov. Matt Bevin did last Friday night," writes Greene. Greene cites PRRI's most recentdata that shows that a majority (54%) of Americans believe that abortion should be legal in all (23%) or most (31%) cases, while four in ten (40%) believe that abortion should be illegal in most (25%) or all (15%) cases. However, that same survey showed that only 43% of Kentuckians support making abortion legal in all or most cases, while 20% believe it should be illegal in all or most cases.