PRRI's Latest Data Shows Trump Support Slipping Among Some Groups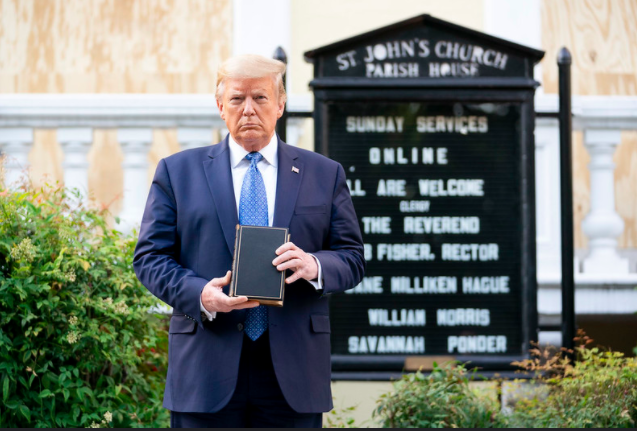 PRRI's Latest Data Shows Trump Support Slipping Among Some Groups
On Thursday, PRRI released its latest report "
Trump Favorability Slips Among White Catholic and Non-College Americans During National Unrest
," the fourth installment of our 2020 analysis on President Donald Trump's favorability across the nation. Following a significant drop in favorability within several major subgroups, Trump's favorability has remained stable between April and May. New data from PRRI shows that 41% of Americans hold favorable views of President Donald Trump, while a 55% majority hold unfavorable views of him. These numbers are similar to Trump's favorability in April (43% favorable, 54% unfavorable). However, Trump's numbers have shown significant declines in his key constituency of white Americans without a four-year college degree. Under half (47%) of this group hold favorable views of the president, down from 54% in April and a high point in March of 66%.
James Mattis: Trump is a Threat to the Constitution
PRRI data from 2017 shows that 46% of Americans, including 75% of Democrats and 10% of Republicans
, thought that President Donald Trump's policies posed a threat to the country. Following Trump's use of American military in response to protests in Washington, D.C., former defense secretary James Mattis has spoken out. "Donald Trump is the first president in my lifetime who does not try to unite the American people," Mattis 
writes
. Mattis' comments come during a period that has seen a decline in favorability among some of Trump's base. A PRRI survey conducted before and after May 28 shows support among Republicans declined from 88% before May 28, to 79% after May 28. President Trump 
responded
 that he "felt great" about firing Mattis and that Mattis rarely "brought home the bacon," with respect to his job duties.
Virginia Governor Announces Removal of Robert E. Lee Statue
Evangelicals Chastise Trump For His Handling of Protests Across the U.S.
PRRI's most recent data shows that 62% of white evangelical Protestants hold favorable views of President Donald Trump. In recent days, evangelicals appear divided over President Trump's handling of recent protests. Evangelical leader Pat Robertson thinks Trump should have reached out to the protest movement instead of answering it with "law and order." "You just don't do that. Mr. President. It isn't cool," Robertson 
said
. In Houston, Pastor Joel Osteen marched with protestors in support of the movement. "We need to stand against injustice and stand with our black brothers and sisters," Osteen 
said
. In The Guardian, Matthew Teague 
writes
 of the spectrum of evangelical reactions to President Trump's Monday night photo-op outside St. John's Church. "Evangelicals are not monolithic: some saw the gesture as cynical, a ploy by a president whose decisions, both private and public, do not align with biblical principles."
Polygon: 'Star Wars' Actor Gets Right What Series Got Wrong
Actor John Boyega, best known for his appearances as Finn in the Star Wars canon, has made himself a visible presence at recent protests in England. In a recent piece for 
Polygon
, Robert Daniels writes of Boyega embodying something that the series has missed. "While Star Wars as conceived by Lucas had a message about resistance through conflict, the Black resistance of the 1970s, in which activists called for liberation through armed self-defense, wasn't present," Daniels writes.