PRRI Publishes New Survey Showing Drop in Trump Support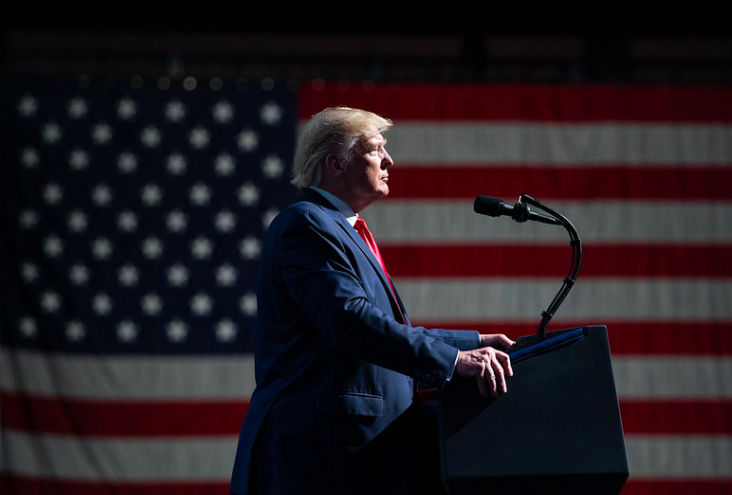 PRRI Publishes New Survey Showing Drop in Trump Support
PRRI's latest release, published on Friday, shows that President Donald Trump's favorability numbers have fallen considerably since their historic bump in March. Overall, Trump saw a drop of 6 percentage points from 49% to 43% favorability among the American people. The survey was conducted between April 21 to 26, six weeks after Trump declared a national emergency to manage a response to the coronavirus pandemic. Trump's numbers also fell among his most consistent supporters. On Twitter, Greg Sargent of The Washington Post notes this drop. "It looks like the erosion in Trump's hard-core base is very real," Sargent writes. "His favorability has dropped 11 points among white evangelicals, from 77% in March to 66% now. It's dropped 12 points among noncollege whites, from 66% to 54% now."
Trump's Numbers Fall in Battleground States
PRRI's latest survey release, the second update in an ongoing track of President Trump's favorability, shows a sharp decline in states important to Trump's 2020 presidential campaign. Trump's favorability in battleground states (Arizona, Florida, Michigan, North Carolina, Pennsylvania, and Wisconsin) has dropped substantially since March, from 53% to 38%. The president's favorability in Democratic-leaning and Republican-leaning states has not significantly changed. About four in ten Americans in Democratic-leaning states hold favorable views of Trump now (41%) and in March (40%), although this is a notable improvement for Trump in these states compared to 2019 (35%). Trump's favorability among white Christians in battleground states (48%) has also dropped by almost 30 percentage points since March (75%).
Joe Biden Responds to Sexual Assault Allegations
In an online statement and MSNBC appearance on Friday morning, former Vice President Joe Biden denied any allegations of sexual misconduct made against him from former staffer Tara Reade. "I have spent my career learning from women the ways in which we as individuals and as policy makers need to step up to make their hard jobs easier, with equal pay, equal opportunity, and workplaces and homes free from violence and harassment," Biden writes. Biden also calls on the National Archives to release any documentation of the complaint made against him. According to PRRI polling, more than seven in ten (72%) women, compared to 57% of men, say that real experiences of sexual harassment or assault that are not reported or believed are a bigger problem in the U.S. than false accusations made about sexual harassment or assault.
Aaron Blake: Trump is Angry About His Poll Numbers with Good Reason
A recent piece by Aaron Blake in The Washington Post looks at the downward trend several polls indicated for President Trump's approval and favorability ratings. These numbers suggest that Trump could have a difficult path towards re-election. "[The numbers] also suggest that he might have to fend Biden off in some states that should be relatively safe. And if he is losing or even just struggling in these kinds of states, Trump will have a very difficult time piecing together the 270 electoral votes he needs." Blake cites PRRI data that shows a 15 percentage point drop in Trump favorability in battleground states in the last month.
Anderson Cooper Announces Birth of Son
On Monday, CNN's Anderson Cooper announced the birth of his son Wyatt Morgan Cooper. Cooper shared the news on his CNN show on Thursday, and reminded viewers to try and embrace whatever happy moments they could during the current crisis. "It's been a difficult time in all of our lives, and there are certainly many hard days ahead," Cooper said. "It is, I think, especially important in these times of trouble to try to hold on to moments of joy and moments of happiness." In an emotional Instagram post earlier that day, he thanked the surrogate who carried Wyatt and the doctors who helped along the way. PRRI data from 2013 shows that more than two-thirds (68%) of Americans agree that gay and lesbian couples can be as good as heterosexual couples as parents, while less than three in ten (28%) Americans disagree. Agreement on this question has increased 14 points since 2003, when 54% of Americans said that gay and lesbian couples could be as good as heterosexual couples as parents, compared to 37% who disagreed.