Pro-Choice Majorities Faced With Anti-Choice Laws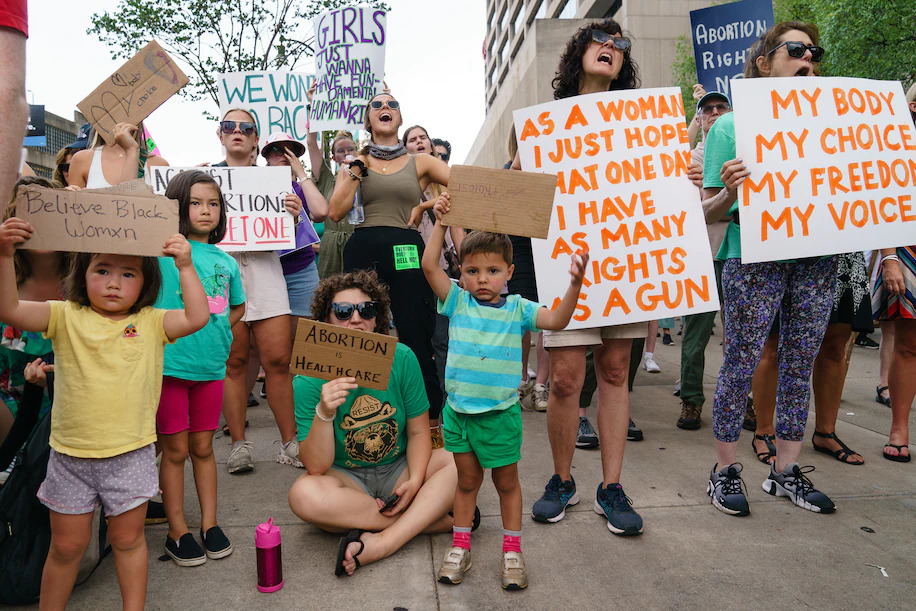 Pro-Choice Majorities Faced With Anti-Choice Laws
Political scientists Jake Grumbach and Christopher Warshaw write for The Washington Post's Monkey Cage blog on the states prepared to overturn or uphold abortion rights now that they have full discretion to do so. Thirteen states have trigger laws, and another 13 states are likely to severely limit the availability of legal abortions in the coming months, according to the Guttmacher Institute. While the U.S. Supreme Court majority has "justified the decision by saying that it is returning the 'authority to regulate abortion' … to the people and their elected representatives,'" the authors highlight that there are significant discrepancies between the preferences of Americans in many of the states and legislation that is pending or current. In fact, many states with "draconian antiabortion laws have strong pro-abortion-rights majorities," they write.
This problem is amplified by gerrymandered legislative maps that have strengthened Republicans' state legislative majorities, with some purple states "largely insulated from a backlash to an abortion ban." PRRI research found that as of March 2022, a broad majority of Americans opposed overturning Roe v. Wade (61%), and just over one-third (36%) support it. Grumbach and Warshaw conclude that a majority of the public supports legal abortion rights in about 40 states, while only about 10 states have majorities that oppose allowing abortions. They conclude that many Americans will live under new abortion bans that they do not support.
---
Could Latin America Provide a Roadmap for Abortion Rights?
Nicole Acevedo for NBC News examines the perspective of Latin American women, some of whom just celebrated the legalization of abortion at up to 24 weeks in Colombia earlier this year. Paula Avila-Guillen, executive director of the New York-based Women's Equality Center, said that the United States needs to focus "on advances on how abortion is provided — including the ability to receive abortion pills by mail — as well as pushing for congressional legislation to codify abortion rights." As nearly two dozen states move to ban the procedure following Roe v. Wade's official repeal Friday, Avila-Guillen notes that the fight for reproductive rights in her native Colombia took 15 years of civil and legal advocacy in Colombia. The country "now joins Argentina and parts of Mexico in the short list of places in Latin America where terminating a pregnancy is no longer a crime," Acevedo writes.
In El Salvador, where there is a total abortion ban, women who have miscarriages and stillbirths "have been wrongfully sentenced to years in prison," with at least 180 women prosecuted who experienced obstetric emergencies in the past two decades. The U.S. Supreme court decision represents "a decades-long push by conservatives, religious activists and advocates who oppose abortion," Acevedo concludes. Research from PRRI finds that "Hispanic Americans are the most divided" on the issue of abortion, expressing slightly more opposition (48%) than support (45%) in 2019.
---
States Take Sides on Reproductive Rights
Taryn Luna, Melanie Mason, and Melody Gutierrez write for the Los Angeles Times on the "great divergence" within American politics after a reversal of 50 years of precedent on the topic of abortion. Gov. Gavin Newsom promised a "sanctuary" for free abortion care in California, while in Texas, where performing an abortion will soon be a felony,  Gov. Greg Abbott celebrated. "The disparate responses from the governors of the two most populous states in the nation highlighted the stark political divide in America, deepened by radically different approaches to healthcare, gun control, the COVID-19 pandemic, LGBTQ rights, immigration and now, once again, reproductive rights," the authors summarize.
Gov. Newsom joined Oregon Gov. Kate Brown and Washington Gov. Jay Inslee on Friday, announcing a commitment to reproductive health services and contraceptives. Along the West Coast and in the Northeast and mid-Atlantic, 20 states have policies designed to protect the right to end a pregnancy, while a separate 20 — mainly in the South and the West—are moving quickly to ban or severely restrict abortion. In the states that remain, abortion "remains hotly contested." PRRI found that in California, Oregon, and Washington, for example, roughly 60% of residents said abortion should be legal in all or most cases. By contrast, the authors write, only about 40% of people took that position in the most strongly antiabortion states, including Mississippi, Arkansas, Louisiana, South Dakota, Utah and Idaho.