President Trump's Favorability Hits All Time High as Americans Receive Sobering News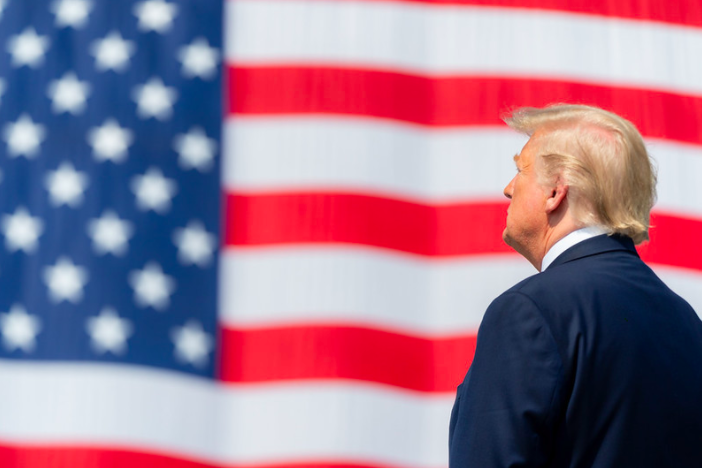 President Trump's Favorability Hits All Time High as Americans Receive Sobering News

According to PRRI's latest data, favorability of President Donald Trump has hit its highest level since 2015, with nearly half (49%) of the nation saying they hold favorable views of the president. Amid these dramatic changes to American life, there appears to be evidence for a moderate "rally around the flag" effect for Trump. His favorability numbers are up nine points (from 40% in February to the current 49%), and the proportion viewing him unfavorably has decreased ten points (from 56% to 46%). The survey, conducted March 17-22, was released one day after Trump delivered a sobering message to the nation about the coronavirus pandemic, and that as many as 100,000 to 240,000 Americans could die from the disease. PRRI data also indicates that more than half (57%) of those holding very unfavorable views of President Trump are likely to avoid all of eight activities involving crowds or other people. 

What Happens When the Red States Feel the Impact of the Coronavirus?

As the coronavirus pandemic breaches a new month on the calendar, focus has intensified on the states that have not yet felt the wide impact of the virus. Thus far, states that have been impacted the most — California, New York, and Washington — are led by Democratic governors that are sometimes at odds with President Trump. According to Peter Nicholas in The Atlantic, the coronavirus doesn't end at state lines, and it is only a matter of time before more Republican-leaning states find themselves in the position that Democratic-leaning states are currently in. "Over time, though, Trump may find even some of his closest political allies demanding more help from the White House. Republicans' traditional aversion to government intervention and economic aid will face a severe test as more and more of their constituents fall ill," Nicholas writes. PRRI data shows that individual responses to the pandemic have not waivered by party. Americans are united across party lines in their determination to avoid activities that involve crowds or groups of people. About half of Democrats (51%), Republicans (49%), and independents (46%) say they are avoiding group activities. Additional PRRI data shows an increase in Americans' favorability of Trump during the coronavirus. Currently, 89% of Republicans hold favorable views of Trump, up from 84% in February and higher than at any point in the past year. Democrats are up to 14%, from 9% in February. 
Movie Theater Brings Back A Long Gone Staple of Entertainment

Across the United States, Americans have dealt with a new reality where local and federal regulations caution against social interaction to varying degrees. Recent PRRI data shows that 79% of Americans would avoid going to the movies as a result of the coronavirus. In order to provide entertainment, as well as allow people to stay within suggested guidelines for social distancing, one Texas movie theater has brought back the drive-in movie experience, once a staple of American entertainment. In Schertz, Texas, local movie chain EVO Entertainment Group, has reintroduced the concept to sold out crowds. "This is a difficult time for everyone, so we've made it our goal to find a way to spread positivity within our community while sharing in the responsibility of social distancing during the crisis," Mitchell Roberts, CEO of EVO Entertainment Group CEO, says.

How Coronavirus Impacts the Southern Border

Due to new protections put in place to combat the coronavirus, the process to deport a migrant at the southern border is becoming faster. According to The Washington Post, a migrant crossing the southern border could be sent back to Mexico in as little as 96 minutes. "Under the new rules, U.S. agents are processing migrants from Mexico, Guatemala, El Salvador and Honduras 'in the field' before they are able to set foot inside a U.S. Border Patrol station. The migrants are then whisked back to the border and sent into Mexico," the Post reports. The goal, according to U.S. officials, is to reduce the number of people in holding cells, and deter a further spread of coronavirus. Prior to the emergence of the coronavirus, nearly half of Americans (49%) rated immigration as a critical issue, 42% said it is one of many important issues, and only 9% say it is not important at all.