Peter Nicholas: Is Trump Set Up to Win?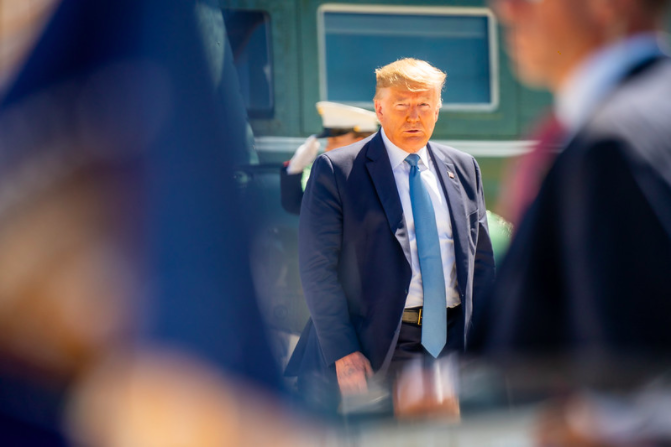 Peter Nicholas: Is Trump Set Up to Win?
In 
The Atlantic
, Peter Nicholas outlines a scenario in which President Donald Trump is re-elected in November, despite several hurdles in his way. "Facing the combined calamities of a pandemic and an economic meltdown, Trump hasn't collapsed. His base never really grows, but neither does it crumple, keeping him competitive," Nicholas writes. 
Recent PRRI data shows that President Donald Trump's favorability continues to trend downward
. Less than four in ten (38%) Americans hold favorable views of Trump and nearly six in ten (59%) view him unfavorably.
Local Governments Outraged at Federal Presence in Portland
PRRI data from 2017 shows that less than three in ten (29%) Americans say they trust the federal government to do what is right "just about always
"
 or "most of the time." A majority (56%) say it can be trusted "only some of the time," and 15% say it can be trusted "none of the time." In recent days, federal law enforcement and protestors have continued to engage one another in Portland, Oregon. "The situation has left city leaders, now watching the backlash unfold on their streets, outraged and caught in the middle. Mayor Jenny Durkan of Seattle said in an interview Sunday that the city is in the middle of a self-fulfilling prophecy, with protesters infuriated by the federal presence in Portland smashing windows and setting fires, the very images of 'anarchy' that the president has warned about," reports 
The New York Times
.
WNBA Players Walk Off Court Before National Anthem, Dedicate 2020 Season to Social Justice Issues
HuffPost Tackles 'White Too Long: The Legacy of White Supremacy in American Christianity'
In a recent piece for 
HuffPost
, Carol Kuruvilla examines Robert P. Jones' new book, "
White Too Long: The Legacy of White Supremacy in American Christianity
," out tomorrow from Simon & Schuster. "He argues that white Christians ― from evangelicals in the South to mainline Protestants in the Midwest to Catholics in the Northeast ― weren't just complacent onlookers while political leaders debated what to do about slavery, segregation and discrimination," Kuruvilla writes. Jones says he hopes the book will cause white Christian churches to do some internal reflection. "Part of what I hope the book will do is help white Christians tell a truer story about themselves," Jones says.