Peloton Backlash Causes Stock to Drop 15 Percent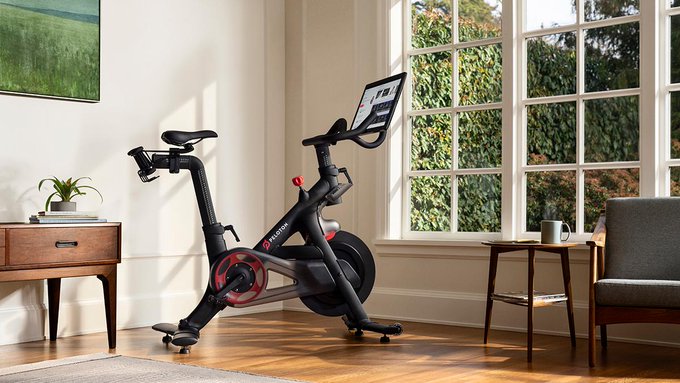 Peloton Backlash Causes Stock to Drop 15 Percent
A new holiday ad from exercise bike company Peloton has received criticism online across the world. The ad follows the one-year journey of a woman who was gifted a Peloton by her husband. Consumers found the ad problematic for several reasons, including the implication that the husband purchased the Peloton for his already slender wife in order to pressure her to lose weight. According to the company, the public received the wrong message from the advertisement. "Our holiday spot was created to celebrate that fitness and wellness journey," a representative for the company says. "While we're disappointed in how some have misinterpreted this commercial, we are encouraged by — and grateful for — the outpouring of support we've received from those who understand what we were trying to communicate." According to a new report in Business Insider, a heavy financial hit has accompanied the online criticism. In three days since the ad debuted, Peloton's stock fell 15%, or about $1.5 billion. Daniel McCarthy of Emory University explains the impact of social media influence on stockholders. "It can cause companies like Peloton to exhibit a lot more stock price volatility when there are events that can cause people's views to move up or down," he says. "I think that is exactly what we are seeing right now." PRRI data shows that less than three in ten Americans say they have signed an online petition (28%), or purposefully bought something to send a message (25%) in the preceding 12 months.
Republicans Try and Complicate Things for Transgender Children
Recent legislation that would remove transgender-specific healthcare from transgender children is the subject of a recent piece in Mother Jones. Laura Thompson looks at legislation in Texas, Illinois, North Carolina, and other states that would impede on a transgender child's life. In Texas, two Republican politicians have introduced a bill that would criminalize parents who allow their children to transition and stop the children from receiving transgender-specific healthcare. In Texas, Rachel Gonzales has spent the last two years fighting for the rights of her transgender child. "I really wish that our politicians would stop using young children for their political gain," Gonzales says. "It's so frightening to have the people that are supposed to be protecting all kids across the state to be instead picking and choosing who they want to protect and targeting the ones that they don't." Thompson looks at PRRI data that shows what Republicans think of the LGBT argument for youth. "In a recent study from the Public Religion Research Institute, nearly three-quarters of Republicans surveyed believe there are only two genders. Only one third said they would be 'somewhat or very comfortable' with having their child come out as transgender. (A little more than half of Democrats said they believe gender exists in spectrum, and 60 percent said they would be comfortable having a trans child.)," Thompson reports. PRRI data indicates that 67% of Texans support laws that would provide additional legal protections for LGBT individuals. 
Bloomberg: Trump's Boasts Could Lead to Election Peril
President Donald Trump routinely touts high numbers of approval within the Republican Party during speeches, rallies, and tweets. "We have tremendous support. Probably the most united that our party has ever been," Trump said this week in London. "I just had a 95 percent approval rating. It's the highest in the history of the Republican Party." In a recent piece for Bloomberg, Ryan Teague Beckwith looks at where the rest of the country stands compared to the 'Always Trump' voter. "The intensity of Trump's supporters is more than matched by his most vocal critics, giving him even less room for error as he faces re-election. In a recent survey by the Public Religion Research Institute, 46% of Americans disapproved of Trump's performance as president and said almost nothing he could do would win their approval, while only 26% said they approved and almost nothing would change their minds," Beckwith writes. PRRI Research Director Natalie Jackson explains to Beckwith the divide. "It's impossible to disentangle the effects of Trump versus the ongoing polarization that we've seen over the last couple decades," she says. "They're both going the same direction.
"Lifelong Conservative Republican" Fired From Job After Coming Out
Erin Dotten, a self-described "lifelong conservative Republican," says she was fired from her job as Assistant Director at Broward College's Health Sciences Simulation Center because she was transgender. "They made my life pure hell," Dotten says of her former employer's reaction to her transition. Dotten, who remains a Republican, says she is actively looking to educate her fellow Republicans about LGBT matters. She says she hopes the U.S. Supreme Court rules in favor of LGBT rights in upcoming court cases on the matter. "My case isn't about politics; it's about basic dignity and respect," Dotten explains. "It's supposed to be, 'Love your neighbor as yourself.' It's not, 'Love your neighbor as yourself unless they're in the LGBTQ community.'" In a piece for LGBTQ Nation on Dotten's story, Daniel Villarreal notes that PRRI data shows more support for LGBT rights about conservative Christians than anticipated. "Surprisingly, a 2017 survey from the Public Religion Research Institute found that conservative Christians actually support LGBTQ non-discrimination protections by margins of just over 50%, although their support ranks the lowest compared to every other faith," Villarreal writes. More recent data shows overall growth in support among several political factions. About three-quarters (76%) of Democrats report they have become more supportive of transgender rights in the last five years, compared to 64% of independents and only 47% of Republicans. Notably, increased support crosses ideological divides within the parties. Conservative Republicans (40%) stand out as the only ideological group with less than half reporting increased support for transgender rights.