Pelosi Highlights Catholic Faith in Back and Forth with Reporter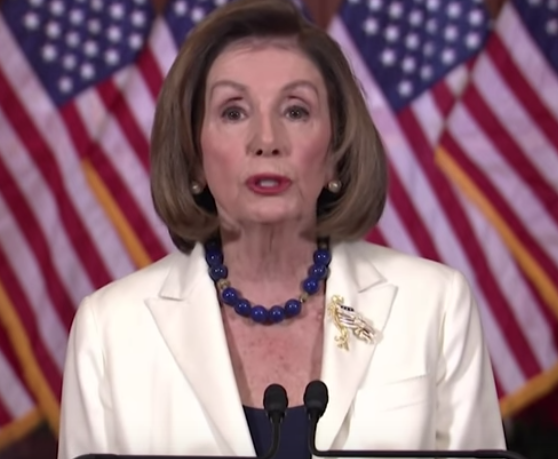 Pelosi Highlights Catholic Faith in Back and Forth with Reporter
After announcing that she had formally requested articles of impeachment against President Donald Trump, House Speaker Nancy Pelosi (D-CA) was asked by a reporter if she hated the man. This issued a scathing warning back to him in response. "I was raised in a Catholic house. We don't hate anybody," Pelosi told the reporter, while wagging her finger. "Not anybody in the world." She then took to the podium to clarify her remarks. "As a Catholic, I resent you're using the word 'hate' in a sentence that addresses me," she said. "I don't hate anyone. I was raised in a way that is a heart full of love and always prayed for the president, and I still pray for the president. I pray for the president all the time." PRRI data shows that Catholics are split on President Trump. White Catholics divide relatively evenly between approval (48%) and disapproval (50%), while Hispanic Catholics overwhelmingly disapprove (28% approve, 72% disapprove), including a 52% majority of Hispanic Catholics who strongly disapprove. Seven in ten (70%) of Catholics say they wish Trump behaved like previous presidents.
What Nebraska Says About the Rest of the Country
PRRI Research Director Natalie Jackson recently spoke with the National Catholic Reporter about PRRI's recent survey which focused on Nebraska. The report, titled "In Middle America, Nebraskans Struggle with a Changing Cultural Landscape," looks at how trends among Nebraska voters stack up with the rest of the country. "Despite Nebraska being a little more Republican, a lot of these results looked pretty similar as far as experiences with diversity and their preferences for a diverse society," Jackson said. Data shows that only 15% of Nebraskans say they rarely interact with someone of a different ethnicity. Less than two in ten (15%) say they rarely interact with someone from a different political party or religion (19%). One-quarter (25%) said they rarely interact with someone of a different sexual orientation. "When you ask about religion and race and ethnicities, Nebraskans are very optimistic that people can come together across religious and racial lines to solve problems," Jackson added. "Where that falls apart is partisanship. We see that throughout the report. When you bring partisanship in, Nebraskans, like the rest of the country, become more skeptical that those partisan divides can be bridged."
The Modern Equivalent to Factory Job Can Occur in the Palm of Your Hand
According to a recent piece in CityLab, Americans are working more than ever before. A new study looks at the impact that internet-based communications has had on the work environment. As more and more work becomes less physically strenuous, it is also becoming easy to do from anywhere one wants. This leads to more Americans who continue to work, even when their work day is over. "If the operating equipment of the 21st century is a portable device, this means the modern factory is not a place at all. It is the day itself. The computer age has liberated the tools of productivity from the office. Most knowledge workers, whose laptops and smartphones are portable all-purpose media-making machines, can theoretically be as productive at 2 p.m. in the main office as at 2 a.m. in a Tokyo WeWork or at midnight on the couch," report Derek Thompson. In 2018, PRRI looked at the working habits of Californians. Data shows that nearly four in ten (39%) of Californians say they or someone in their household were unable to take a vacation that lasted more than three days, while 60% said they could. Workers who are struggling with poverty are significantly less likely than those who are not struggling to have taken a vacation that lasted more than three days in the last year (46% vs. 71%).
Wedding Sites Limit Southern Plantations
Pinterest and the Knot, two platforms which are often utilized when planning a wedding, will no longer showcase modified southern plantations to their users. The decision marks a success for Color for Change, the civil rights group which lobbied for the change. A spokesman for Pinterest notes that the site will limit content surrounding the venues and not accept ads for them. "Black people don't have happy memories of the antebellum period and plantations, where our ancestors were beaten and tortured," Jade Magnus Ogunnaike of Color for Change tells The Washington Post. "It's important the reality of what happened in these spaces is present, versus a romanticization of human rights abuses." Pinterest and the Knot also promise to help educate wedding vendors who use language in their ads that romanticize plantation life. "The conversation around plantation weddings has been happening for years and years in the black community and social media," Ogunnaike adds. "We're excited to be working with Pinterest and Knot to change the culture."