Opinion: Young Voters 'Will Determine the Future of the GOP'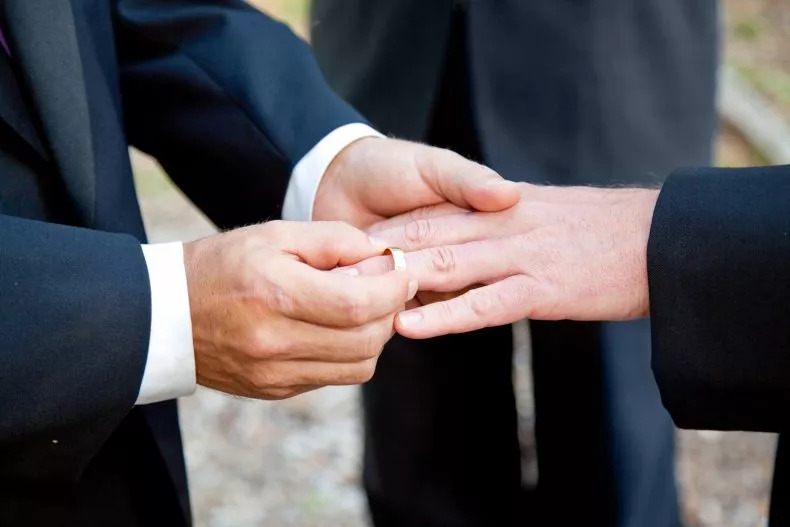 Opinion: Young Voters 'Will Determine the Future of the GOP'
Brad Polumbo writes for Newsweek's opinion section on a forced "reckoning among Republicans" as a result of the recent U.S. House vote to protect gay marriage at the federal level. He writes that congressional Republicans who otherwise have "largely avoided the issue since the Supreme Court's 2015 ruling establishing same-sex marriage nationwide" had to make their positions clear and vote for or against the Respect for Marriage Act. In total, 47 Republicans joined Democrats in supporting the legislation, leaving 157 Republicans voting against the bill. In the Senate, it needs 10 Republican votes to get to President Joe Biden's desk. Polumbo also notes that five prominent Republican senators have already publicly voiced their support, including moderates as well as more hardcore conservatives like Wisconsin's Ron Johnson.
"It's not a coincidence that many of the 47 House Republicans who voted in favor of the recent gay marriage legislation were young, millennial GOP leaders," Polumbo writes. Indeed, for the first time in American history, polls from both Gallup and PRRI found that a majority of Republicans support gay marriage. Further, a 2017 survey from PRRI found that young Republicans were "more than twice as likely as senior Republicans to favor same-sex marriage." In conclusion, Polumbo states: "The trend among Republicans continues in a positive direction on this issue, especially among the young voters who will determine the future of the GOP."
---
QAnon 'Burrowed Deeper Into Mainstream Republican Politics'
Stuart A. Thompson for The New York Times analyzes the role QAnon is playing in politics today and if it will lead to GOP success or failure in the midterm elections. He writes that many QAnon-linked candidates are confronting the reality that having ties to its set of conspiracy theories does not necessarily correlate to a successful political campaign. While the GOP "flirted" with QAnon in 2020, Thompson explains that identifying with the movement has now "emerged as a political liability." Throughout this election cycle, all but two QAnon-affiliated candidates, Reps. Marjorie Taylor Greene of Georgia and Lauren Boebert of Colorado, lost their races.
Experts say, however, that many QAnon themes "have burrowed deeper into mainstream Republican politics this year, including the false belief that 'evil' deep-state operatives control the government and that Mr. Trump is waging a war against them," and that candidates have found a way to "tap into that excitement" without directly running off of QAnon by name. This is exemplified by Republican candidates avoiding the idea that a cabal of pedophiles is preying on children, but capitalizing on the false and widely circulated claim that liberals "groom" children with progressive sex education. Additionally, when criticizing COVID-19 mandates and precautions, many Republicans "riff on QAnon's belief that a 'deep state' of bureaucrats and politicians wants to control Americans." Thompson cites PRRI data from 2021 finding that about 41 million Americans believe the core tenets of QAnon.
---
Opinion: Jan. 6 Rioters Were the Outcome of Our Political Culture
Marcia Pally for America: The Jesuit Review of Faith & Culture analyzes the Jan. 6 congressional hearings, and the "outcome of our political culture" that brought us here.
She addresses "why a third of U.S. voters nonetheless believe in the 'big lie'" despite former President Donald Trump losing by seven million votes, failing in more than 70 lawsuits (including two that reached the U.S. Supreme Court), and being countered by his own attorney general. Another issue, she writes, is why 30 percent to 40 percent of Americans "see Trumpist populism as a remedy to their problems."
Pally notes that 84% of white evangelical Protestants voted for Trump in 2020 (versus 50% of Catholics). As such, she examines this group in particular. PRRI research found that evangelical Protestants have decreased as a share of the population, from 23% in 2006 to about 15% in 2020, while Catholics remain steady at about 20%. Additionally, more than two million evangelicals left the Southern Baptist Convention between 2006 and 2020. Robert P. Jones, Ph.D., founder and president of PRRI, described "a real visceral sense of loss of cultural dominance" that has set in with the loss in status. Pally writes that the distress of evangelicals was fueled in the 20th century by the Supreme Court decision that allowed the teaching of evolution in public schools, as well as the 1962 decision that prohibited school-organized prayer.