Opinion: The GOP's Imposition of White Christian Nationalism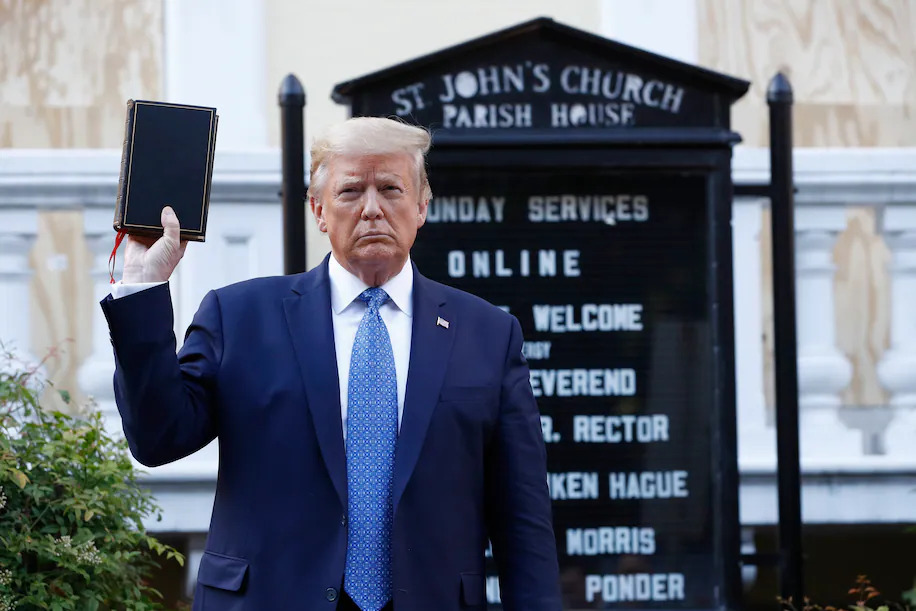 Opinion: The GOP's Imposition of White Christian Nationalism
Washington Post reported opinion columnist Jennifer Rubin wrote this week about her view on the transformation of the Republican party, which she said is now dedicated to "repudiating pluralistic democracy." She posits that today's GOP has morphed into a movement of "white, Christian and mainly rural Americans who are becoming a minority group and want to maintain their political power," noting that, "any moment of social progress is soon followed by reactionary panic and claims of victimhood." She focuses on the anti-CRT movement that found life in the aftermath of nationwide protests following the May 2020 murder of George Floyd. Sherrilyn Ifill, former head of the NAACP Legal Defense Fund, explained that the protests were the first time many Americans collectively empathized with those who had experienced systemic injustice and thus led to backlash. In response, Rubin said that Ifill argues the "MAGA crowd" is panic-stricken to halt education "about the truth of the history of racism and white supremacy, of the struggle for justice in this country."
Robert P. Jones, PRRI founder and CEO, explained in an interview with Governing magazine, "What we saw in the 20th century was [an] edifice of white supremacy that got built with the support of white Christian leaders and pastors and churches. Once it was built, the best way to protect it was to make it invisible, to create a kind of theology that was so inward focused that Christianity was only about personal piety. It was disconnected from social justice, politics, the world. It led white Christians to be narcissistic and indifferent to injustice all around them. Martin Luther King Jr. had that line in Letter from Birmingham Jail where he's in dismay not about racist Christians, but about so-called moderates in Birmingham, the 'more cautious than courageous' white Christians who 'remained silent behind the anesthetizing security of stained glass windows.'"
---
The Role Race and Religion Plays in Immigration
PRRI Public Fellows Laura E. Alexander, Jane Hong, Karen Hooge Michalka, and Luis A. Romero write for The Conversation about the millions of Ukrainians who have fled the country as refugees, as well as the hundreds that have since arrived at the U.S. southern border seeking asylum. The authors describe how among thousands of other asylum seekers, Ukrainians must navigate two policies: Migrant Protection Protocols and Title 42. The Biden administration provided guidance last month by way of an exemption for Ukrainians from Title 42, which has permitted many to enter, a privilege not granted to asylum seekers. While it is possible that the administration may lift Title 42 at the end of May, the issue has sparked intense debate. The treatment of Ukrainian refugees, when compared to asylum seekers from other places, has drawn criticism that the Biden administration is "favoring white, European, mostly Christian refugees over other groups."
The writers then reflect upon racism and religious discrimination within immigration policies over time, noting that primarily white European immigrants have received preference through the Diversity Immigrant Visa system created by the Immigration Act of 1990. Additionally, Haitian asylum seekers at the U.S.-Mexico border have faced degrading treatment, with accusations of racism leveled at the government. The authors also note a series of executive orders from the Trump administration known by critics as the "Muslim Ban," which led to "a significant decrease in the number of Syrian refugees—from 12,587 to 76 between financial year 2016 to 2018." PRRI research found that 6 in 10 white Americans (61%) supported a pathway to citizenship in 2013, a number that increased in 2019 (64%) and 2020 (65%). Seven in 10 Hispanic Americans (71%) supported the policy in 2013, and more than two-thirds of Black Americans (68%) agreed in 2013.
---
Spotlight: The Politics of Unaffiliated Americans
In PRRI's latest spotlight, PRRI Public Fellow Evan Stewart describes the growing number of Americans who are not religiously affiliated and how understanding this cultural change will shape the future of politics amid major demographic shifts. While research shows that a main catalyst driving this increase is the political backlash to the religious right in the 1980s and 1990s, Stewart notes that this group is evolving rapidly and that further research can explain the nuances of the emergence of the unaffiliated. He points to three facts that explain the complexities of the unaffiliated. First, not all of the unaffiliated are atheists, as the group also includes those who leave religion altogether, those with other unaffiliated identities, and those who are spiritual but not religious. Second, religious disaffiliation isn't just happening on the left. While PRRI research found that about 30% of self-identified Democrats reported no religious affiliation in 2021, disaffiliation has been growing among Republicans as well, from about 4% of Republicans in 2006 to 12% of Republicans in 2021. Stewart hypothesizes this could be due to Republican partisans becoming more untethered from religious institutions, or that younger Republican partisans are integrating religion into their political beliefs less.
Stewart's third point is that unaffiliated Americans may not want what politicians think aligns with their identity. Using statistical analysis controlling for political partisanship, he examined responses to a range of policy issues in PRRI's 2021 American Values Survey. By doing so, Stewart was able to determine which issues the unaffiliated prioritize: climate change, racial inequality, and economic inequality. "We don't typically think of the unaffiliated as [a pro-]environmental group, and if one believes in theories about culture wars, we would expect them to be more concerned about the separation of church and state with regard to abortion and appointing Supreme Court justices," he concludes.