Opinion: Campaigns Beat the Drum of Religious Violence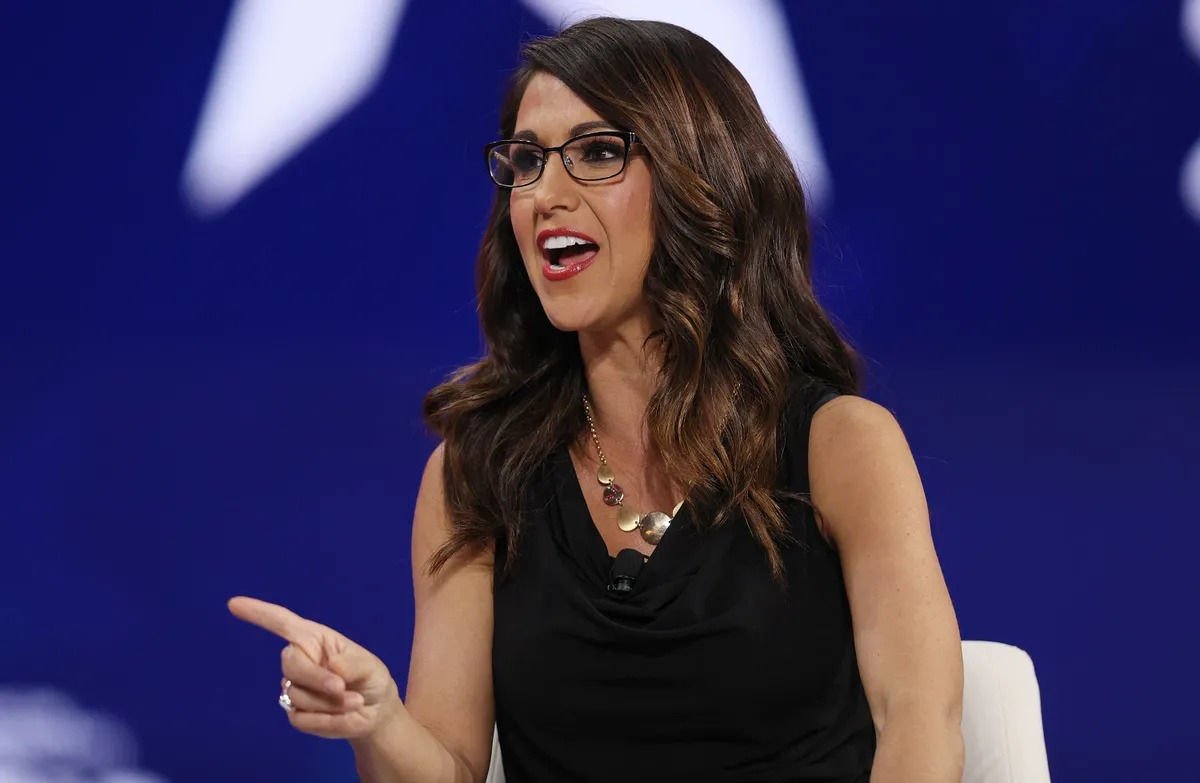 Opinion: Campaigns Beat the Drum of Religious Violence
Thomas Lecaque for Salon describes the fervent infusion of white Christian nationalism into numerous Republican campaign platforms. Rep. Lauren Boebert of Colorado recently spoke at a Christian revival event where she invoked Psalm 109:8 as a prayer for President Joe Biden ("May his days be few…"). While this portion of her speech was greeted with laughter, Lecaque emphasizes that Psalm 109 is a war psalm, "calling for the death of the man in question." This, he argues, is one of the most duplicitous moves of contemporary white Christian nationalism: sharing principles that masses of people can agree with while avoiding the true meaning of the rhetoric.
Kandiss Taylor, who ran unsuccessfully for governor of Georgia in May's primary, had a campaign bus with "'Jesus, Guns, Babies' emblazoned on the side," Lecaque writes. In a blunt campaign speech, Taylor "championed Native genocide, saying, 'The First Amendment right, which is our right to worship Jesus freely — that's why we have a country. That's why we have Georgia. That's why we had our Founding Fathers come over here and destroy American Indians' homes and their land.'" PRRI research found that majorities of white evangelical Protestants (52%) and Republicans (53%) agree with the statement, "God intended America to be a new promised land where European Christians could create a society that could be an example to the rest of the world."
---
Catholic Lawmakers Say Colorado Bishops 'Weaponizing' Communion
Kathryn Post for Religion News Service reports that Catholic lawmakers in Colorado say they are being penalized for supporting an abortion rights bill by bishops who have asked them to refrain voluntarily from receiving Communion. In an open letter sent earlier in June, the prelates called "voting for Colorado's Reproductive Health Equity Act in April a 'gravely sinful action' that puts legislators at risk of committing a 'mortal sin,'" Post writes.
One of the lawmakers, Rep. David Ortiz, said the bishops "were confusing spirituality and politics." He continued: "Writing this open letter is a very political statement. It is not stewarding people's souls, it's being a politician. If they want to be politicians, they should run for office." State Sen. Julie Gonzales, the co-sponsor of a bill that abolished the death penalty in Colorado, highlighted that Catholic legislators who opposed her bill were not asked to opt out of Communion, despite the church's condemnation of capital punishment. "There are lots of Catholic social teachings, around, say, supporting the poor, or supporting immigrants, and I haven't seen the Catholic Church and the bishops send letters to those who vote against those Catholic social teachings," Gonzales said. According to March 2022 data from PRRI, 59% of white Catholics and 57% of Hispanic Catholics in the United States believe that abortion should be legal in all or most cases.
---
Supreme Court Rejects Maine's Ban on Aid to Religious Schools
Adam Liptak for The New York Times reports on the U.S. Supreme Court decision barring Maine from excluding religious schools from a state tuition program. He writes that the decision is the latest in a series of rulings requiring the government to aid religious institutions on the same terms as other private organizations. The case developed as a result of a program that "requires rural communities without public secondary schools to arrange for their young residents' educations." Students could sign contracts with public schools close by or pay tuition at a private school as long as it met certain requirements. Two families in Maine said it violated their right to freely exercise their faith as they wanted to send their children to religious schools.
Maine's brief to the Supreme Court said that the two schools at issue in the case "candidly admit that they discriminate against homosexuals, individuals who are transgender and non-Christians." Liptak writes that the case is similar to Espinoza v. Montana Department of Revenue, in which the court ruled that states must allow religious schools to participate in programs that provide scholarships to students attending private schools. PRRI research found that Republicans (63%) are much more likely than independents (43%) and Democrats (23%) to believe that the right of religious liberty is threatened in America today.