Once-Fringe Conservative Christians Theories Could Soon Be Codified Into Texas Law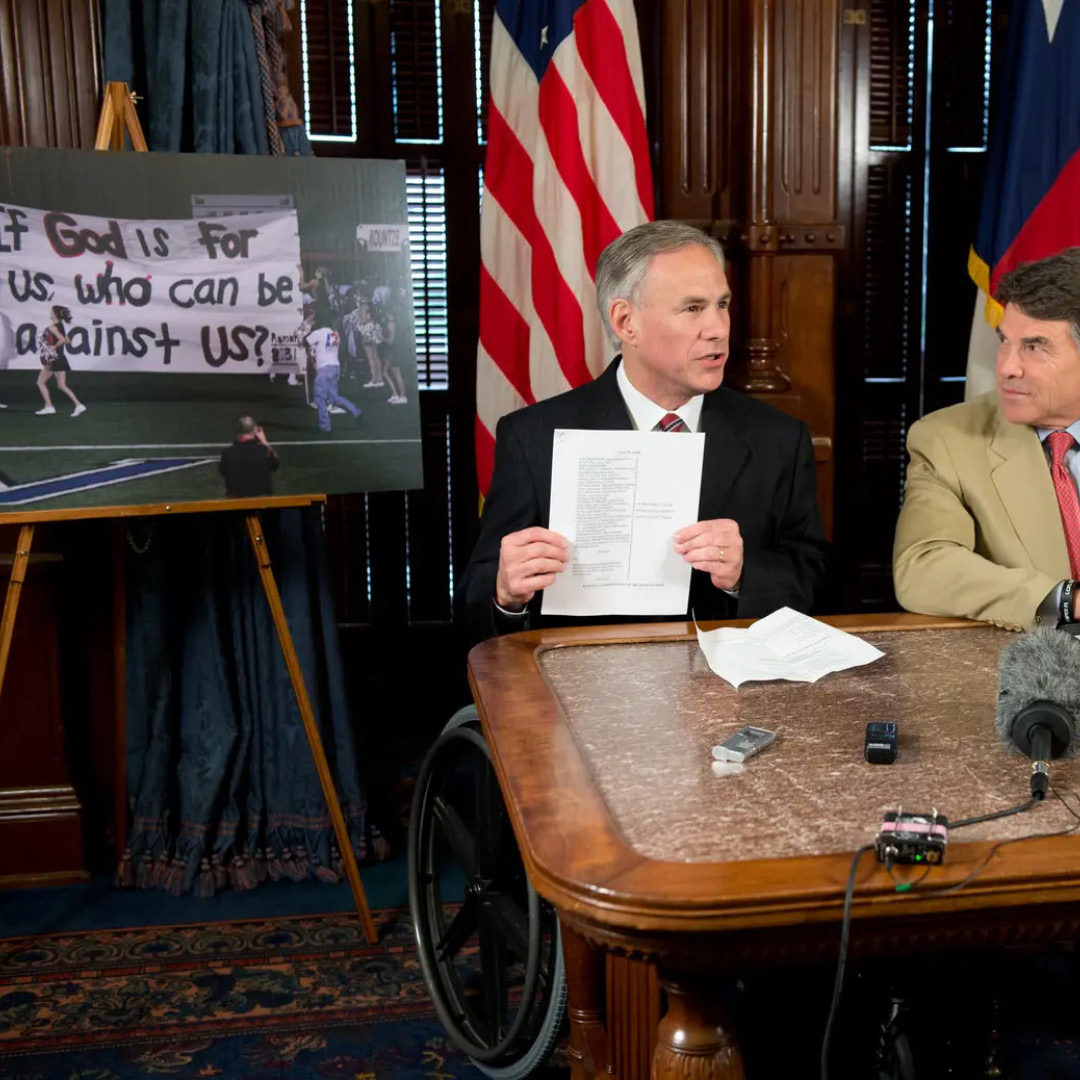 Once-Fringe Conservative Christians Theories Could Soon Be Codified Into Texas Law
Robert Downen for The Texas Tribune reports on the long-term effort to eliminate church-state separation in Texas driven by conservative political activists like David Barton, an evangelical author who has preached Christian nationalist ideology for decades. This session, the Texas Senate has already approved bills that would require the Ten Commandments to be posted inpublic school classrooms and allow unlicensed religious chaplains to supplant the role of school counselors, policies which are seen by non-Christian Texans as a backlash to the state's growing diversity and religious pluralism. Research from PRRI finds that more than half of Republicans adhere to or sympathize with pillars of Christian nationalism, including beliefs that the U.S. should be a strictly Christian nation.
---
North Carolina Legislature Passes 12-week Abortion Ban
Grace Panetta and Shefali Luthra for 19th News report that Republican lawmakers in North Carolina have passed a 12-week abortion ban with enough votes to override the Democratic Governor's veto, further weakening abortion access in the south. Additional restrictions also included in the legislation prohibit the mailing of medication abortion pills and require two in-person clinic visits separated by a 72-hour waiting period for patients seeking an abortion. Republican lawmakers framed the legislation as "pro-woman," arguing that the bill would support families and improve health outcomes for mothers. PRRI research finds that 11% of North Carolinians say abortion should be illegal in all cases and 62% say it should be legal in most or all cases.
---
Why the Supreme Court Should Have Stepped Up on Indiana's Fetal Burial Law
In an opinion column at Religion News Service, Elizabeth Reiner Platt writesthat the argument put forward in an amicus brief she submitted on behalf of diverse religious communities opposing Indiana's fetal burial law deserved to be considered by the Supreme Court. Earlier this week, SCOTUS declined tohear a challenge to the Indiana law that requires medical providers to bury or cremate embryonic and fetal tissue. Reiner Platt argues that by declining to hear the case, SCOTUS burdens the religious beliefs and practices of people in the state, underscoring that religious liberty includes the right to refuse participation in a ritual that holds religious significance as much as it protects the right to engage in religious practice.
---
Questioning Assumptions About Religious "Nones" and LGBTQ Politics
In a new Spotlight Analysis recognizing the National Day of Reason (May 4), PRRI Public Fellow Kelsy Burke, Ph.D., and co-authors Emily Kazyak, Ph.D., and Philip Schwadel, Ph.D., use PRRI data to explore the common assumption that religious affiliation aligns with conservatism and that non-religious Americans tend to be politically liberal. They find that while non-religious Americans overall are much more supportive of LGBTQ equality than their religious counterparts, neither group is a monolith, with noticeable differences in support for same-sex marriage, nondiscrimination laws, religiously based service refusals, and bathroom restrictions across religious groups and between atheists, agnostics, and other "Nones." With the number of Nones on the rise, the authors expect to see even greater diversity within this group and a larger percentage of Americans supporting LGBTQ equality in the future.
---
What's Buzzing?
Read PRRI's latest spotlight, "Nones" and LGBTQ Politics here.