Obama: Average Voter Doesn't Want to Tear Down the System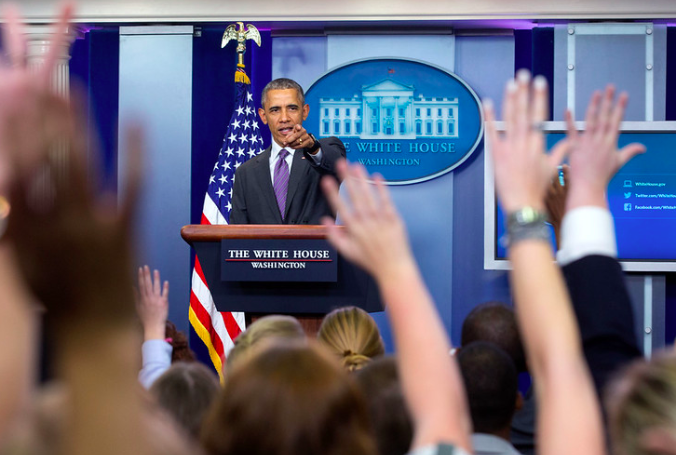 Obama: Average Voter Doesn't Want to Tear Down the System
In a recent piece for Rolling Stone, Jamil Smith suggests that former President Barack Obama is "chipping away" at his legacy by questioning the more left-leaning ideas that have followed his presidency. At a private dinner in Washington, D.C., Obama appeared to warn a branch of the Democratic Party that has grown popular in his wake. "Even as we push the envelope and we are bold in our vision, we also have to be rooted in reality and the fact that voters — including Democratic voters and certainly persuadable independents or even moderate Republicans — are not driven by the same views that are reflected on certain, you know, left-leaning Twitter feeds or the activist wing of our party." Obama said. He later added that "the average American doesn't think we have to completely tear down the system and remake it." Recent PRRI data has shown that Americans differ greatly on issues between parties. Even the majority agreement on health care and terrorism as critical issues, however, masks deep partisan divides. Strikingly, none of the top three critical issues for Democrats overlap with the top three critical issues for Republicans. Like Americans overall, Democrats are most likely to regard health care (77%) as critical. But Democrats rate climate change (72%) and foreign interference in presidential elections (63%) as the next most critical issues. By contrast, Republicans' top three critical issues are terrorism (63%), immigration (60%), and crime (50%).
Mattel Releases Politics-Free Card Game for Thanksgiving 
Mattel—the company behind Barbie, American Girl, and countless other toy brands—has announced a limited edition version of Uno for those who want to avoid political back and forth. The nonpartisan edition removes the red and blue card in favor of orange and purple ones. "Whether you lean a little left or a little right, one thing we can all agree on is how much we love UNO®!," Mattel explains in the card game's description. "Without Red or Blue cards the focus can stay on the game. And remember to yell 'UNO!' before you reach across the aisle and play your last card!" Mattel has also included a veto card, meant to be given to anyone that starts talking politics during the game. In a story for Market Watch, Meera Jagannathan cites PRRI data to explain the numbers behind the decision. "Political differences within a family aren't as common as they appear to be in other spheres of life, according to one 2019 study by the nonprofit and nonpartisan Public Religion Research Institute. Just 39% of Americans report interacting with people of different political backgrounds within their own family, compared to 48% who say the same about their friend circles and 74% who say they those interactions happen at work," she writes.
NYT Looks at PRRI/AAPI Data Report
A recent PRRI/AAPI Data report on the AAPI community in California was recently featured in The New York Times. The piece by Jill Cowan focuses specifically on data about the Hmong community featured in the report. Cowan ties the analysis on the AAPI community to reactions from a recent shooting in Fresno, CA, which killed several Hmong people—a major ethnic group in the city. While Hmong represent a smaller portion of AAPI Californians overall, the challenges Hmong refugees and descendants face in the U.S.—including poverty and hostility—are disproportionate compared to Chinese or Korean workers. According to Cowan, the financial struggles of many AAPI communities in California, specifically the Hmong, are often overlooked. PRRI data shows that more than four in ten (44%) Hmong are working and struggling with poverty. In an interview with Cowan, AAPI Data Director Karthick Ramakrishnan explained the necessity of the report. "We have different images of who Asian-Americans are," he says. "A lot of it is informed by popular culture — like 'Crazy Rich Asians,' or thinking about Silicon Valley, in terms of the enormous wealth there." Ramakrishnan added that he hopes the report will bring more opportunities to invest in AAPI communities and get people to pay attention. 
Abortion Proposal in Ohio Isn't Medically Possible
An updated proposal to recent anti-abortion legislation in Ohio brings with it harsher ramifications for those who perform abortions. The first iteration of the bill would categorize doctors who perform abortions as guilty of aggravated murder. Now, 20 Ohio Republicans have presented an update that would require doctors to re-implant ectopic pregnancies, something doctors say is not medically possible. According to Insider, "ectopic pregnancies occur when a fertilized egg attaches itself outside the uterus, where it can't grow." Julia Naftulin of Insider speaks to several doctors who describe the dangers of even attempting the procedure. "It is not possible to move an ectopic pregnancy from a fallopian tube, or anywhere else it might have implanted, to the uterus," Dr. Chris Zahn of the American College of Obstetricians and Gynecologists says. According to PRRI data, 56% of Ohio residents believe abortion should be legal in all or most cases.