NYT's Blow: Republicans, QAnon, and a Supreme Court Nominee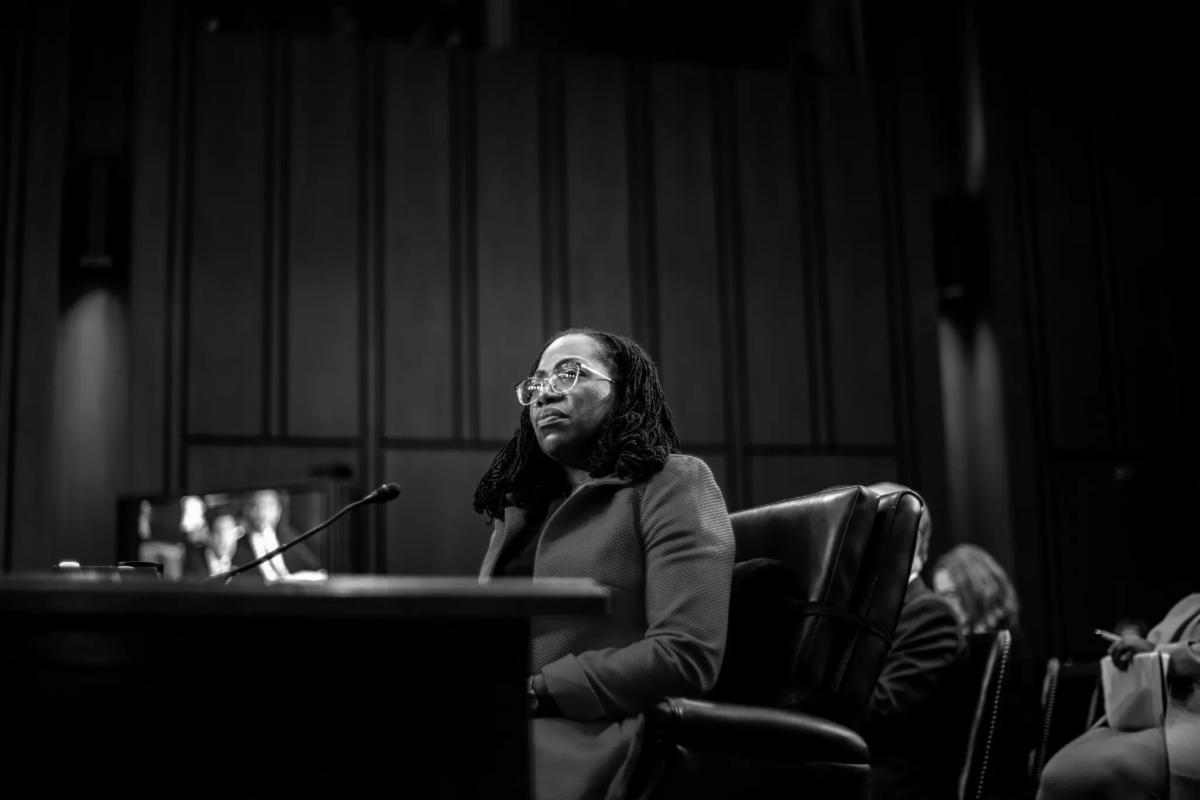 NYT's Blow: Republicans, QAnon, and a Supreme Court Nominee
Charles Blow for The New York Times analyzes the recent U.S. Senate Judiciary Committee confirmation hearings. He writes that there is "rarely any true attempt to discern nominees' qualifications [or disqualifications] for the job." Blow cites a FiveThirtyEight article on how filling vacancies on the Supreme Court has become more contentious, with four of the seven most recently confirmed justices receiving less than 60% overall support in the Senate, and those same four each earning less than 10% of support from the opposing party's senators. Nominees have learned to not "say much of consequence," with the "nominee's demeanor and comportment [becoming] signifiers of fitness to serve." Blow notes that Republicans repeatedly questioned Jackson about her sentencing of child pornography cases: Sen. Lindsey Graham told Jackson: "I think you're doing it wrong. And every judge who is doing what you're doing is making it easier for children to be exploited."
A separate New York Times fact-check states that the attacks on Jackson's record regarding child sexual abuse cases are misleading and taken out of context. One of the primary arguments concerned the U.S. Sentencing Commission's recommendation to Congress in 2012 to lower the mandatory minimum sentence for possession of images related to child sexual abuse. The article underscores that there were three Republican-appointed judges who served alongside Jackson on the commission when it evaluated the matter; one of those Republican-appointed judges said that, "the panel's recommendations were almost uniformly supported by its members." Additionally, whether or not it is intentional, the repeated references by Judiciary Committee Republicans are seen as fueling long-running and widely discredited QAnon theories grounded in pedophilia.
PRRI research released in February found that one in four Republicans (25%) identify as QAnon believers. This includes belief in one of QAnon's core theories, "The government, media, and financial worlds in the U.S. are controlled by a group of Satan-worshipping pedophiles who run a global child sex-trafficking operation."
---
Anti-LGBTQ Groups 'Rake in Millions' as Culture War Continues 
Investigative journalist Stuart Richardson reports for NBC News that publicly available IRS filings indicate 11 nonprofit organizations identified as anti-LGBTQ hate groups by the Southern Poverty Law Center (SPLC) have collected over $110 million in contributions during the financial year ending in 2020. This amount represents a "recent high-water mark for the organizations, whose take of donations, grants, and other non-cash contributions has increased steadily since 2016 when the same 11 groups reported more than $87 million in such contributions." Anti-LGBTQ groups "have won significant battles at all levels of American government and society—from local school boards to the federal courts," reviving a culture war after substantial progress in the direction of equality for LGBTQ people. The SPLC published its first list of 13 such "hate groups" after tracking anti-LGBTQ organizations for more than a decade.
These groups, comprised of "fundamentalist churches, conservative law centers and far-right advocacy organizations," believe LGBTQ people are a threat to society simply by existing, disseminating "known falsehoods and pseudoscience to disparage gender and sexual minorities." However, the SPLC's qualification of an organization as being an anti-LGTBQ hate group is about more than merely holding a religious belief that views homosexuality or transgender identity as sinful. "Many of these groups assert that LGBTQ people are a threat to society itself," said SPLC's Scott McCoy. "That kind of extremist rhetoric and belief is part of what goes into our decision-making process." Among the key players are the Family Research Council, the Alliance Defending Freedom, Liberty Counsel and the American College of Pediatricians. The Family Research Council's total revenues increased from over $12 million to more than $23 million between 2011 to 2021. During that same timeframe, contributions to the Alliance Defending Freedom "more than doubled" to $76 million in 2021. "The significant flows of contributions to the groups, however, do not reflect a growing antagonism toward the LGBTQ community in broader American society," writes Richardson. According to the 2021 American Values Atlas, more than two-thirds (68%) of Americans supported same-sex marriage last year, up from 47t a decade before. That included majorities of historically conservative religious groups, such as Catholics and Orthodox Christians, and nearly half of all Republicans.
---
The Changing Landscape for Latter-day Saints' Support of LGBTQ Individuals
PRRI Public Fellow and Utah State Assistant Professor Tyler Lefevor recently wrote an analysis detailing the history of the Church of Jesus Christ of Latter-day Saints' attitudes towards LGBTQ rights. Following the U.S. Supreme Court's 2015 Obergefell v. Hodges decision legalizing same-sex marriage, the church released policies on membership penalties for both the "children of same-sex couples and automatic ex-communication for individuals in same-sex marriages." Lefevor notes these watershed policies represent the "two differing tides in the American political spectrum" that represent pro- and anti- LGBTQ movements. He then examines the ways in which these two movements have affected Latter-day Saints' views and behaviors, and how they may continue to be impacted in the future.
Data from the 2021 American Values Atlas, which included responses from over 20,000 Americans, found that 79% support nondiscrimination laws for LGBTQ people, while only 20% oppose such protections. These trends also hold true for Latter-day Saints, Lefevor writes, with 84% of Mormons also supporting nondiscrimination protections for LGBTQ people. Thus, Latter-day Saints who support nondiscrimination align with both public opinion and church teachings, given that the church supported Utah's 2015 LGBTQ anti-discrimination law. Additionally, he notes that opposition to same-sex marriage has decreased dramatically among Americans, though "support for nondiscrimination may not always translate into support for rights." In 2007, 55% of Americans opposed same-sex marriage; the number fell to 30% in 2021. This decrease is most pronounced among younger Americans (ages 18–29), of whom only 22% oppose same-sex marriage.