Nikki Haley Says Confederate Flag Stood for 'Service, Sacrifice, and Heritage'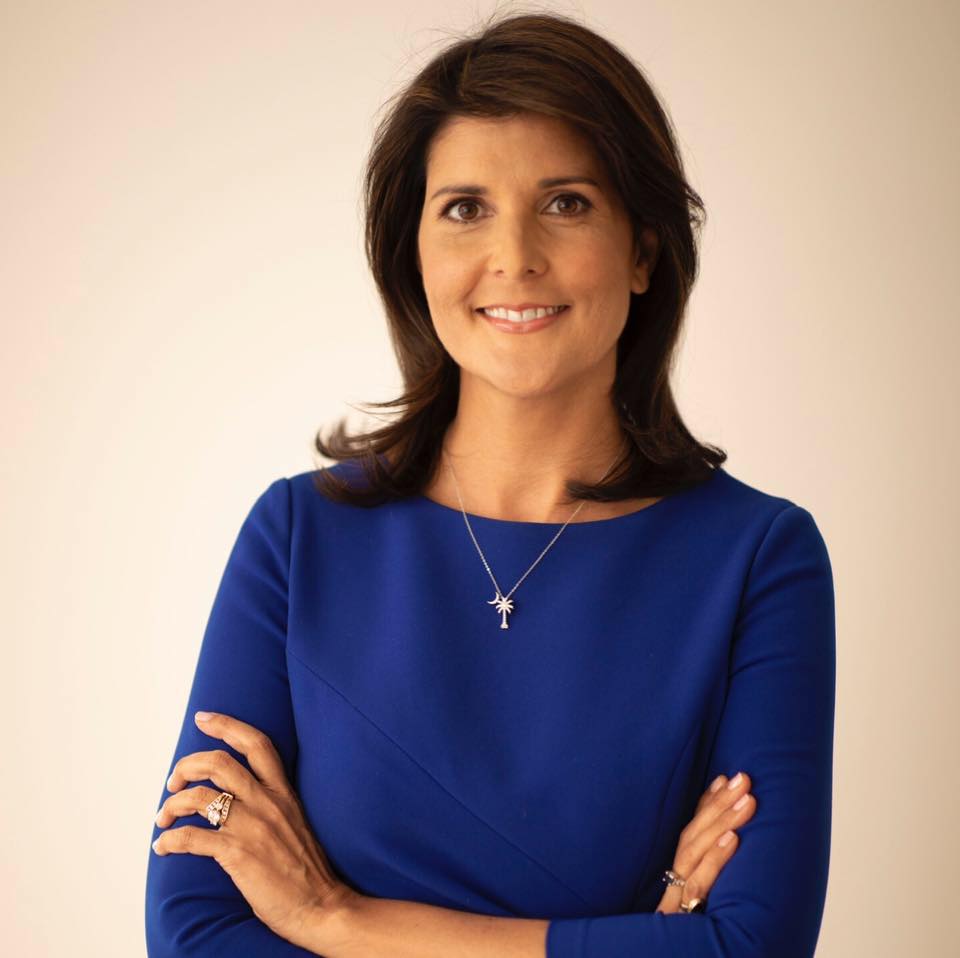 Nikki Haley Says Confederate Flag Stood for 'Service, Sacrifice, and Heritage'
In a Friday interview with Glenn Beck of Blaze TV, former U.S. ambassador to the UN Nikki Haley ignited controversy with her comments about the Confederate flag. Haley, who was once the governor of South Carolina, said that people saw the flag as a symbol of "service, and sacrifice, and heritage." That changed, according to Haley, when white supremacist mass shooter Dylann Roof "hijacked it" by killing nine people at the Emanuel African Methodist Church in 2015. "We don't have hateful people in South Carolina. There's a small minority that's going to be there, but people saw it [the Confederate flag] as service, and sacrifice, and heritage. But once he did that there was no way to overcome it," Haley said. As governor, Haley called for the removal of the Confederate flag from state offices following Roof's massacre. Per PRRI data from 2017, 58% of Americans see Confederate monuments as symbols of Southern pride rather than a symbol of racism, while 30% of Americans see them as a symbol of racism. Views of Confederate monuments vary starkly by race and ethnicity. More than two-thirds (68%) of white Americans and a majority (54%) of Hispanic Americans agree that Confederate monuments are symbols of Southern pride, compared to only 29% of black Americans. In 2016, PRRI CEO and founder Robert P. Jones wrote about what Americans felt about the flag. "PRRI research reveals deep racial and class divides over what the Confederate flag represents. A slim majority (51%) of Americans say they see the Confederate flag more as a symbol of southern pride, while more than four in ten (41%) Americans say they see it more as a symbol of racism. Notably, eight in ten (80%) black Americans say they view the Confederate flag as a symbol of racism. But six in ten (60%) white Americans see the Confederate flag as a symbol of southern pride, a view shared by just 15% of black Americans," Jones wrote. 
Church Uses Nativity Scene to Make a Point on Family Separation
The Claremont United Methodist Church in Claremont, California used their annual Christmas nativity scene to symbolize a striking image about immigration. Photos posted online show familiar statues depicting Jesus, Mary, and Joseph. This rendition however shows the mother, father, and son locked in separate cages. Karen Clark Ristine, a senior minister at the church, took to Facebook to explain the immigration nativity scene. "What if this family sought refuge in our country today?" Ristine asks. "Imagine Joseph and Mary separated at the border and Jesus no older than two taken from his mother and placed behind the fences of a Border Patrol detention center," she writes. "In the Claremont United Methodist Church nativity scene this Christmas, the Holy Family takes the place of the thousands of nameless families separated at our borders." PRRI data shows that fewer than one in four (23%) Americans favor an immigration border policy that separates children from their parents and charges parents as criminals when they enter the country without permission, compared to 75% who oppose such a policy. More than four in ten Republicans support family separation (44%), compared to 24% of independents and only 7% of Democrats. Notably, a majority (54%) of Republicans oppose this family separation policy.
Progressives, Conservatives, and the Middle Ground
A recent piece in National Review calls on progressives to cease their own "culture war" and come to the middle on several key issues. "Democrats are no more willing than social-conservative Trump supporters to lay down their culture-war objectives and enmities in order to save the constitution from the president," Michael Brendan Dougherty writes. "Progressives believe they are just vindicating human rights when they pursue their culture-war goals relentlessly," he argues. Zack Beauchamp responds to Dougherty's piece in Vox. In his response, Beauchamp uses PRRI data to claim that the progressive left, and evangelical right that Dougherty compares, can't be compared at all. "Dougherty's analysis only makes sense if you think evangelicals are holding their nose and voting for Trump despite disliking him. But that's not what polling suggests. Evangelicals like this president — they don't think he's a threat to the republic at all. 77 percent of white evangelicals approved of Trump's job performance in an October PRRI survey; they were the only religious group in the survey with a majority believing Trump has not damaged the dignity of the presidency."
LGBT Lawyer Calls on SCOTUS to Adopt Federal LGBT Nondiscrimination Protections 
In a recent piece for law.com, Elizabeth F. Schwartz calls on the U.S. Supreme Court to adopt LGBT nondiscrimination protections across the United States. Schwartz writes of her experiences as a lawyer and as a member of the LGBT community, and the first hand struggles she has witnessed. "I have been practicing law since 1997, with a focus, from the start, on providing crucial legal protections for LGBT individuals and families. I've witnessed first-hand how members of my community continue to face discrimination in many areas of their lives, especially in crucial areas such as housing, employment and public accommodations. Yes, endless grievous injustices still occur, and they continue to chip away at members of the LGBT community, who are still battling for the equality, dignity and privacy rights to which all citizens are entitled," Schwartz writes. PRRI data shows that nearly seven in ten (69%) Americans favor laws that would protect LGBT people from discrimination in jobs, public accommodations, and housing. Support for these protections has remained steady over the past few years, with around seven in ten Americans reporting that they favor nondiscrimination provisions for LGBT people in 2017 (70%), 2016 (72%), and 2015 (71%).