New PRRI-IFYC Survey: A Majority of Americans are Critical of Religious Exemptions to COVID-19 Vaccines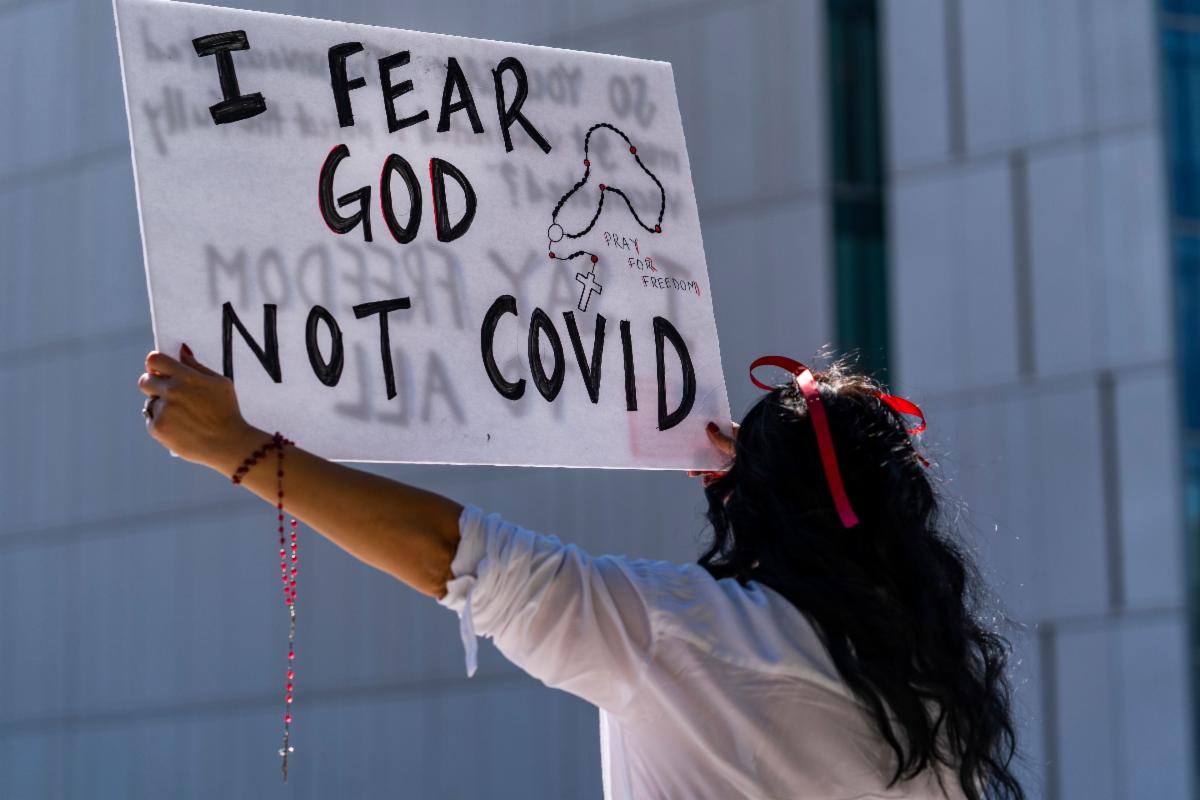 New PRRI-IFYC Survey: A Majority of Americans are Critical of Religious Exemptions to COVID-19 Vaccines
Yesterday, PRRI and Interfaith Youth Core (IFYC) released their third joint report this year on American opinions related to COVID-19 vaccinations and religion. Ruth Graham of The New York Times calls attention to one particular finding from the survey—only one in ten Americans (10%) believe the teachings of their religion prohibit COVID-19 vaccinations; nearly nine in ten (88%) disagree. Among unvaccinated Americans, belief in this prohibition rises to 28%. Graham summarized that most Americans are critical of religious exemptions, believing that there are no valid religious reasons to refuse the COVID-19 vaccine. The article highlights the fact that although 200 million Americans—over 60 percent of the population—have been fully vaccinated against the coronavirus, the United States still lags significantly behind several other countries while also noting that no major religions or denominations oppose COVID-19 vaccines.
---
NPR: 1 in 10 Americans Say the COVID-19 Vaccine Conflicts with their Religious Beliefs
Deepa Shivaram for National Public Radio discussed the diversified findings from the recent PRRI-IFYC study tracking the intersection of the pandemic and religious beliefs. A majority of Americans (60%) say there is no valid religious reason to refuse a COVID-19 vaccine. Conversely, 10% of Americans believe that getting a COVID-19 vaccine conflicts with their religious beliefs. Shivaram notes that although a majority of every other major religious group says their faith doesn't include a valid reason to refuse the vaccine, less than half (41%) of white evangelicals feel the same. The article also indicates the divided array of responses from the survey—39% of Americans support a blanket religious exemption excuse while 51% of Americans are in favor of granting a religious exemption with documentation from a faith leader.
---
Survey: Americans Concerned too Many are Seeking Religious Exemptions to Vaccines
Religious News Service's Jack Jenkins explains the conflicting belief that most Americans are in favor of offering religious exemptions for the COVID-19 vaccines, yet are simultaneously concerned too many Americans are seeking said exemptions. The article describes the emerging divisions over whether religious exemptions to the shots should even exist. Jenkins notes the ongoing faith-fueled vaccine debates in religious communities, including conservative activists who have encouraged people to opt-out of mandates through religious exemption. However, religious leaders have also pushed back on the applicability of religious exemptions; in a September article from the Associated Press, leaders from a wide number of American faith communities—including Eastern Orthodoxy, the Evangelical Lutheran Church in America, the U.S. Conference of Catholic Bishops, and the Church of Jesus Christ of Latter-day Saints—have come out against faith-based exemptions. Texas megachurch pastor Robert Jeffress stated, "There is no credible religious argument against the vaccines."