Nationals World Series Celebrations Marked By Political Noise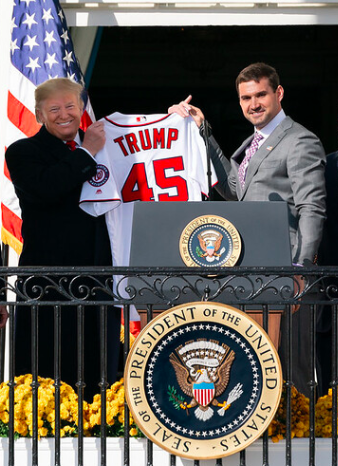 Nationals World Series Celebrations Marked By Political Noise
On Monday, the Washington Nationals visited the White House for an honorary meeting with President Donald Trump to celebrate their World Series title. Several players sat out the festivities, including relief pitcher Sean Doolittle who said his disagreement with Trump's policies and how Trump has treated people with disabilities made him not want to attend. "People say you should go because it's about respecting the office of the president," Doolittle said. "And I think over the course of his time in office he's done a lot of things that maybe don't respect the office." Among those who did attend was catcher Kurt Suzuki, who chose to wear a Make America Great Again hat to the festivities. Trump embraced Suzuki in a clip that has since gone viral, and some fans expressed their dislike for Suzuki's choice of headgear on social media. In 2018, PRRI's David Tigabu looked at how the public feels about athletes expressing political statements. "Almost half (45%) of white Americans agreed that professional athletes making public statements about political issues bothered them. Just about one-quarter (26%) of black Americans shared this sentiment," Tigabu writes. Differences within the broader population also fall along generational lines.
Are Evangelicals and Trump a Marriage Primed for Dissolution?
In an interview with Axios, a former leader of the evangelical community painted a grim portrait of President Trump and evangelicals. Joshua Harris, an author and former pastor, believes that Trump and evangelicals are not a marriage made for long-term harmony. "I don't think it's going to end well," Harris said, referencing the evangelical movement's embrace of President Trump. "And I think, you know, you look back at the Old Testament and the relationship between the prophets and really bad leaders and kings, and oftentimes it was, it's not something you unwind because it's, it's actually in the scriptures presented as God's judgment on the False Religion of the day." PRRI data has routinely shown that evangelicals are among Trump's staunchest supporters. The Hill cites recent data from PRRI thatshows that 77% of white evangelical Protestants approve of Trump's job performance, while 50% strongly approve. When asked whether Trump should not be impeached and removed from office, 99% of Republican white evangelical Protestants say he should not.
Faith Leaders Rally for LGBT Nondiscrimination Protections in Virginia
Local faith leaders in Virginia have joined together with Equality Virginia to push for LGBT nondiscrimination protections in the state. The Virginia Values Coalition, put together by Equality Virginia brings together leaders of religious, business, and law enforcement communities who want to ensure that LGBT nondiscrimination protections will happen in their state. "I think it's a misconception that faith communities don't support LGBT equality," says James Parrish, the executive director of Equality Virginia. "Unfortunately there are some that don't but there's a broad range of faith and faith leaders coming together to emphasize that anti-LGBT people don't own the faith space." Virginia is one of 30 states where a person can be fired from a job or denied housing based on their LGBT status. According to PRRI data, 57% of Virginians oppose laws that would allow business owners to refuse service to LGBT customers based on their religious beliefs. 
New Study Pinpoints Georgia as The Toughest Place to Vote
According to a new study released this week, communities with lower incomes and higher minority populations were mostly to experience difficulties voting in 2018. According to the study, the worst areas for wait times was Fulton County, Georgia, home to Atlanta. In 2018, Republican Brian Kemp narrowly beat Democrat Stacey Abrams in a contentious election. "Researchers found that while wait times sometimes exceeded 30 minutes in 6% of the precincts surveyed, most lines were very short, with roughly a third of the hourly observations reporting no line at all," The Washington Post reports. A 2018 PRRI/The Atlantic poll about voting found that one issue some voters experienced was not being able to get time off from work to vote. More than one in ten (11%) Americans say they or a member of their household experienced this problem the last time they attempted to vote. Black (16%) and Hispanic (16%) Americans are much more likely to report this experience than white Americans (8%).