Nancy Pelosi OK's Impeachment Probe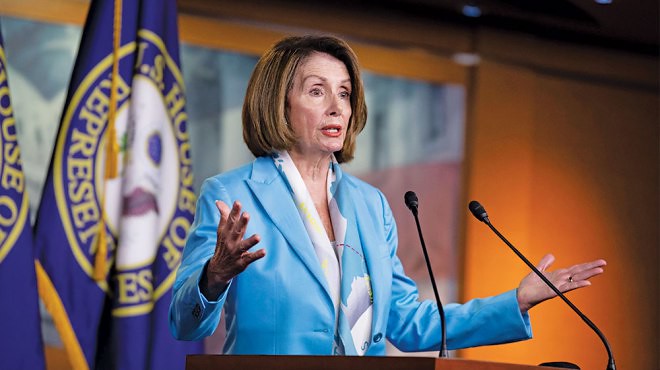 Nancy Pelosi OK's Impeachment Probe
House Speaker Nancy Pelosi on Tuesday announced a formal impeachment inquiry into President Trump, a reversal of a previous position she has taken on the matter. For more than a year, Pelosi has resisted calls to impeach Trump despite the number of House Democrats demanding a formal inquiry passing into a majority in June. The California Democrat's announcement comes after a closed-door meeting with Democratic Caucus colleagues. Her decision also follows a whistleblower report that alleged that President Trump pressured the president of Ukraine to investigate potential 2020 campaign rival former Vice President Joe Biden. PRRI data shows that earlier this year unsurprisingly, attitudes are very divided along partisans when it comes to impeachment. About seven in ten (69%) Democrats and about 15% of Republicans say Trump should be impeached.
Greta Thunberg and the Limitations with Being an Adult
In a speech to the United Nations on Monday, 16-year-old climate activist Greta Thunberg chastised world leaders for stealing her dreams and her childhood through their ambivalence towards climate change. In The Atlantic, Robinson Meyer looks at why Thunberg is so disarming for some adults, and what has sparked a wave of criticism of her movement. "Thunberg epitomizes, in a person, the unique moral position of being a teenager. She can see the world through an 'adult' moral lens, and so she knows that the world is a heartbreakingly flawed place. But unlike an actual adult, she bears almost no conscious blame for this dismal state. Thunberg seems to gesture at this when referring to herself as a "child," which she does often in speeches," Meyer explains after a recent conversation with Thunberg. PRRI data indicates that young people are more concerned about climate change than their elders. A 2017 poll of young people ages 15-24 showed that slightly more than half (51%) say that climate change is a critical issue. In comparison, more recent polling shows less than four in ten (38%) of Americans believe that climate change is a critical issue.
Trump Administration: Abortion Is Not an International Right
According to Health and Human Services Secretary Alex Azar, the Trump administration does not believe that access to abortion services is a human right. Azar called on other nations to agree with the United States during a summit focused on climate change and healthcare at the United Nations. "We do not support references to ambiguous terms and expressions such as 'sexual and reproductive health and rights' in U.N. documents, because they can undermine the critical role of the family and promote practices like abortion in circumstances that do not enjoy international consensus, and which can be misinterpreted by U.N. agencies," Azar said. Azar believes there is no international right to an abortion and noted that the U.S. only supports a "family first" sex education. Recent PRRI data shows that in the United States, a majority (54%) of Americans believe that abortion should be legal in all (23%) or most (31%) cases, while four in ten (40%) believe that abortion should be illegal in most (25%) or all (15%) cases. 
Another Monday Night Without Colin Kaepernick
Another night of Monday Night Football has come and gone in the NFL, with Colin Kaepernick missing from NFL rosters. This marks the third season in which the former Super Bowl quarterback has not been signed to an active roster, despite a flurry of teams in need of help at the quarterback position. In a recent piece for FiveThirtyEight, Tony Chow and Neil Paine examine Kaepernick's current NFL viability and determine that from a skills level, he should outrank a good portion of current players starting NFL games. Despite this, Kaepernick has not been signed to a contract since he began protesting police brutality and racial inequality during the pre-game national anthem. In a 2018 analysis, PRRI's David Tigabu writes, "Six in ten (60%) Americans agree that professional athletes should be required to stand while the anthem is being played, while 36% of Americans are opposed to this requirement. However, there are significant differences between white and black Americans on this issue. While about two-thirds (66%) of white Americans agree that athletes should be required to stand while the anthem is being played, less than three in ten (28%) of black Americans shared that sentiment.