Mississippi Votes to Remove Confederate Emblem From Flag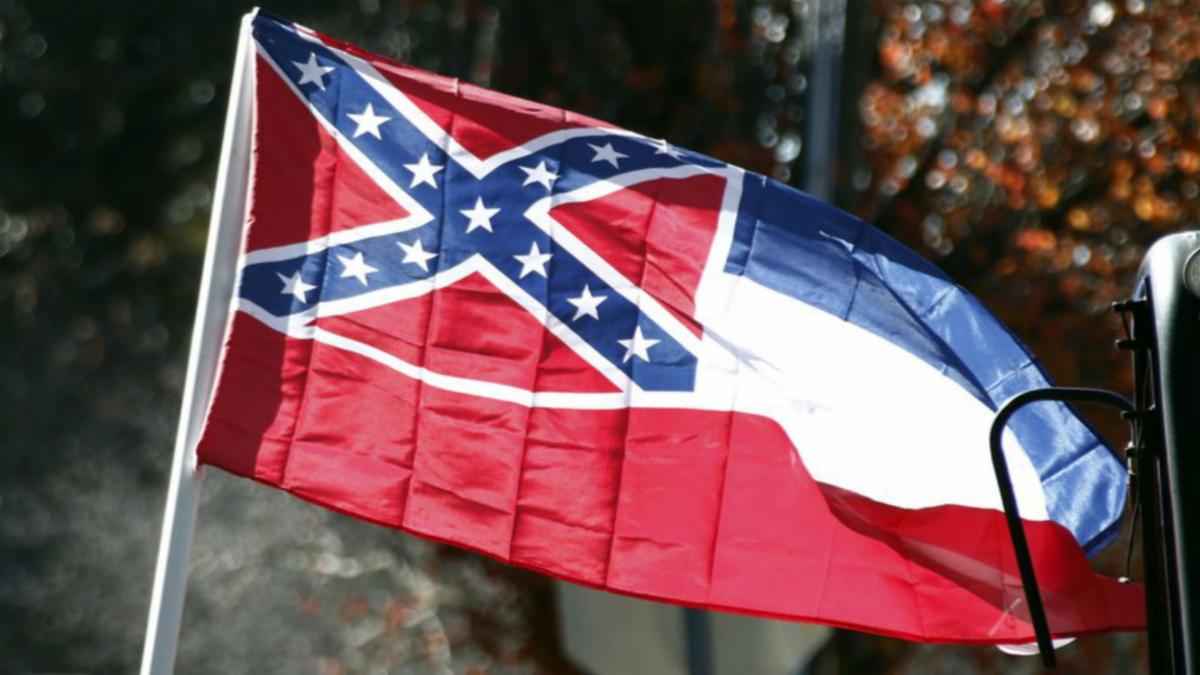 Mississippi Votes to Remove Confederate Emblem From Flag
In 2019, PRRI found that 
34% of white Americans believe the Confederate flag is a symbol of racism compared to 75% of Black Americans
. In a historic vote on Sunday, the Mississippi Legislature voted to remove the Confederate battle emblem from the state flag. Under the new law, the state Department of Archives & History has 15 days after the bill becomes law to retire the flag. In a moving interview for Mississippi Center For Investigative Reporting, Jerry Mitchell speaks with 90-year-old Myrlie Evers, the widow of slain civil rights leader Medgar Evers, on this moment. The flag symbolized "
slavery and second-class citizenship
 for those whose color was not white," Myrlie says, and she praised lawmakers for their courage and votes. "If Mississippi can make a move like this, I hope the rest of America can look at themselves and their states and see their signs of prejudice, hate and racism and perhaps be brave enough to remove them."
Lawmakers Demand Answers After Reports of Russian Bounties on U.S. Troops in Afghanistan
According to PRRI's 2018 Americans Values Survey, almost 
seven in ten Americans view Russia as either unfriendly (45%) or an enemy of the U.S. (23%)
. Only about three in ten view Russia as either friendly (24%) or an ally of the U.S. (5%). On Friday, multiple news outlets reported that Russian operatives secretly offered cash payments to Taliban-linked militants to kill U.S. troops in Afghanistan. As developments unfolded, additional reports surfaced that top White House officials were aware in early 2019 of classified intelligence indicating Russia was secretly offering bounties to the Taliban for the deaths of Americans, a full year earlier than had been previously reported. "The White House has said Trump was not — and still has not been — briefed on the intelligence assessments because they have not been fully verified. However, it is rare for intelligence to be confirmed without a shadow of a doubt before it is presented to top officials," 
Associated Press reports
.
Why Climate Change is Also a Racial Inequality Problem
The vast majority of Americans (80%) believe there is solid evidence that the average temperature on earth has been getting warmer over the past few decades, but 
white Americans (22%) are more likely than Hispanic (14%) and black Americans (12%) to think climate change is not happenin
g
. Americans who believe they will be affected the most varies greatly by racial demographic, with more Hispanic Americans (74%) and black Americans (70%) than whites (51%) who think climate change will harm them personally. In The Washington Post, Sarah Kaplan breaks down how racial inequality affects where people live and the environmental risks to which they are exposed. "
Racism is 'inexorably' linked to climate change
, said Penn State meteorologist Gregory Jenkins, because it dictates who benefits from activities that produce planet-warming gases and who suffers most from the consequences," she writes.
Black Artists Advocate for Social Justice at the BET Awards
The 20th BET Awards aired on Sunday night, and balanced delivering a night of celebrating black artists and entertainment while also reflecting on the racism and inequality happening nationwide. Many artists incorporated social justice messaging into their performances and made explicit references to protests against racism, from reenactments of George Floyd's death to tributes to the Breonna Taylor, and more. "Indeed, for every performance, there was a segment devoted to encouraging viewers to use their voice, a presenter spending their time to prompt the audience to act, or an artist using their acceptance speech to deliver a call to action," 
Shirley Li writes for The Atlantic
. A recent Spotlight Analysis by Brianna Tucker focused on issues Black Americans find critical such as race and crime, and notes that "there are pronounced differences as to how Black Americans and other races — particularly Republicans and white Americans — think about crime. Data indicates that 
Black Americans are far more likely to think about crime related to discriminatory policing
 (such as excessive force, opinions on the death penalty, or lack of accountability in policing) against Black Americans and racial bias within the criminal justice system than white Americans."
Country Stars Blasted for Packed Concert Crowds During Pandemic
PRRI data from March shows that 
80% of Americans are likely to avoid attending a concert or sporting event as a result of the coronavirus
. Now, musicians and fans alike are criticizing country music artist Chase Rice for posting videos of a concert he played over the weekend where footage showed tight outdoor crowds with no sign of social distancing or masks — despite coronavirus cases resurging in the U.S. "Although shots of jammed crowds at bars in Nashville had recently aroused controversy, these are believed to be the first instances of stars drawing standing-room-only, non-distancing crowds to ticketed performances in large numbers since national quarantining began," 
Variety reports
.