Mike Pence's Craven Effort To Appease MAGA Points to a Deeper Conflict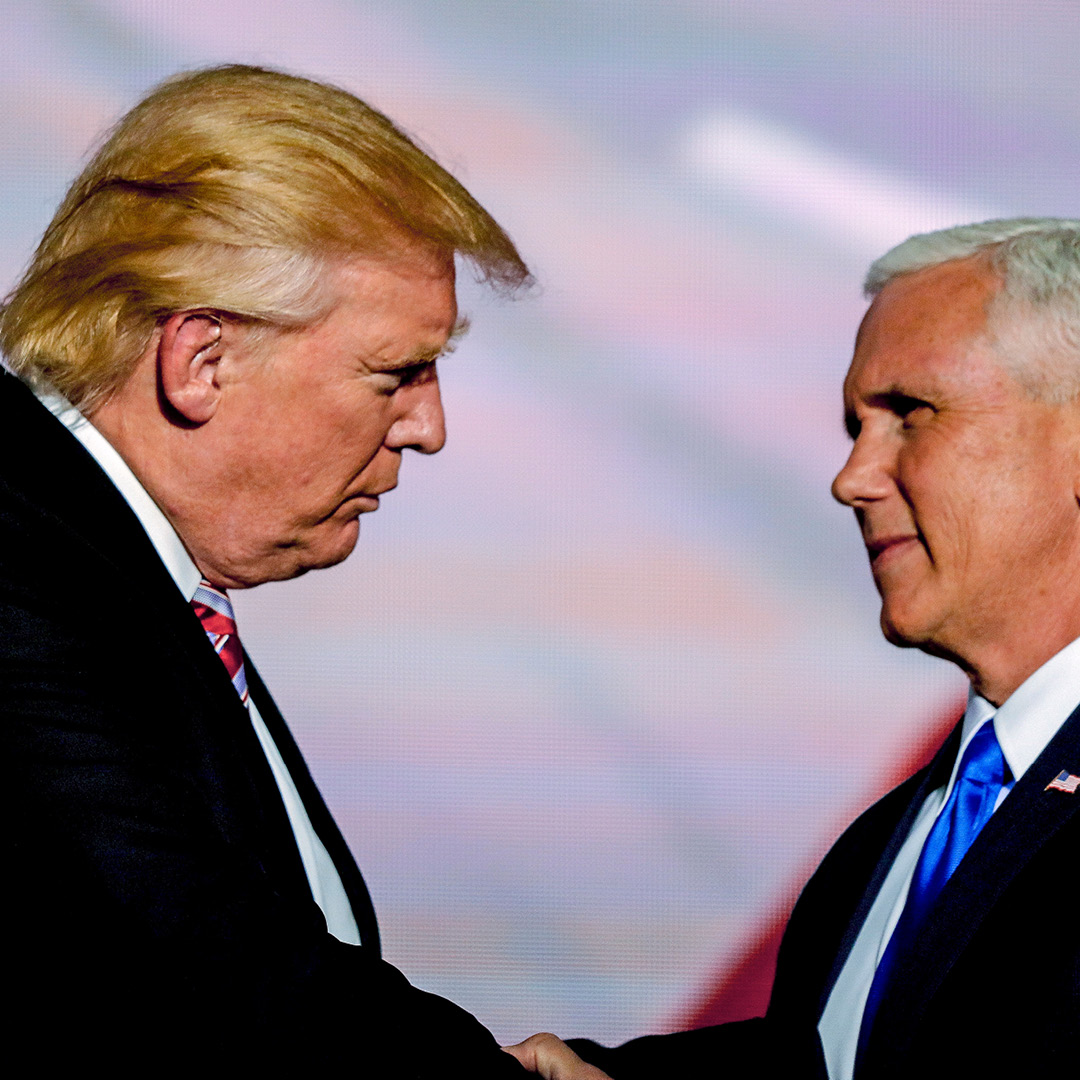 Mike Pence's Craven Effort To Appease MAGA Points to a Deeper Conflict
Greg Sargent for The Washington Post reports that for many GOP voters, Mike Pence is "tainted" by the fact that he stood against Trump on Jan. 6, 2021. Pence told reporters Wednesday that he will fight a subpoena in the investigation into Trump's effort to overturn his 2020 reelection loss, in which he will most likely be questioned about Trump's pressure on him to subvert the congressional count of presidential electors. Although Pence is fighting the subpoena, Sargent notes that most of Trump's supporters don't view the former Vice President's actions on January 6 as courageous. Instead, PRRI President and Founder Robert P. Jones told Sargent, large majorities of Trump's base believe Trump was the figure who "resisted an injustice on that day," according to PRRI data, adding that Trump's supporters are "much more likely to align with Trump's view of power and courage on Jan. 6 than with Pence's.'"
---
It's Time To Formalize 'Gen Z' As the 'Lockdown Generation'
In an analysis for The Washington Post, Philip Bump writes about the naming of generations throughout history. Generation X comes from the novel "Generation X: Tales for an Accelerated Culture" by Douglas Coupland, which is "an exploration of a group of young Americans who demonstrated the insouciance and skepticism of their elders that remains a stereotype for our age cohort." Gen Y became "millennials" based on a reference to the oldest of them being young adults when the millennium arrived. Bump notes that Gen Z, then, is "still in that period of transition from having a nickname to having a real name," arguing that Gen Z should be referred to as the Lockdown Generation. Bump cites Melissa Deckman, PRRI's CEO, whose work on Gen Z, particularly Gen Z women, shows that the aftermath of the Parkland shooting was crucial to their political socialization, noting that Gen Z is "growing up as a lockdown generation. They have lived these gun drills." Deckman adds, "For many of the young women I've spoken with, especially the highly active ones, being involved after Parkland, the March for Our Lives, almost all of them participated in and organized that. That introduced them to what political organizing was." The Washington Post found that from 1999 to 2017, the country averaged about 11 school shootings a year. Since then, America has had over 30 per year.
---
The Latest American Conspiracy Theory
Chris Lehmann for The Nation reports that although the estimates range on exactly how many Americans believe in the conspiracy theory QAnon, it still translates to millions of people. A 2021 poll from PRRI found that 20% of Americans, or approximately 30 million people, indicated "genuine assent to the core dogmas of QAnon," such as having faith that a "storm" will sweep away current political leaders in an "apocalyptic reckoning for satanic, child-violating liberals." PRRI data found that QAnon believers who most trust far-right news outlets universally agree that the election was stolen from Trump (99%). During the "boom in recruitment" during the COVID-19 pandemic, the movement became an integral part of some right-leaning Protestant congregations, further fueling the culture wars by the religious right. "The QAnon-evangelical alliance was another nascent feature of the emerging Trump coalition that was always hiding in plain sight […] GOP leaders have courted prominent preachers and denominational leaders for institutional support; this was yet another traditional Republican political norm that Trump short-circuited," writes Lehmann.
---
Age Matters, but U.S. Latinos Show Smaller Generational Differences on Social Issues
PRRI Public Fellow Laura E. Alexander writes in a recent spotlight analysis that "[t]he growth of Latino communities in the United States, both in number and in electoral importance, has led to much public discussion about 'the Latino vote.'" Alexander notes that one of the main takeaways is that the Latino community is just as diverse as any other group, meaning that politicians "will have to look beyond shared ethnicity if they want to understand how to reach Latino residents and voters." Alexander uses an analysis of PRRI's 2022 American Values Survey, showing that the differences between older and younger Latinos on several political issues are not as great as between older and younger survey respondents in the American population in general. This is mostly because older Latinos generally express more progressive or left-leaning views than older Americans overall and younger Latinos are less progressive on some issues than young Americans. "This data seems to contradict the stereotype that older Latinos are usually more conservative than other demographic groups on social issues such as same-sex marriage or transgender rights," she writes.
---
What's Buzzing?
Read the full report, "A Christian Nation? Understanding the Threat of Christian Nationalism to American Democracy and Culture" here.