Michigan Lawmaker's Response to 'Grooming' Accusation Goes Viral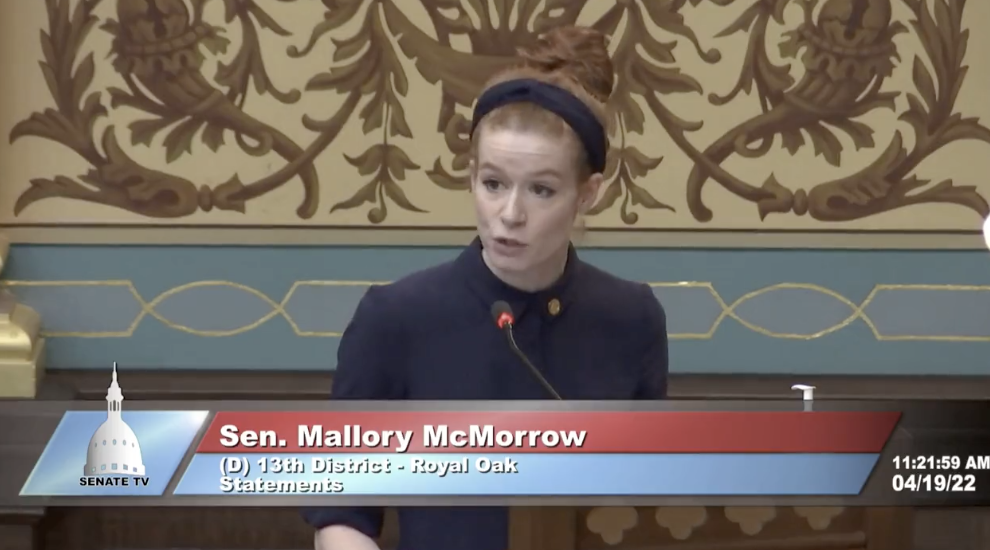 Michigan Lawmaker's Response to 'Grooming' Accusation Goes Viral
Christopher Wilson for Yahoo! News reports on Michigan state Sen. Mallory McMorrow's viral speech after a Republican colleague, Sen. Lana Theis, wrote in a fundraising email that McMorrow wanted to "groom and sexualize kindergarteners." This comes in the wake of Republicans adopting "parental rights" as an integral part of their legislative agenda, including the introduction of a series of bills targeting the LGBTQ community, with those opposing the legislation being labeled as "groomers." Wilson summarizes: "Prominent right-wing media figures have focused on anti-LGBTQ attacks in recent weeks." McMorrow's speech has been viewed 14 million times since she posted it to her Twitter account a few days ago. Wilson notes that believers in debunked QAnon theories about Satanic child abusers "frequently allege that their political opponents support pedophiles."
McMorrow responded directly to Theis in her Senate floor speech from Lansing, stating, "So who am I? I am a straight, white, Christian, married, suburban mom who knows that the very notion that learning about slavery, or redlining, or systemic racism somehow means that children are being taught to feel bad or hate themselves because they are white is absolute nonsense." She continued: "I want every child in this state to feel seen, heard, and supported, not marginalized and targeted because they are not straight, white and Chrisitan." PRRI research found that 16% of Americans, which translates to roughly 41 million people, believe that "the government, media, and financial worlds in the U.S. are controlled by a group of Satan-worshipping pedophiles who run a global child sex-trafficking operation."
---
Brownstein: 'Rising Militancy' on Abortion Across U.S.
Ronald Brownstein for CNN reports on the raft of abortion bans that have passed in recent weeks. He argues that the severe restrictions on abortion point to the GOP's "rising militancy on the issue." This includes what seems to be an apparent domino effect of consecutive actions in Oklahoma, Florida, and Kentucky over the last two weeks. Kentucky's law, however, was blocked yesterday because "the state hasn't yet set up clear guidelines." The restrictions these states approved all deny exceptions for victims of rape or incest, Brownstein writes, a provision that was once common, but that has been completely thrown out in the new restrictions since 2021. The Kentucky bill also included a prohibition against residents obtaining abortion medication by mail, though the FDA authorized mail delivery in December 2021.
Though abortion restrictions typically have more support in red states, PRRI state-level research found that a "majority of residents" do not want to completely ban abortion, "despite the fact that several states have passed 'trigger' bans to do so if the Supreme Court allows it," Brownstein notes. Though Roe vs. Wade has not yet been overturned, the ripple effects of the current laws are being experienced nationwide. One clinic in South Dakota says it hasn't been able to hire in-state doctors because they fear harassment and possible retaliation from hospitals, CBS reports. Patients also have to wait up to five weeks for an appointment. The Guardian reports that last year's near-total ban in Texas has forced an average of nearly 1,400 Texans to travel out of state for abortions each month; Planned Parenthood clinics in Oklahoma alone saw a nearly 2,500% increase in patients from Texas. Providers stress the law disproportionately affects the most vulnerable: low-income people, people of color, immigrants, and young Texans.
---
Catholic Universities' Shift to Making Lay People Leaders
Michael J. O'Loughlin for America: The Jesuit Review of Faith & Culture reports that over the course of a month, three Jesuit universities have made announcements that laypeople, rather than priests or brothers, would soon be leading their respective institutions. O'Loughlin explains that although this move may seem sudden, in actuality it is part of an "accelerated trend in recent decades." He notes that questions remain about how these new leaders might alter or impact a school's Catholic identity. The Rev. Dennis Holtschneider, head of the Association of Catholic Colleges and Universities, stated: "I think we're in a period of experimentation right now. This is more than just the downsizing of religious orders. This is at the same time a major shift in how people are identifying with religion, especially among the younger generation." Pope Francis has also spearheaded this effort, calling for "greater collaboration between lay and ordained leadership" in church ministries.
O'Loughlin emphasizes that Catholic colleges and universities are aware that many of their students do not always have strong ties to religious faith as younger Americans. PRRI found that the percentage of adults aged 18 to 29 who are religiously unaffiliated rose from 10% in 1986 to 36% in 2020. Even then, just over half of those young people who are religiously affiliated have "little to no trust" in organized religion, the Springtide Research Institute found. O'Loughlin concludes that as the number of priests and religions on the campuses of Catholic universities continues to decline, with lay professionals increasingly responsible for maintaining a school's Catholic identity, it remains to be seen how the universities' structure and methodologies will be carried out and fulfilled.  "The jury's out," one priest stated. "But there's a lot of activity and a lot of creativity, and people are trying to find their way."