Mattis: Trump Tweets Damage the Dignity of the Presidency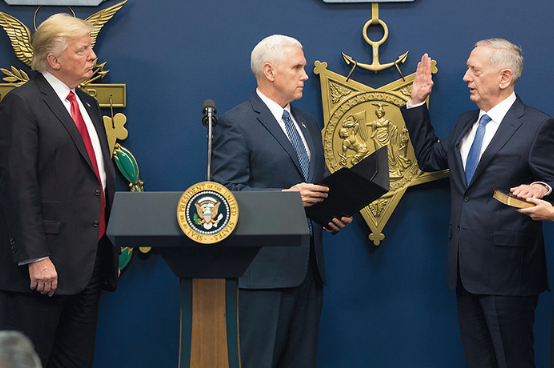 Mattis: Trump Tweets Damage the Dignity of the Presidency
Former Defense Secretary James Mattis offers a rare public look at his private thoughts on the president in a recent piece for The Atlantic. Though Mattis hesitates to directly criticize President Donald Trump, he expresses dismay over a question about President Trump's tweets about North Korea. "Any Marine general or any other senior servant of the people of the United States would find that, to use a mild euphemism, counterproductive and beneath the dignity of the presidency." Mattis says. During his interview, he notes that even if he didn't like President Trump "one fricking bit," it would be improper for him to weaken the president's position. PRRI's 2018 American Values Survey shows that 69% of the country believes that President Trump has damaged the dignity of the presidency. 
Trump Denies Report He Encouraged Aides to Break the Law for the Wall
A recent report in The Washington Post alleges that President Trump is so desperate to have an enhanced border wall constructed by Election Day that he is promising pardons to those who break the law in order to make that happen. The Post cites current and former Trump officials who say Trump has instructed aides that should they have to skirt environmental rules, move around money, or seize private land to get the job done, they will be pardoned for any crimes they commit. Another White House official adds that when Trump makes such requests, he is only joking. According to the president, the Post story is "FAKE NEWS."PRRI data shows that as of 2018, 38% of Americans believed that Trump had used his power to pardon appropriately, while 59% of Americans disagreed. President Trump has granted 15 pardons since entering office. 
Participation in High School Sports Drops for the First Time in 30 Years
For the first time in 30 years, high school sports participation has dropped year over year. In 2018, close to 8 million students played high school sports, but that number is down nearly 43,000 from the year prior. The decrease in participation could also indicate that there are simply less students playing multiple sports. If a student plays baseball and football in year one, the National Federation of High School State Associations counts the student as participating in two sports. If the same student drops a sport in year two, the student is credited as participating in one sport. More data shows that many students are forced out of high school sports and into sports within their youth communities due to increasing interscholastic competition or a lack of sports offered. More than 4 in 10 Americans believe that playing competitive sports is very important for the physical and emotional development of young men (41%) and young women (43%).
The White Working Class and the Church
In a recent piece for America: The Jesuit Review, David Clay wonders what religious institutions can do to draw in a higher number of white working-class Americans. Multiple studies in recent years have confirmed that Americans are attending fewer religious services. Clay writes, "Working-class whites are simply more likely to never darken the door of a church. A [2016] report by the Public Religion Research Institute found that among white adults in their 30s and 40s, half of those without college degrees said they seldom or never attend religious services, compared with less than a third of those with at least a bachelor's degree." In 2016, 25% of Americans overall claimed no religious affiliation, up from 6% in 1991.