Marine Corps Moves Forward with Plan to Remove Confederate Symbols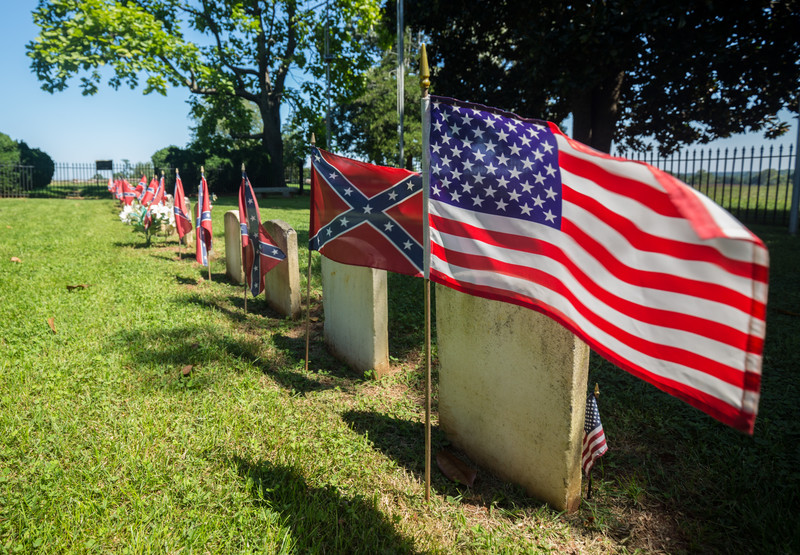 Marine Corps Moves Forward with Plan to Remove Confederate Symbols
Among a new series of directives ordered by Marine Corps Commandant Gen. David Berger is a worldwide initiative to remove Confederate paraphernalia. Berger issued an order recently for Marine Corps bases across the world to remove any signs or symbols related to the confederacy. Military.com notes that 10 U.S. Army bases are named after prominent confederate figures. Richard Kohn, a professor at the University of North Carolina at Chapel Hill, explains the historical significance of Berger's decision. "We have the need within the country to try and create as much unity as possible and to suppress white nationalism and racism within the ranks of the military because, every once in a while, it crops up and causes an issue," Kohn says. PRRI research shows deep racial and class divides over their views of the Confederate flag. A slim majority (52%) of Americans say they see the Confederate flag as a symbol of southern pride, while more than four in ten (45%) see it as a symbol of racism. Three in four (75%) black Americans say they view the Confederate flag as a symbol of racism, but more than six in ten (64%) white Americans see it as a symbol of southern pride, a view shared by just 17% of black Americans.

Texans Voting in Higher Numbers Ahead of Super Tuesday
As Super Tuesday approaches, Democratic presidential candidates have increased their focus on voters in Texas, where 228 delegates are up for grabs. According to Fox News, more Texans are expected to cast ballots on Tuesday than in the 2016 primary. Data indicates that at least 100,000 more votes have been cast by early voters, compared to the same timeframe in 2016. PRRI Public Fellow and University of Texas at Austin professor Eric McDaniel explains the importance of the delegate-rich state. "Texas has a lot of delegates and so they are going to spend a lot of time trying to reach into Texas. And, because there is no clear frontrunner or one dominant figure, everybody thinks they have a chance," McDaniel says. In 2019, PRRI Research Director Natalie Jackson examined what Texas would look like during the 2020 election cycle. "Texas has the fastest-growing population in the U.S., and the influx is not increasing the state's traditionally white, Christian, Republican population. In 2018, for every white person who arrived in Texas, nearly nine Hispanics relocated to the state. While Hispanic populations are not monolithic in their views or voting habits, and they typically vote at lower rates than white residents, the increasing minority population typically leans Democratic," Jackson wrote.
rump Support Declines Among White Evangelical Women
A recent article in HuffPost looks at PRRI's latest data, and what it says about female support for President Donald Trump. On Tuesday, PRRI released a new survey that shows support for Trump is down among women, even white evangelical Protestants who are typically very reliably supportive. More than half (59%) of white evangelical women support the president, compared to 69% of white evangelical men. In an interview with HuffPost, Calvin University professor Kristin Kobes Du Mez tries to reason with this disparity. "Trump aligns with a more militant ideal of Christian masculinity that is common in white evangelical circles. But I think more women than men are wary of this kind of power," she says. "They may be more familiar with abuses of power, and more reluctant to see this sort of militancy as compatible with their faith."

'Invisible Man' Thriller Takes on #MeToo and the Consequences of Not Believing Women
A recent article in BuzzFeed puts a cultural lens to the new movie "Invisible Man" and the deeper consequences within about not believing women who report their trauma. Directed by Leigh Whannell, the thriller arrived in theaters last week shortly after disgraced Hollywood mogul Harvey Weinstein was convicted of sexual assault and rape. "At a time when movements like #MeToo have led to abusive and toxic men being held accountable more than ever, the 2020 version of The Invisible Man has a whole other meaning — and induces a whole other level of fear — for viewers," Buzzfeed reporter Krystie Lee Yandoli writes. The film follows a woman, Cecilia, who is in an abusive relationship with a wealthy and manipulative engineer. She escapes from him one night, and weeks later learns that he took his own life. However, her relief transforms into fear when his presence begins to haunt her like a ghost, tormenting her and those around her — but no one believes her. "According to Whannell, the horror genre lends itself to depicting the worst of society's systemic problems because it can illustrate our collective fears. In the case of The Invisible Man, Cecilia's character is an example of what it's like for a woman to be driven to feel 'crazy' in the wake of abuse when no one around you believes what you're saying." In 2018, PRRI asked Americans about the impact of the #MeToo movement — almost half of Americans said that the #MeToo movement has had a positive impact. About half (48%) say it has helped address sexual harassment and assault in the workplace. Less than one in five (18%) say it has led to the unfair treatment of men, and 16% say it has not really made any difference.