'Liberate' Protest Poses Problems for Republican Party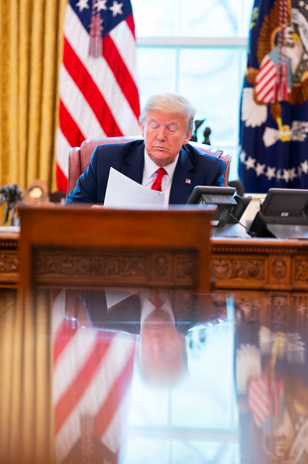 'Liberate' Protest Poses Problems for Republican Party
An uptick of protests around the country, put on by citizens who want the economy to re-open immediately, has led to some strife in the Republican Party. Russell Berman in The Atlantic looks at the difference of opinion between advocates of "liberating" states from social distancing and health regulations, and those who support federal and local efforts to protect citizens. Rep. Jim Jordan (R-OH), a vocal supporter of immediately re-opening the economy believes that current regulations and suggestions are "ridiculous." "Americans understand that, and that's why they're speaking out," Jordan says. Others like Rep. Bill Huizenga (R-MI), who says he is in the middle on the issue, aren't so sure. "Turning this into a political football does not help anybody, whether it's the governor or the administration," Huizenga says. At the federal level, President Donald Trump has been supportive of protesters, though that does not mean he is ready for the country to immediately re-open. When asked on Wednesday about Georgia Gov. Brian Kemp's decision to re-open some businesses on Friday, Trump expressed disagreement. According to Trump, it is "too soon." In late March, PRRI asked Americans if they were likely to avoid to a list of eight normal activities, like riding in an Uber, going to a restaurant or bar, or attending concerts or sporting events. At the time, half of Republicans (49%) said they would avoid all of the activities, which was in line with Democrats (51%). 
ProPublica Examines Problems Surrounding Debt Collection During the Coronavirus Outbreak
Kim Boatswain, a grandmother who works as a chauffeur throughout the coronavirus pandemic, recently discovered that a collection agency was able to drain her savings account to settle a debt. "I couldn't understand it," Boatswain explains to ProPublica. "I said: 'What do I need to do? That's money for my mortgage. I can't even eat.'" According to the collection agent, the debt stems from unpaid bills dating back to 2006. The money in Boatswain's account was claimed shortly before Texas lawmakers banned the practice during the pandemic. "Texas has strong debtor protections that date to the beginning of its history as a state. Laws place strict limits on the collection of wages, homesteads, retirement accounts and other assets, including cars. But bank accounts are a different story," ProPublica reports. According to Lauren Sanders of the National Consumer Law Center, Congress should keep people like Boatswain in mind and make it illegal for debt collectors to seize upcoming stimulus payments from the government. "It's not too late for Congress to make clear that the stimulus payments can't be grabbed by debt collectors who are trying to take food out of the mouths of desperate families," she says. Boatswain has since retained a pro-bono lawyer to look into the garnishment from her savings account.
Robert P. Jones Looks at the Historic Ties Between Racism and Pandemic 
In a new op-ed for Sojourners, PRRI CEO and founder Robert P. Jones looks at a historic prevalence of racist and xenophobic tendencies during times of pandemic. Jones points to historical events such as an 1832 cholera epidemic in New York, as well as a wave of violence against African Americans during the flu outbreak of 1919. As unemployment levels rise, people die, and political divisions run rampant, Jones cautions that the next few weeks could be critical to avoid a repeat of history. "Americans are wholly unprepared — not just in public health or economic terms, but in terms of our culture and values — for what we will be facing in the next few weeks. Even if the more recently reduced projections hold, the coronavirus will claim the lives of more than 60,000 Americans. To put this in perspective, even these lower estimates would exceed the American lives lost in the Vietnam War. And if the death toll turns out to be more than 100,000 (where estimates had it just two weeks ago), it would roughly equal the lives lost in World War I," Jones writes. With xenophobia present in society, and often expressed by the Trump administration, it is up to other leaders of the country to step up. "The time for our political, religious, and business leaders to help us flatten this curve is now. If we wait until the xenophobia goes viral, it will be too late," Jones writes. 
#TravelFromHome Offers At-Home Coronavirus Distraction
PRRI surveys conducted during the coronavirus outbreak show that Americans are choosing to forgo their regular habits in an effort to social distance and stop the spread. With regulations and guidance at all levels of government to stay home during the coronavirus outbreak, vacations and widespread travel has been mostly retired. CNN recently looked at how some Americans are coping with their new homeward bound reality, and what some are doing to pass the time. "The pandemic is forcing people to get creative if they want to hold onto those dreams of flying up, up, and away again. Social media users are now one-upping each other on TikTok, Instagram and Facebook by recreating scenes of themselves roaming through airports, gazing out of airplane windows, and even missing their flights," CNN reports. The viral trend began when engineer Philipp Klein Herrero decided to do his best to recreate what the ski trip he was forced to cancel would be like. "I wanted it to feel like an actual mountain adventure if you closed your eyes," says Herrero. "When I posted the video, it literally exploded. I never expected this kind of traffic." Others have since followed suit, joining Herrero on their own virtual travel adventures.