Kentucky Election Could Signal Problems for Trump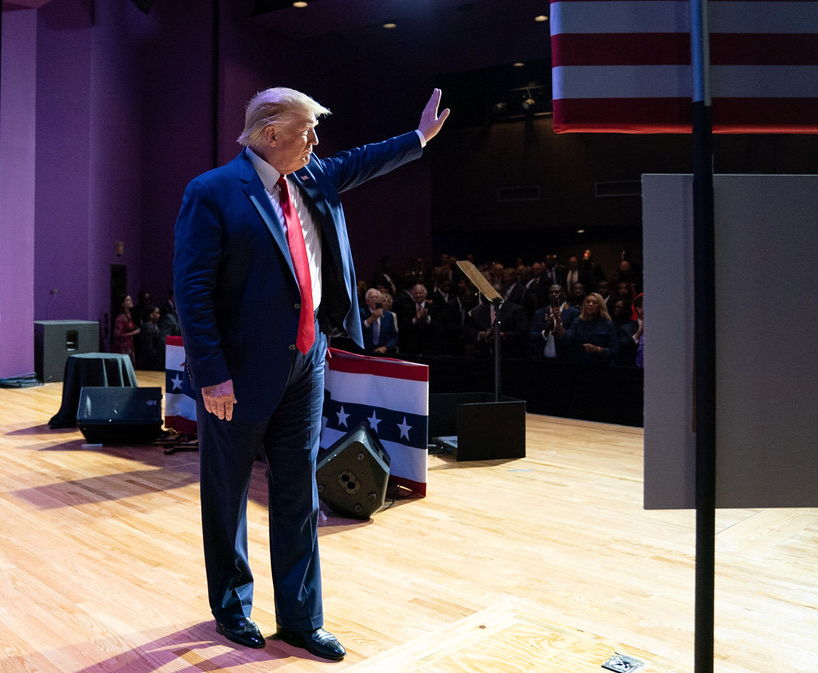 Kentucky Election Could Signal Problems for Trump
Democratic gubernatorial candidate Andy Beshear pulled off a surprising upset on Tuesday, defeating Republican incumbent Matt Bevin to become the next governor of Kentucky. Beshear, whose father previously served two terms as governor, presented a wildly different plan for the state, including how the governor's office would handle abortion availability. In recent weeks, Bevin had increased attacks on Beshear's stance on abortion rights. In 2018, Bevin signed a law making abortion virtually illegal in the state, and pushed to have Planned Parenthood's medical licenses revoked in the state. PRRI data has shown that not all residents agreed with Bevin on abortion. Data shows that 43% of Kentuckians support making abortion legal in all or most cases, while cases and 20% believe it should be illegal in all cases. Beshear has pledged to reverse a Bevin law, which mirrored Trump's health care stance, that required work requirements for Medicaid recipients. "Healthcare is a basic human right and our administration will treat it as such," Beshear said on Tuesday.
A Historic Night in Virginia as Democrats Declare Victory
The Democratic Party regained control of the Virginia General Assembly last night, turning the state blue and giving Democrats control over each aspect of Virginia government for the first time in 25 years. "The early results are nothing short of a major win for Democrats, who now control every lever of power in what was considered a swing state just a few years ago. Democrats now control all three statewide elected offices, both U.S. Senate seats and both chambers of the General Assembly. Democrats also hold seven of Virginia's 11 seats in the U.S. House of Representatives," Reid Wilson writes in The Hill. Among the losers across the state were several Republican incumbents. Recent PRRI data shows that when it comes to concern about key issues, Democrats and Republicans have no overlap. Like Americans overall, Democrats are most likely to regard health care (77%) as critical. But Democrats rate climate change (72%) and foreign interference in presidential elections (63%) as the next most critical issues. By contrast, Republicans' top three critical issues are terrorism (63%), immigration (60%), and crime (50%).
Abortion Fight Heats Up in South Carolina
South Carolina has become the latest state to push for a law that would ban abortions once a heartbeat has been detected in a fetus. If enacted, South Carolina would join Alabama, Georgia, Kentucky, Louisiana, Mississippi, Missouri, and Ohio as states with similar legislation. The bill was approved in a 9 to 6 vote by the Senate Medical Affairs Committee. It now goes before a full vote in the South Carolina Senate in 2020. Of the fifteen people to vote on the Fetal Heartbeat Protection from Abortion Act, only one was a woman. The South Carolina Senate failed to pass a similar bill in 2018. PRRI data indicates that nearly half (47%) of South Carolina residents support abortion being legal in all or most cases.
The Diminishing Impact of Denying Pro-Choice Democrats Communion
In a recent piece for Religion News Service, Jack Jenkins writes of the diminishing impact of Catholic Churches choosing to deny Communion to politicians who support abortion rights. Former Vice President Joe Biden was recently denied Communion in South Carolina, an incident that only had a brief news cycle compared to 2004 presidential candidate John Kerry, which lasted for months. Biden wouldn't discuss the issue in a recent interview with NBC. John Carr of Georgetown University tells Jenkins that the issue plays negatively. "Refusing communion for public positions was widely discussed and rejected by almost all bishops and pastors years ago," Jenkins says. "It is bad Eucharistic theology, bad pastoral practice and bad politics." Jenkins cites PRRI data that notes "48% of U.S. Catholics support making abortion legal in most or all cases, compared to 46% who say the opposite."