Jones: Graham's Buttigieg Comments "Out of Step"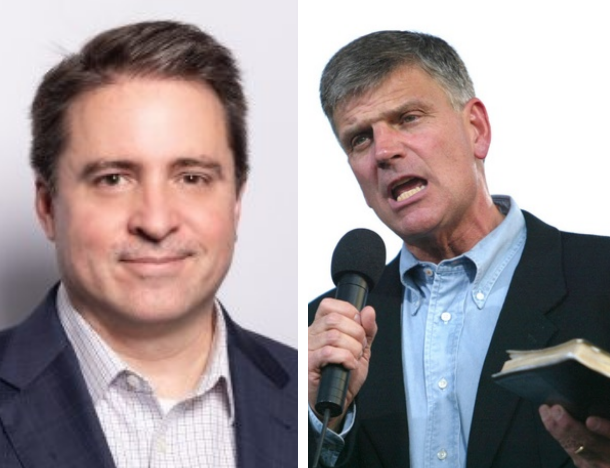 Jones: Graham's Buttigieg Comments "Out of Step"
Last week, one of President Trump's loudest defenders in the evangelical community, Franklin Graham, chastised the sexual preference of Democratic presidential candidate Pete Buttigieg. Graham believes homosexuality is a sin and that, according to the Bible, it shouldn't be praised or flaunted. In an interview with The Washington Post, PRRI CEO and founder Robert P. Jones says that Graham is out of step with the rest of the country. "While Franklin Graham has not changed his tune on LGBT rights in decades, the American public has. Graham's recent comments about Pete Buttigieg are strongly out of step not only with the country as a whole but with most Christians," Jones tells Jennifer Rubin. PRRI data indicates that 62% of Americans say gay and lesbian couples should be allowed to marry legally. "That was a 10% increase in support for same-sex marriage from 2015," Rubin writes, "when a smaller majority (53%) of Americans supported same-sex marriage, and almost four in ten (37%) opposed this policy."
Evangelicals, Morality, and President Trump
Following their recent analysis of PRRI data by The Washington Post, two Notre Dame professors spoke to HuffPost about how evangelical's beliefs about politicians' private immoral behavior has changed over the years, using PRRI data and data from the Cooperative Congressional Election Study. In 1998, America's largest evangelical denomination passed a resolution declaring that "moral character matters" for public officials. However, evangelical support of Trump suggests that their views on morality have changed dramatically. When asked in 2011, 60% of white evangelicals said that a public official who commits an immoral act in their personal life cannot still behave ethically and fulfill their duties in their public and professional life. By 2016, that number had dropped to 20%.
Clyburn Chastises Trump for Robert E. Lee Defense
House Majority Whip James Clyburn (D-SC) criticized President Trump on Sunday, following the president's praise of Confederate General Robert E. Lee. "Robert E. Lee was a slave owner and a brutal slave master," Clyburn said. "I find it kind of interesting the president is now glorifying a loser. He always said that he hated losers. Robert E. Lee was a loser." The removal of a Lee statue was the impetus for a 2017 white nationalist rally where one woman was killed. PRRI data shows that views of Confederate monuments vary starkly by race and ethnicity. More than two-thirds (68%) of white Americans and a majority (54%) of Hispanic Americans agree that Confederate monuments are symbols of Southern pride, compared to only 29% of black Americans.
Olympian Champions the Equality Act
PRRI's most recent data shows that there is broad support for nondiscrimination protections of LGBT individuals across all 50 states. Nearly seven in 10 (69%) Americans favor laws that would protect LGBT people from discrimination in jobs, public accommodations, and housing. One of those Americans, openly-gay Olympian Adam Rippon, is now calling on Congress to pass the Equality Act. "The message that this legislation really sends to young LGBTQ+ people is that your identity should never be something that you feel is gonna hold you back," Rippon says in a video released by the Human Rights Campaign. "That's why we need to pass the Equality Act now."