Jeffress White House Appearance Draws Ire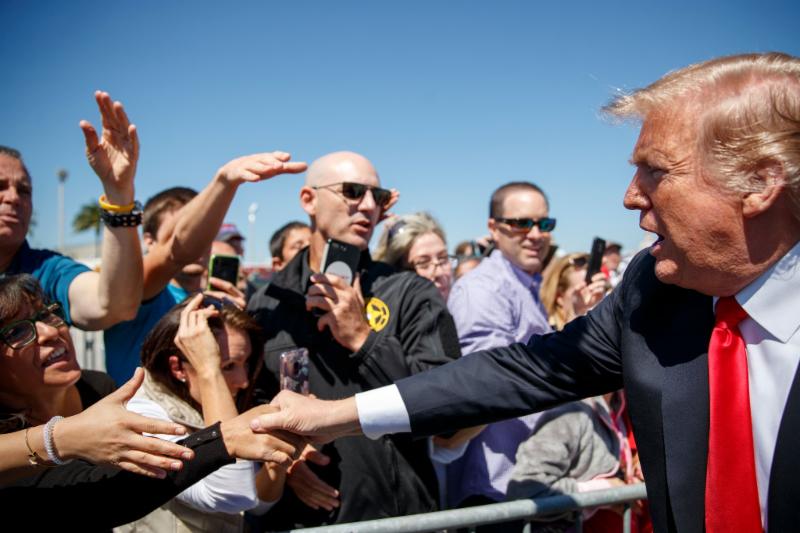 Jeffress White House Appearance Draws Ire
Robert Jeffress, an evangelical leader and cheerleader for President Donald Trump, spoke at the White House this week during a Hanukkah reception. Jeffress' appearance drew the ire of some due to his previous inflammatory comments about the Jewish faith. "Not only do religions like Mormonism, Islam, Judaism, Hinduism, not only do they lead people away from the true God, they lead people to an eternity of separation from God in hell. You know, Jesus was very clear. Hell is not only going to be populated by murderers and drug dealers and child abusers. Hell is going to be filled with good religious people who have rejected the truth of Christ," Jeffress said in 2009. President Trump praised Jeffress at the event, saying that he likes that Jeffress always speaks so highly of him. "And I like people that talk well about me," Trump said. Recent PRRI data shows that white evangelical Protestantst remain passionate about the president. Nearly two-thirds (63%) of white evangelical Protestants say Trump has not damaged the dignity of the office. 
Falls Church, Virginia Becomes Latest Town to Approve LGBT Nondiscrimination Protections
Falls Church, Virginia, a suburb of Washington D.C., became the latest town to enact laws that provide nondiscrimination protections for LGBT residents. The Falls Church City Council voted unanimously this week to add language surrounding employment and housing discrimination for the LGBT community. "As used herein, discrimination on the basis of 'sex' shall be defined to include discrimination based on sexual orientation, gender identity, or transgender status," the ordinance states. PRRI data shows that 68% of Virginia residents support LGBT nondiscrimination protections. This falls in line with Americans overall, as nearly seven in ten (69%) Americans favor laws that would protect LGBT people from discrimination in jobs, public accommodations, and housing. The Washington D.C. metro overall has 76% support.
Doctors Say Kentucky Abortion Law Puts Legislators First
In a recent article for NBC News, Dr. Jane van Dis and Dr. Esther Choo examine a Kentucky abortion law recently upheld by the U.S. Supreme Court. The law requires physicians to play the fetal heartbeat prior to any patient seeking an abortion. "Supporters of the law claim that these procedures are simply part of the 'informed consent process,' a cringe-inducing appropriation of a process typically used to engage and protect patients prior to any medical procedure with risk. The law is intentionally building on precedent: the controversial 1992 Supreme Court case Planned Parenthood v. Casey required patients be given the option of reading anti-abortion materials, but patients could decline. In this case, no one, neither physician nor patient, has the option to avoid this state-sanctioned speech," they write. According to van Dis and Choo, the Kentucky law puts the wants of legislators first, not that of what is medically necessary. PRRI data indicates that 43% of Kentucky residents believe abortion should be legal in all or most cases, while 51% of Kentucky residents believe that abortions should be illegal, including 20% who believe abortion should be illegal in all cases.  
Trump Criticized for Attacking Greta Thunberg
On Thursday, President Donald Trump tweeted about 16-year-old Swedish climate activist Greta Thunberg, saying that Thunberg needed to work on her "anger problem" and that she needed to "chill." Though the teenager was able to laugh off the comments from the president on Twitter, many felt that the president should not be using his office to belittle a minor. "What's truly troubling — and what makes me genuinely mad — about all of this is that we won't hear condemnation from supporters of Trump (in elected office and out) for this absolutely appalling behavior. Why? Because, at this moment in American political history, the party you identify with trumps — ahem — everything else including common decency," writes Chris Cilizza at CNN. PRRI data shows that nearly three in four (73%) Americans say they wish Trump's speech and behavior were more consistent with past presidents, but opinion is polarized. Less than half (46%) of Republicans say they wish Trump's behavior was more consistent with past presidents, compared to 74% of independents and 88% of Democrats who say the same.