Jan. 6 Will Continue to Haunt Republicans Politically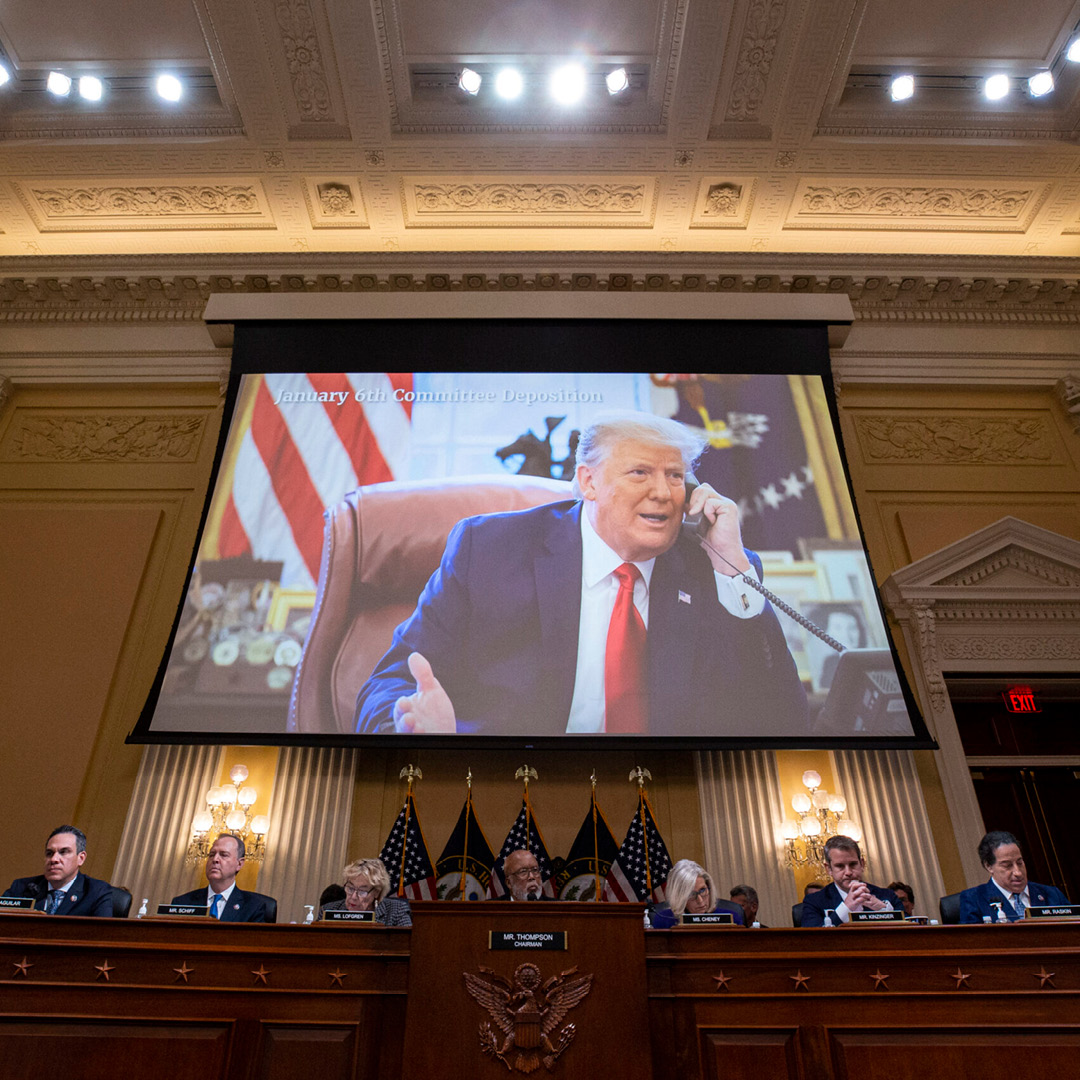 Jan. 6 Will Continue to Haunt Republicans Politically
Eli Yokley reports on a new Politico/Morning Consult survey, which finds that 59% of Americans see Trump as culpable for Jan. 6, and that 55% believe Trump's attempts to overturn the results of the 2020 presidential election were criminal, including 1 in 5 Republicans. Similarly, PRRI research from 2021 finds that majorities of Americans say white supremacist groups (59%), former president Donald Trump (56%), and conservative media platforms (55%) shoulder a lot of responsibility for the insurrection. White Christian groups are much less likely to blame right-leaning people or groups than other religious groups. Commenting on these events right after they occurred, PRRI President and Founder Robert P. Jones, Ph.D., cautioned Americans to pay attention to the intermingling of Christian and white supremacist symbols among the insurrectionists, arguing that grappling with the legacy of white supremacist Christianity is critical to understanding the tragic events that took place that day: "The willingness among those in the crowd Wednesday to believe outlandish conspiracy theories and the unwillingness to accept the election results are born from the same source: a desperate desire by some white Christians to hang onto ownership of a diversifying country."
---
Abortion Pills Can Now Be Offered at Retail Pharmacies, F.D.A. Says
Pam Belluck for The New York Times reports that for the first time, retail pharmacies, from local drugstores to major chains like CVS and Walgreens, will be allowed to offer abortion pills under a regulatory change made Tuesday by the FDA, noting the action could significantly expand access to abortion through medication. While a prescription is still needed, any pharmacy that agrees to accept those prescriptions and abide by certain other criteria can dispense the pills in its stores and by mail order. The F.D.A. also officially removed the in-person requirement from its regulatory rule book for mifepristone on Tuesday. The remaining requirements are that health providers be certified to show they have the knowledge and ability to treat abortion patients and that patients complete a consent form. PRRI research finds that about two-thirds of Americans (68%) oppose laws that would make it illegal to use or receive through the mail Food and Drug Administration-approved drugs for a medical abortion, also known as abortion pills, compared with 27% who favor them.
---
Churchgoing and Belief in God Stand at Historic Lows, Despite a Megachurch Surge
Daniel de Visé for The Hill reports that church membership, church attendance and belief in God all declined during the pandemic years, accelerating decades long trends away from organized worship. According to an ABC News analysis, in-person church attendance has plummeted by 45% since 2020. De Visé highlights that not all socioeconomic groups are leaving the pews at the same rate: college-educated Americans are now markedly more likely to belong to a church than those without a college education, disproving the notion that college professors are killing religion. On this finding, PRRI's CEO, Melissa Deckman, Ph.D, also added "People who aren't college-educated tend to be less likely to participate in civic institutions, to participate in politics, to get married." PRRI's 2020 Census of American Religion finds that nearly one in four Americans (23%) are religiously unaffiliated.
---
Psychedelic Chaplains: In Clinical Trials, a New Form of Spiritual Guide Emerges
Kathryn Post for The Religion News Service reports on the scientific research on psychedelics that has "flooded academic journals with evidence that these substances may be able to provide relief for everything from smoking addictionto anxiety and depression." Post explains that academic institutions across the U.S. are initiating training programs in which spiritual practitioners can become qualified psychedelic facilitators, spearheading a new field of psychedelic chaplaincy. Some researchers argue that the benefits in part can arise from the mystical or spiritual encounters the drugs can induce. Sam Shonkoff, assistant professor of Jewish studies at Graduate Theological Union in Berkeley, California, stated: "Some of the questions psychedelic chaplaincy is bringing to the table are some of the oldest questions of all."
---
What's Buzzing?
Read PRRI's spotlight "Dramatic Partisan Differences on Blame for January 6 Riots" here.