Immigration Attorney Warns of New Fears of Trump Detention Ruling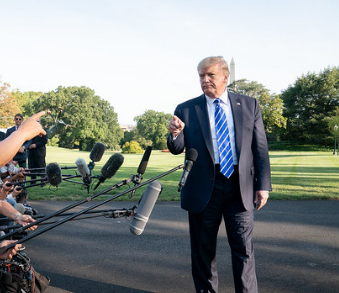 Immigration Attorney Warns of New Fears of Trump Detention Ruling
Nineteen states, as well as Washington, D.C, are currently challenging a Trump administration ruling that would change the Flores settlement agreement. The ruling would remove a detention cap on incoming immigrant children that requires the children be moved to a licensed program or a family member after 20 days. Lizzie O'Leary of The Atlantic spoke to an immigration attorney about the impact this could have on families. "We're going to see a lot more people detained for longer periods of time in facilities that are not licensed, and significant physical- and mental-health ramifications for the children that we serve," Hardy Vieux of Human Rights First explains. According to Vieux, the detention cap often allows increased access for immigration attorneys and other watchdogs to visit clients. Eliminating the cap, he believes, also eliminates some of the information the public gets on detention facilities. PRRI data shows that Americans largely reject the policy whereby families entering the country without permission are treated as criminals and children are separated from their parents. Only 22% of the public expresses support for this policy. More than seven in ten (71%) Americans oppose such a policy that would separate immigrant children from their parents.
Parents Complain About Sex Education in Utah
A recent Utah Board of Education meeting was dominated by conservative groups who are angry about a new state law concerning sex education in the classroom. In Utah, there is legal precedent that allows a teacher to answer "spontaneous questions" from a student about sex. The parents argue that it goes outside the purview of education. "If one child asks about oral sex or something explicit and the teacher answers it, it doesn't mean the other 30 kids want to hear it," one parent said at the meeting. "Why can't the teacher just say 'That's outside our curriculum. Please ask your parents if you really want to know'?" One of the permissible questions that teachers are allowed to answer mentions abortion. Board members did not comment on the matter. PRRI data shows that 21% of Americans oppose comprehensive sex education classes to be taught in public schools, while 75% favor it including 28% who strongly favor.