How White Protestants and White Catholics Came Together Politically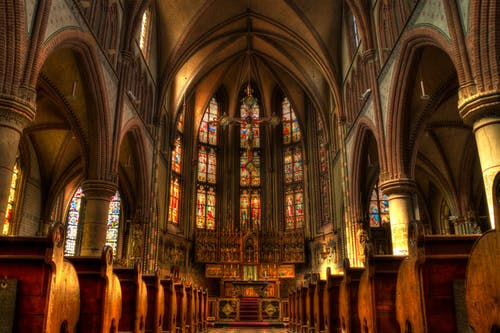 How White Protestants and White Catholics Came Together Politically 
In a new piece for 
CNN, Ronald Brownstein
 speaks with 
PRRI CEO Robert P. Jones
 on how conservative Catholics became aligned with the Republican Party. After years of being at political and societal odds, political realignment and demographic decline brought white Catholics and white Protestants together. "As the number of white Protestants began to shrink, they brought in white Catholics to this conservative Christian movement," Jones says. They "got welded on as the Christian right picked up momentum and essentially needed more foot soldiers than White Protestants could provide at that stage in the game," 
Jones explains
. Despite this, Brownstein adds, there are differences in how the groups perceive President Donald Trump. "
Public Religion Research Institute polling earlier in September
found Trump's favorability among white evangelicals was nearly 20 percentage points higher than his ratings among white Catholics," he writes.
The New York Times Details President Trump's Taxes
Natalie Jackson Talks White Christians and Racial Justice
PRRI Research Director Natalie Jackson recently 
spoke with Ozy
 about how white Christians have reacted to recent racial justice protests. "White Christians are not very favorable toward the news … so the portrayal of racial justice and protests, the balance of violent versus peaceful protest, can really skew their opinions of it," Jackson says. She notes that casual news viewers may not know that the racial justice movement has been largely peaceful. They "might not realize that, [they] might just see the chaos," she says. PRRI data shows that among religious affiliations, 
white evangelical Protestants (72%) are most likely to say police killings of Black men are isolated incidents
.
Analyzing Trump's SCOTUS Pick of Amy Coney Barrett
Recent PRRI data shows that 35% of women have favorable views of President Trump
, compared to 51% of women who view Joe Biden favorably. With the nomination of Judge Amy Coney Barrett to the U.S. Supreme Court, President Trump looks to bring in new support from women. "On the surface, Trump's emphasis on picking a woman appeared to be an abrupt about-face from conventional Republican wisdom," 
reports the 19th
. Trump had previously released a mostly male list of potential Supreme Court nominees. But,"it's not about being a woman, but about a campaign calculus, given where the numbers are," explains PRRI Research Director Natalie Jackson. "It made a huge difference when the timing changed."