How the Georgia Primary May Preview the November Election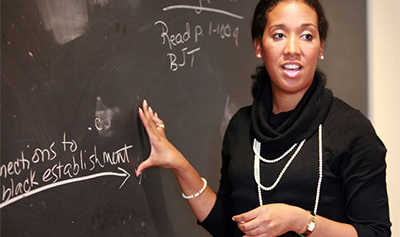 How the Georgia Primary May Preview the November Election
PRRI Public Fellow and Emory University associate professor Andra Gillespie recently shared her thoughts on why the Georgia primary, which is set for June 9, might predict what may unfold in November's presidential election. "There are going to be a lot of people who are uncomfortable with voting in person, because of the risk and difficulty in being able to socially distance," she says, adding that the nervousness around voting in person in June may linger into the fall, and that "vote by mail looks like something we're going to have to plan." Polling expert and fellow Emory professor Alan Abramowitz echoes her argument based on the 
heavy request for absentee ballots in Georgia
 so far, noting that absentee ballots are going to be counted as long as they are postmarked by election day, most states will see delays in providing final vote counts.
The Uneven Contrast Between Trump and Biden's Online Campaigns
According to 
new analysis by PRRI's Diana Orcés on which social media platforms Americans use the most
, 69% of respondents report using Facebook, followed by YouTube (59%), Instagram (35%), Pinterest (21%), Twitter (19%), Snapchat (18%), Linkedln (16%), and Tumblr (4%). Orcés' research shows that Democrats (23%) and independents (23%) are more likely than Republicans (17%) to be frequent social media users and reflects how the battleground for voters is lately taking place online. A new piece in NPR analyzes the digital efforts of former Vice President Joe Biden and President Trump and the uneven contrast between their strategies as the two double-down on their virtual engagement during the coronavirus crisis. "On his own Facebook page, Trump has more than 29 million followers. Fewer than 2 million follow Joe Biden. Twitter tells a similar story: about 80 million for Trump, 5.4 million for Biden," 
NPR reports
. "Since the Biden campaign went mostly virtual in late March, it has had more than 125 million views of its videos and online content, while Trump's campaign has had nearly three times as many views since April 1, according to numbers provided by the campaigns."
Elizabeth Warren Softens on Medicare for All, Signals Bid for VP Pick
Data from PRRI's 2019 American Values Survey demonstrates that 
a majority (63%) of Americans support a Medicare for All plan, but there is a significant partisan gap on this issue
. At the time of the survey, more than eight in ten (87%) Democrats, and more than six in ten (63%) independents support Medicare for All, while only about three in ten (31%) Republicans support it. A Politico article on Thursday reported that Sen. Elizabeth Warren (D-MA), who touted government-backed health insurance as a solution to the healthcare system and dragged Biden's centrist policies, is now changing her tune. "I think right now people want to see improvements in our health care system, and that means strengthening the Affordable Care Act," Warren told students at the University of Chicago's Institute of Politics this week, while adding that she still wants to get to single-payer eventually. "The shift is the latest public signal Warren has sent Biden's way in recent weeks that she wants the job of vice president — and wants Biden to see her as a loyal governing partner despite their past clashes, which go back decades," 
Politico reports
.
Coronavirus Hits Trump Country
PRRI's latest podcast Reasons Why featured PRRI Public Fellow Andra Gillespie on 
how COVID-19 is affecting President Trump's favorability
. "Bigger questions will be over time, where does this pandemic move? We see that New York is over its hump, but the rest of the country is not. If the epicenter of this crisis shifts to more rural, Republican areas, and it starts to hit home in red state America, I think the big question will be does it [Trump favorability] shift," she says. In an Axios report, studies now show that time has come as the virus spreads out from primarily urban areas into suburban and rural Republican-leaning areas. "For the last four weeks, counties newly designated as having a high prevalence of coronavirus cases — meaning at least 100 cases per 100,000 people — were more likely to have voted for President Trump than Hillary Clinton in 2016," Caitlin Owens 
writes for Axios
. "How people feel about the coronavirus will undoubtedly impact the kinds of risks they are willing to take, which will in turn impact the extent of future outbreaks. Although it may have been true in February and March that people living in red areas were unlikely to catch the coronavirus while going about their normal lives, it's not true anymore."