Franklin Graham Unhappy About SCOTUS LGBT Decision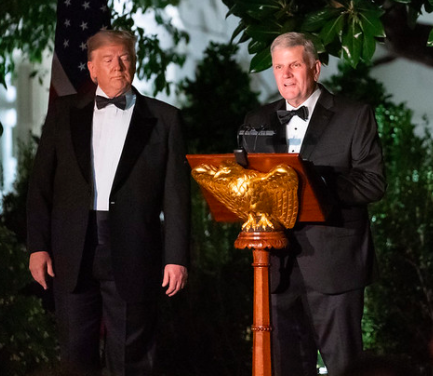 Franklin Graham Unhappy About SCOTUS LGBT Decision
Facebook Will Make It Easier to Get Rid of Political Ads From Your Feed
In a recent Spotlight Analysis, PRRI's Diana Orcés looked at the correlation between frequent social media use
 and holding a negative opinion of President Trump. PRRI data "shows that a majority of social media users (55%) think very unfavorably of Trump, compared to 45% who use social media infrequently and 47% who don't use social media at all. In addition, Americans who use social media frequently are less likely to strongly approve of the job Trump is doing as president, compared to non-users (13% vs. 20%)," Orcés writes. On Facebook, exposure to political content may soon be easier to cut off. 
According
 to Facebook CEO Mark Zuckerberg, users will soon be able to turn off political ads coming into their feed.
Peloton Announces Nonbinary Gender Options
Nebraska Democrats Push For Their Senate Candidate to Step Down
After business owner and Democratic senate candidate Chris Janicek was revealed to have made sexually explicit comments to a female staffer via text message, the Nebraska Democratic Party has asked him to drop out. "Our Democratic Party has no tolerance for sexual harassment," state Democratic Party Chairwoman Jane Kleeb 
says
. "Our party will not extend resources or any type of support to any candidate that violates our code of conduct and doesn't treat men and women with the dignity and respect they deserve." Janicek has said he does not plan to drop out. 
PRRI data shows that less than three in ten (29%) Nebraskans identify as Democrats. 
Quaker Oats to Retire Aunt Jemima Brand Due to Racial Stereotype
For 130 years, Aunt Jemima, face and namesake of a popular syrup brand and pancake mix, has appeared in a variety of media forms. This week, Quaker Oats announced they would retire the Aunt Jemima image, which depicts a Black woman who was originally dressed a minstrel character. "We recognize Aunt Jemima's origins are based on a racial stereotype," Kristin Kroepfl, vice president and chief marketing officer of Quaker Foods North America, 
explains
 "As we work to make progress toward racial equality through several initiatives, we also must take a hard look at our portfolio of brands and ensure they reflect our values and meet our consumers' expectations."