Florida and Texas Set the Pace for Advancement of Anti-LGBTQ Bills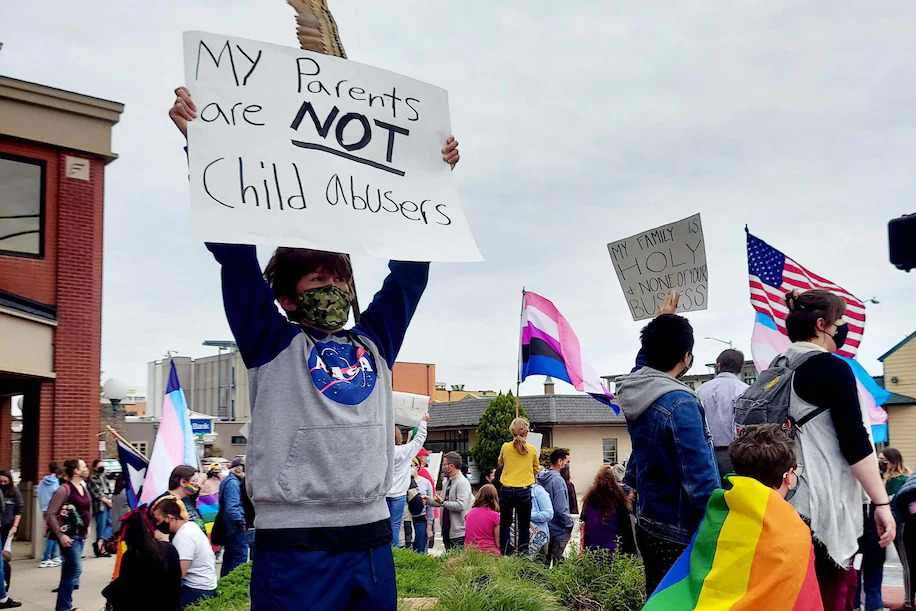 Florida and Texas Set the Pace for Advancement of Anti-LGBTQ Bills
Although PRRI's 2021 American Values Atlas survey found that nearly eight in ten people in the United States (79%) support anti-discrimination laws protecting LGBTQ Americans, a raft of anti-LGBTQ legislation is being proposed, debated, and passed across the country. Two of the highest-profile examples are Florida and Texas, where PRRI data shows that large majorities—80% and 72%, respectively, of state residents support LGBTQ nondiscrimination laws. 
As Florida's "Don't Say Gay" bill awaits Gov. Ron DeSantis' signature, supporters have defended the legislation by saying that it only applies to the youngest of school children. In doing so, they cite the first half of the relevant provision of the bill: "Classroom instruction by school personnel or third parties on sexual orientation or gender identity may not occur in kindergarten through grade 3." However, Mark Stern for Slate notes that this language is immediately followed by, "or in a manner that is not age-appropriate or developmentally appropriate for students in accordance with state standards." In other words, the bill has no grade limitation, meaning it also places classroom restrictions on grades 4-12. Stern writes, "A parent can ruin teachers' lives by filing a complaint or a lawsuit; even if a teacher is ultimately exonerated, they will have suffered through an intrusive investigation and faced accusation of misconduct—or "grooming"—that will never fade away completely.
In Texas, a new directive equates gender-affirming care for transgender youth with child abuse, calling on "licensed professionals and members of the general public" to report the parents of minors who are seeking or undergoing such care. After Texas Gov. Greg Abbott issued a letter to state health agencies declaring the delivery of gender-affirming medical treatments to transgender youths as child abuse under state law, many parents of trans children are now living in fear of Texas Child Protective Services opening investigations into their families. One parent of a trans child stated: "I'm such a planner… I've got to make sure that we have cash. Where are we going to go? What's our first stop, second stop, if someone's going to come and try to take my child?" Elizabeth Sharrow and Isaac Sederbaum write for The Washington Post that Texas is not alone: in the first two months of 2022, lawmakers around the country have already introduced dozens of proposals to further restrict access to sports teams, health care and teachers discussing LGBTQ issues.
---
Support for LGBTQ Rights Higher Than Ever at a Critical Moment of Reckoning in U.S.
Kelsey Dallas for Deseret News reports on PRRI's new LGBTQ report just as "as lawmakers across the country grapple with the tension between gay rights and religious freedom." PRRI research found that the proportion of Americans who support laws guarding against anti-LGBTQ discrimination in housing, hiring, and public accommodations has increased from 71% to 79% since 2015. The survey report released March 17 found that large majorities of nearly all major religious, political, racial, and ethnic groups now favor legal protections for members of the LGBTQ community. Dallas notes that in many cases, support within faith groups is higher than within the country as a whole: eight in ten or more of Jewish Americans (85%), Hindus (85%), Latter-day Saints (84%), Hispanic Catholics (83%), white mainline Protestants (82%), and white Catholics (80%) support LGBTQ nondiscrimination laws.
During the State of the Union address earlier this month, President Biden urged lawmakers to pass the federal Equality Act, stating: "…Especially to our young transgender Americans, I will always have your back … so you can be yourself and reach your God-given potential." His statement coincides with advancing anti-LGBTQ and anti-trans legislation throughout the country. During a U.S. Senate hearing on the Equality Act last year, Oklahoma Republican Sen. James Lankford stated, "We don't oppose equality but we do oppose legislation where you take the rights of one and oppose the rights of others." The argument of those who oppose the Equality Act is that it would "punish people of faith who oppose same-sex marriage and other gay rights issues since it would limit application of federal religious freedom protections."
---
Although Republican and White Evangelicals Least Likely to Support Pro-LGBTQ Efforts, Their Support Has Still Increased 
Emily McFarlan Miller for Religion News Service details the debates surrounding same-sex marriage and religiously based refusals to serve gay and lesbian people. She writes, "Christian denominations such as the United Methodist Church and the Reformed Church in America are splintering around marrying and ordaining LGBTQ people." Since PRRI started asking questions about LGBTQ rights in the 2015 American Values Atlas, the number of Americans who support same-sex marriage has increased among all political and religious groups from 54% to 68%, according to the report. That support is nearly universal among Unitarian Universalists (97%), the religiously unaffiliated (87%), Buddhists (87%), as well as among Catholics who are not white or Hispanic (87%). Additionally, nearly two-thirds of Americans (66%) also oppose religiously based refusals to serve gay and lesbian people — a number that has fluctuated while trending upward from 59% since 2015.
Miller writes that opposition is lowest among white evangelical Protestants (38%, a number that has not changed since 2015) and Latter-day Saints (44%). PRRI Director of Research Natalie Jackson noted that, although white evangelicals are a small part of the U.S. population, they are dependable voters whose leaders have had close ties to politics and politicians for decades. Jackson concluded, "White evangelicals are about 14% of the population overall, which is certainly not what you would think by the amount of focus that they get, the amount of leverage that they seem to have."