Exploring the Connection Between Pizzagate and the Invasion of Ukraine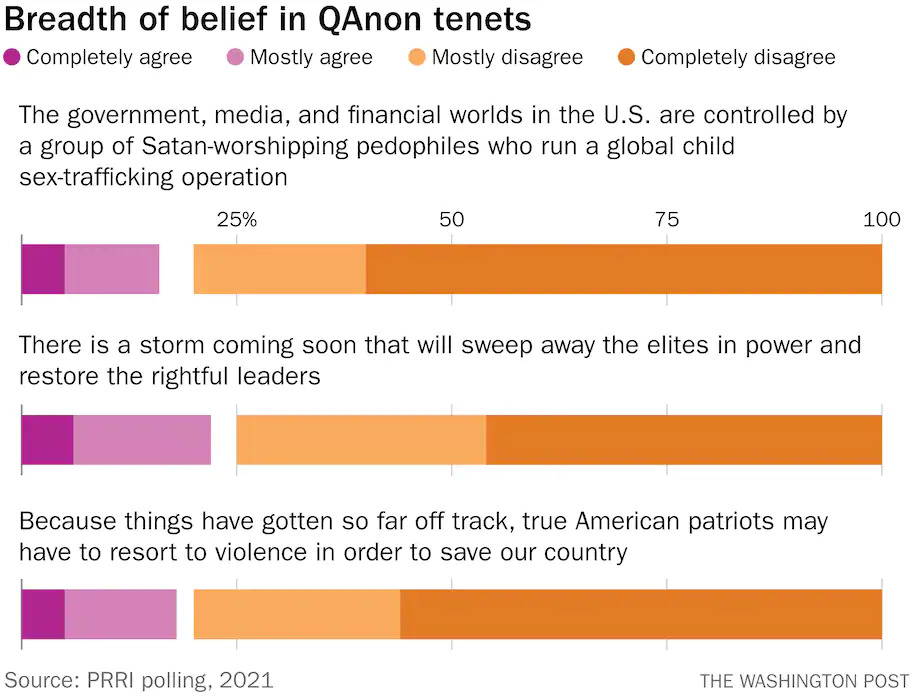 Exploring the Connection Between Pizzagate and the Invasion of Ukraine
Following yesterday's release of a new PRRI report on QAnon, Philip Bump for The Washington Post writes about the connection between Russian interference in the 2016 presidential election, conspiracy theories, and the current invasion of Ukraine. Going back to the events of 2016, Bump notes that Russia not only intended to help former President Donald Trump get elected, but more largely worked to "undermine the US-led liberal democratic order (in the words of a January 2017 intelligence assessment)" and to "provoke and amplify political and social discord in the United States (in the words of special counsel Robert S. Mueller III)." Ultimately, Russia's efforts were not only about the election, but about fueling the cultural wars that have erupted over the past several years in the United States. While the former Soviet Union is not entirely to blame, "it is to Russia's benefit now as it engages in an effort to seize Ukraine." Why? Bump writes: "A divided America has political factions seeking unity with foreign allies instead of domestic partners."
He posits that this particular type of divide traces back to emails referencing pizza that were stolen from then-candidate Hillary Clinton's top advisor, John Podesta, and posted on WikiLeaks. This reference led conspiracy theorists to manufacture a collection of falsehoods, leading into the 2016 election, that "Clinton and other top Democrats were engaged in systematized child abuse, centered at a pizza place in D.C." This extensively discredited theory, known as Pizzagate, didn't disappear, but rather became adopted into QAnon beliefs. Bump references the new PRRI report that finds 16% of the American public "adheres to some component of the QAnon belief system," a number that translates to tens of millions of people. He also cites how, after Trump left office, PRRI found that one in six Americans believed that true patriots may have to resort to violence in order to save our country because things have gotten so far off track. The PRRI study also found that one of the most unifying characteristics of QAnon adherents was their following and support of Trump. In conclusion, Bump also notes that even amid a mounting death toll in Ukraine, Trump praised Putin's tactics.
---
QAnon Conspiracies Continue to Flourish Despite Claims That It Has Fallen
David Gilbert for Vice News describes the progression of events from former President Donald Trump losing the election in November 2020, to the following month when anonymous messages from the purported founder of QAnon ("Q drops") disappeared, and then to the insurrection in January 2021 resulting in social networks "purging their platforms of accounts and groups associated with QAnon." Although many saw this advancement surrounding QAnon as its fall, Gilbert writes that, in fact, the number of Americans who say they believe in some or all of the core conspiracy theories pushed by the QAnon movement is now greater than it was a year ago. A PRRI report released yesterday found that 16% of Americans are QAnon believers, up from 14% last year; the report also found that QAnon believers are deeply distrustful of government and other institutions and feel that there is "a pervasive threat to their culture and way of life." The survey found that media consumption is the one independent indicator, above all others, that is the best predictor of being a QAnon believer; Americans who most trust far-right news outlets like One America News Network (OANN) and Newsmax are nearly five times more likely than those who most trust mainstream news to be QAnon adherents.
"There is a strong connection between the suspicious mindset and a lack of trust in anything, and the far-right networks really do capitalize on that lack of trust and the fear that the other side is out to get you," Natalie Jackson, PRRI director of research said. "So even if they're not directly endorsing the QAnon theories, they are fostering that sense of mistrust." Gilbert highlighted that "despite repeated claims that QAnon was dead or dying," it will "likely influence the outcome of the 2022 election, just as it tried to do in 2020." To underscore the prevalence of QAnon, Media Matters for America found that 54 current or former 2022 congressional candidates have embraced the conspiracy movement, noting that Reps. Marjorie Taylor Greene (Ga.) and Lauren Boebert (Colo.) were able to win seats in Congress despite their embrace of QAnon.
---
What An Increase in Americans Identifying as LGBTQ Means for Christianity 
PRRI Public Fellows Jonathan S. Coley and R.G. Cravens, III, writing for Religion News Service, have summarized how increasing numbers of young people are identifying as LGBTQ, while 7.1% of Americans overall (a record-setting percentage) identify as the same. A poll from Gallup found more than 20% of Generation Z (born between 1997 and 2003) and 10% of millennials (born between 1981 and 1996) identify as LGBTQ. Coley and Cravens cite PRRI research findings that younger generations of all sexual and gender identities are paying attention to how Christian groups treat LGBTQ people. The research found that as many as one-third of millennials no longer identify with the religion of their childhood, and that those individuals often cite religion's mistreatment of LGBTQ people as an important factor in their decision to leave. The increase in people identifying as LGBTQ, in tandem with the decrease in Christian affiliation, could expedite non-Christian identification in the nation. Though universities, colleges and churches alike have moved toward accepting LGBTQ members, there has also been backlash and disagreements on fully accepting LGBTQ people into the church. More recent research from PRRI has found that majorities of most religious groups support same-sex marriage, including three in four white Catholics (75%) and more than seven in ten Hispanic Catholics (71%). The only religious group without majority support for same-sex marriage is white evangelical Protestants (43%).