Expected to Sign Executive Order Classifying Judaism as Nationality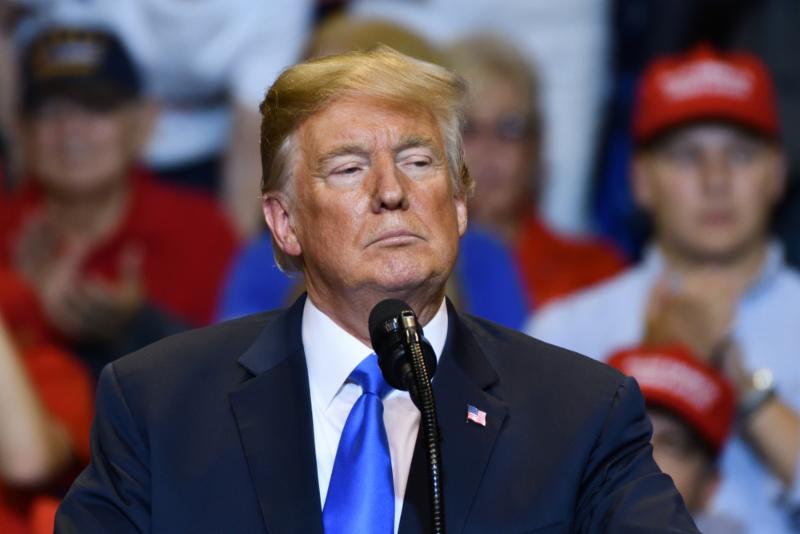 Expected to Sign Executive Order Classifying Judaism as Nationality
On Wednesday, President Donald Trump is expected to sign an executive order that will reclassify Jewish people within federal civil rights laws, an effort to target anti-Semitism on college campuses. "The order will effectively interpret Judaism as a race or nationality, not just a religion, to prompt a federal law penalizing colleges and universities deemed to be shirking their responsibility to foster an open climate for minority students. In recent years, the Boycott, Divestment and Sanctions — or B.D.S. — movement against Israel has roiled some campuses, leaving some Jewish students feeling unwelcome or attacked," reports The New York Times. Several left-leaning Jewish organizations decried the executive order. "The order's move to define Judaism as a 'nationality' promotes the classically bigoted idea that American Jews are not American," Emily Mayer of IfNotNow tells The Washington Post. PRRI data indicates Trump's decisions may not be popular among many Jewish people who identify as Democrats. According to PRRI's American Values Atlas, nearly half (47%) of Jewish Americans identify as Democrats, and an additional 32% are independent. Only 18% identify as Republican.
SMU Sued After Distancing Themselves from United Methodist Church
Southern Methodist University is being sued following an increased effort to sever control of the school from the United Methodist Church. The school has looked to distance themselves from the church, following a February vote that ended with the United Methodist Church strengthening their rhetoric against LGBT causes. At the time, school president R. Gerald Turner clarified that the school had already distanced itself from the church. "Nothing changes in SMU's day-to-day operations as a result of this action," Turner wrote. "Likewise, the values of SMU remain the same, including inclusivity and respect for others," he added. More recently, trustees changed the language within the school's articles of incorporation to make this distinction clear. According to the PRRI 2017 American Values Atlas, a majority of Methodists in the United States support same-sex marriage, though their level of support is slightly lower than that of the general population (61%). More than half (54%) of all Methodists favor allowing gay and lesbian couples to marry legally, including over one in five (21%) who strongly favor this, compared to just over one-third (36%) who oppose and one in five Methodists (16%) who strongly oppose same-sex marriage.
Kentucky Governor to Restore Voting Rights to Convicted Felons
Newly elected Kentucky Governor Andy Beshear announced this week during his inauguration address that he plans to sign a comprehensive executive order that would restore voting rights to over 100,000 people. According to Beshear, a Democrat, his faith has taught him the power of forgiveness, and this will soon apply to 100,000 people who have been barred from voting due to criminal histories."They deserve to participate in our great democracy," he said. According to a 2019 PRRI survey, more than seven in ten (71%) Americans agree that a person who has been convicted of a felony should be allowed to vote after they have served their sentence, while about one-quarter (24%) disagree. Kentucky is one of only two states with lifetime bans denying the right to vote to any person convicted of a felony (the other is Iowa).
Why Christian Artists are Afraid to Talk Politics in the Era of Trump
An October piece in CNN looks at the political stance, or lack thereof, of popular stars in the world of contemporary Christian music (CCM). CCM artists often play to a white evangelical crowd, yet have escaped scrutiny regarding evangelicals and their support for President Donald Trump. Many CCM artists avoid talking politics, taking a public political stance, or moral issues such as school shootings or the president's racist rhetoric. "When you talk about politics, the air leaves the room," says Tauren Wells, one of the biggest stars in Christian contemporary music. "It just automatically goes negative when we forget that there is so much positive stuff happening as well. But we also forget that our hope as believers is not invested in an earthly kingdom, or a governmental system. It really doesn't matter as much for me who's in office because I don't serve at the pleasure of the President. I serve at the pleasure of the King [Christ]." Several CCM artists have made comments criticizing the president's positions in the past which caused their fans to briefly boycott their work and attack them online. Fernando Miranda of the Christian hip-hop duo Social Club Misfits tells CNN of evangelicals reaction to songs that expressed compassion for the LGBT community. "People thought we were being anti-Christian," the artist says. The group's co-member Member Martin Lorenzo Santiago says there's so much racism and hatred in the world that they feel compelled to say something. "If we don't speak out … it's shame on us."