Evangelical Leaders Meet with Trump to Pray Away Impeachment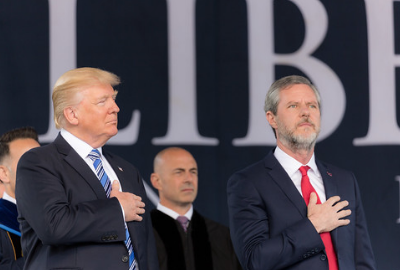 Evangelical Leaders Meet with Trump to Pray Away Impeachment
Leaders from the evangelical community gathered at the White House this week to meet, and pray, with President Donald Trump. According to those present, the topic of impeachment was widely discussed. Robert Jeffress, a staunch Trump supporter and senior pastor at First Baptist Church in Dallas, Texas tells McClatchy's Washington Bureau that evangelicals believe that impeaching Trump is its own attack on values."They really believe that to impeach President Trump would be to impeach their own closely held values. And that's why they take impeachment so personally." Johnnie Moore, a member of the United States Commission on International Religious Freedom, claimed that evangelicals represent a third of the population, and that their voices shouldn't be lost. PRRI data shows that evangelicals represent closer to one sixth of the population (15.3%). Additional data from PRRI's American Values Survey shows that virtually all Republican white evangelical Protestants (98%) oppose Trump being impeached and removed from office.
Missouri Official Testifies About Existence of Secret Abortion Clinic Document
This week in Missouri, a court battle began to play out that will ultimately determine whether Missouri will become the first state in the country without an abortion clinic. During the beginning of the trial, Randal Williams, the state's health director, spoke under oath about a spreadsheet kept by the state that tracked women's menstrual cycles. The document was kept as a method to see which patients had undergone "failed abortions," essentially returning to the clinic for an additional procedure. "While the spreadsheet did not identify patients by name, the document included medical ID numbers and procedure dates, as well as the gestational age of the fetus and day of the patients' last period," writes Caitlin Cruz in Vice. According to legal scholars, this constitutes a serious violation of patient privacy. The existence of such a document has added a new wrinkle to the contentious abortion date going on in Missouri, which is expected to stretch into early 2020. According to PRRI data, nearly one in five (19%) Missouri residents think abortion should be illegal in all cases. 
Fractured Nation: Widening Partisan Polarization Across the U.S.
In a recent piece for Politico Magazine, Thomas Pepinsky looks at the broader political ramifications surrounding the impeachment battle between Democrats and Republicans. The impeachment inquiry, and attitudes surrounding it, are emblematic of what Pepinsky refers to as "regime cleavage"—a division within a population marked by conflict about the foundations of a governing system. "In societies facing a regime cleavage, a growing number of citizens and officials believe that norms, institutions and laws may be ignored, subverted or replaced," Pepinsky writes. He uses impeachment as one subject where Democrats and Republicans continue to be pushed further apart, and how that shows the regime change mindset at play. PRRI data indicates that a recent national increase in impeachment support has been driven by a 10 percentage point surge in Democratic support for impeachment, up from 78% in mid-September to nearly nine in ten (88%). Republican (7%) and independent (49%) support for impeachment and removal is unchanged from the mid-September levels (6% and 47%, respectively). More than 9 in 10 (93%) Republicans remain opposed to impeaching Trump and removing him from office.
Another Voter Purge Coming to Georgia
The Georgia Secretary of State's office confirmed this week that over 300,000 voters could be purged from election rolls ahead of the 2020 presidential election. According to the state, those who could be purged are voters who have been inactive in recent elections. This comes two years after more than half a million voter Georgia voters were removed from election registries. Fair Action Group, founded by former Georgia gubernatorial candidate Stacey Abrams, criticized the move. "Voters should not lose their right to vote simply because they have decided not to express that right in recent elections," the group said. "Anytime a voter purge is conducted, errors can be made, including active voters being wrongly included on the list." A 2018 PRRI/The Atlantic poll found that 7% of Americans report that the last time they tried to vote, they or a household member were told their name did not appear on the rolls even though they were registered. Black (10%) and Hispanic (11%) Americans are about twice as likely as white Americans (5%) to report that they or a household member had this experience.