Elizabeth Dias: Trump is the Protector for White Evangelical Protestants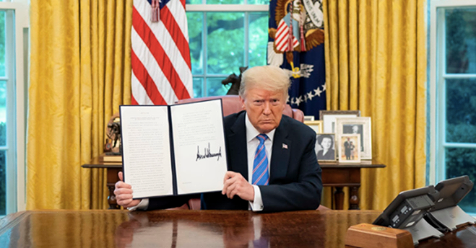 Elizabeth Dias: Trump is the Protector for White Evangelical Protestants
According to recent PRRI data, President Donald Trump has a favorability rating of 63% among white evangelical Protestants, similar to his favorability among the group in October 2016 (61%). In The New York Times, Elizabeth Dias notes Trump's original promise to the evangelical community, "Christianity will have power," as why he still receives strong evangelical support. "Evangelicals did not support Mr. Trump in spite of who he is. They supported him because of who he is, and because of who they are. He is their protector, the bully who is on their side, the one who offered safety amid their fears that their country as they know it, and their place in it, is changing, and changing quickly," Dias writes.
Jerry Falwell Jr. Takes Leave of Absence from Liberty University
PRRI data from 2011 shows that 3 in 10 white evangelical Protestants believed that it was possible for someone to commit immoral acts in private, and still be able to perform duties of public life. In 2016, that number had jumped to 72% of white evangelical Protestants. On Friday, the board of trustees for Liberty University announced that school President and Chancellor Jerry Falwell Jr. would take a leave of absence following a series of incidents that received widespread media coverage. Noted evangelical leader Franklin Graham came to Falwell's defense. "He is a great leader and he has taken this school — it is one of the largest universities in the United States. He's done an incredible job," Graham says. "He is a great leader and I certainly support him."
'White Too Long' Receives Praise in The New Republic
In a recent piece for 
The New Republic
, Bruce Bartlett writes of how modern-day Republicans, including Senator Tom Cotton (R-AR), gloss over the history of slavery in the United States and in Christianity. Cotton has called The New York Times' 1619 project "racially divisive" and referred to slavery as a "necessary evil." Bartlett encourages rethinking those views and says "
White Too Long: The Legacy of White Supremacy in American Christianity
," the recent book from 
PRRI CEO and founder Robert P. Jones
, helps explain "Christianity in the establishment and perpetuation of slavery as well as its role in present-day support for white supremacy and discrimination against racial minorities."
Hispanic Children Are Eight Times More Likely Than White Children to be Hospitalized for COVID-19
A new report from the Center for Disease Control and Prevention indicates that Hispanic and Black children are especially susceptible to COVID-19 infection. "Hispanic children [were] about eight times as likely as white children to be hospitalized, while Black children were five times as likely," reports NPR. This falls in line with PRRI's most recent data, which focuses on COVID-19 exposure by religious affiliation. Hispanic Catholics are the religious group most likely to live in areas that are highly affected by COVID-19. As of July 26, 2020, counties where Hispanic Catholics live had a median case rate of 1,386 cases per 100,000 residents, the highest among all religious groups. Hispanic Protestants and Black Protestants also have high rates of exposure based on where they live.
Dionne Jr.: Biden Should Remove the "Catch-22" of Religion and Politics
In The Washington Post
, E.J Dionne Jr. recently analyzed comments from President Trump in which he says that a Joe Biden presidency would "hurt God." "Wow! What supernatural chops! Trump did not specify how exactly a mere mortal could 'hurt' the Almighty, but he warns Biden would create a world of 'no religion, no anything,'" Dionne writes. 
Dionne cites PRRI data that shows that 65% of Republicans and 38% of Democrats are white Christians
.
 According to Dionne, Biden could benefit by continuing to embrace his faith and remove the "Catch-22" of religion in politics. "Democrats have been increasingly reluctant to talk about faith because religion presents the party with an enormous coalition management problem. It's a problem Republicans don't confront because their party is far more homogeneous by both race and religion."