Do Guns Trump Healthcare in the Minds of a Voter?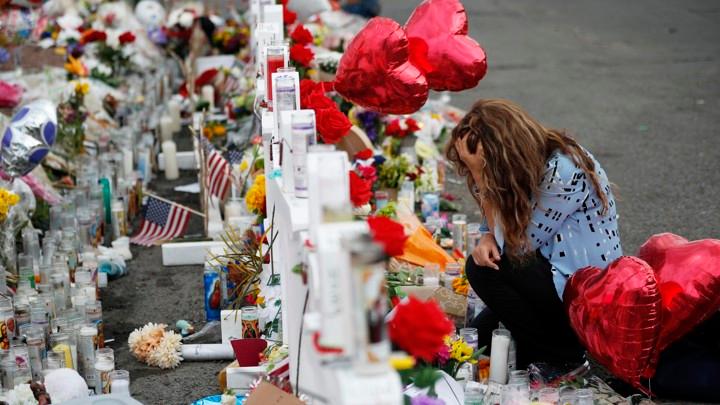 Do Guns Trump Healthcare in the Minds of a Voter?
In a recent piece for The Atlantic, Elaine Godfrey wonders how Democrats could use the conversation about gun violence to their advantage in the 2020 election cycle. Godfrey quotes one Democratic strategist that believes that a conversation about guns needs to be on par with the conversation about healthcare in 2020. "The political power of health care was made clear in 2018, when Democratic candidates for Congress and governor ran and won by placing the issue at the center of their campaigns. Ahead of the midterm elections, Americans rated health care, in a poll from the Public Religion Research Institute, as the issue they were most concerned about," Godfrey writes. That survey showed that four in ten (40%) say that the cost of healthcare is either the first or second most important issue for them. About one-third (34%) say the same about the economy, while about one-quarter cite the growing gap between rich and poor (27%) and immigration (25%). Less than one in five cite gun policy (19%), national security (18%), or racial inequality (14%), while less than one in ten (7%) cite abortion.
Evolving Abortion Beliefs in Tennessee 
PRRI's most recent data shows that residents of Tennessee are among the least supportive of abortion legality in the United States. Just 40% of Tennesseans believe that abortion should be legal in all cases, a far cry from the 54% of Americans across the 50 states. Two in ten (21%) believe it should be illegal in all cases, outpacing all but 4 states (Louisiana [23%], Mississippi [22%], Arkansas [21%], and Nebraska [21%]). The Chattanooga Times Free Press recently profiled women in Tennessee who believe they speak for a growing number of residents who support abortion legality. For resident Kacy West, strong beliefs about abortion changed when she was raped and subsequently got pregnant. "It's hard to come face-to-face with a long-held belief when it's about to stab you in the back," West said. "It changed overnight. I, really, [through] firsthand experience understood all of the mess that my black-and-white way of thinking didn't account for." Data shows that personal experience is a major factor in abortion beliefs. Nearly half (49%) of Americans reported either having or knowing someone who had an abortion in PRRI's latest release. PRRI's Molly Igoe writes, "Three in four (75%) Americans w ho report having had an abortion think it should be legal in all or most cases and 60% who know someone who had an abortion say the same. Americans who do not know anyone who had an abortion are evenly split between supporting and opposing abortion (46%)." Tennessee is expected to vote on a ban that would make abortion completely illegal in the state in early 2020. 
Chance the Rapper Takes a Break for His Family
2019 has been an exciting year for Chicago icon Chance the Rapper. In just a span of a few months, the musician married his childhood sweetheart, released his first official full-length album, and welcomed the birth of his second child. Instead of touring the country to promote the album, Chance has decided to take a break. In a message to fans, the musician explains that he wants to focus on his family and be there for his wife and kids. "This year has been one of the greatest of my life; Marriage, new baby, first album etc. But with it being so eventful it has also been very strenuous having to divide my time and energy between family and work," he explains. After his first child was born, Chance went on tour just a few weeks later, and according to him, missed "some of the most important milestones in her life." Though Chance's financial and social status are an outlier for many Americans across the United States, the need for a break for family or health reasons is not. According to the PRRI 2017 Kids' Wellbeing Survey, 86% of Americans favor or strongly favor requiring companies to provide all full-time employees with paid sick days if they or an immediate family member gets sick. This is an increase from 81% who favored this when the same question was asked in 2014.
Demographic Changes in Texas Could Transform the State in 2020
One of the 2020 election cycle's primary narratives have been about whether Democrats could turn Texas blue. As 10 Democratic presidential candidates gathered in Houston this week for the third primary debate of the year, PRRI published a new analysis that looks at where the state stands on several important topics. PRRI Research Director Natalie Jackson shows that opinions in Texas may not be evolving as fast as we think. "Despite the documented change in the Texas population, opinions on key issues that divide Democrats and Republicans have not moved in the last few years. PRRI's American Values Atlas has tracked opinion on LGBT issues and abortion opinions over the last 5 years, and there is little change in Texans' overall views. In 2014, 67% of Texans favored laws that would protect gay, lesbian, bisexual, and transgender people against discrimination in jobs, public accommodations, and housing. That proportion was exactly the same in 2018 – 67%. In 2014, 49% of Texans said abortion should be legal in most or all cases. In 2018, the number was 48%." According to Jackson, the movement of opinion in the Texas suburbs is an important element to monitor going into 2020.