Disney Scraps New Campus Ahead of Expected DeSantis Campaign Announcement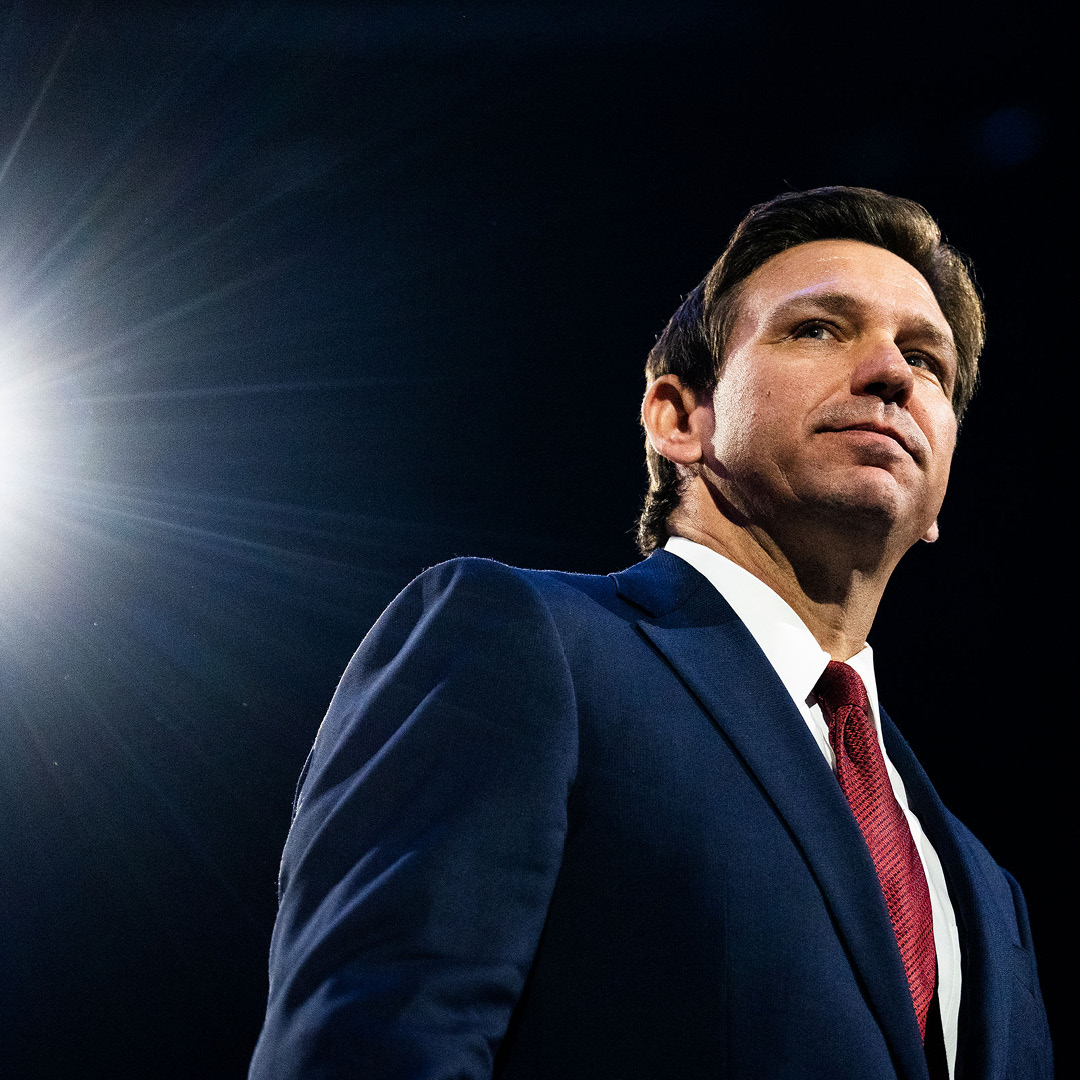 Disney Scraps New Campus Ahead of Expected DeSantis Campaign Announcement
Stephen Collinson for CNN reports that as Florida Gov. Ron DeSantis prepares for an expected jump into the 2024 presidential race, Disney has canceled a $1 billion construction project for an office campus that could have brought 2,000 jobs to the state. At TIME, Molly Ball covered DeSantis' enormous influence in Florida, with the state legislature passing numerous DeSantis-endorsed bills, including legislation that bans gender-affirming health care for minors and expands gun rights. Ball writes that for the first time in modern history, registered Republicans outnumber Democrats in Florida, however. PRRI research finds that Americans overall are much more likely to express favorable views of President Biden (46%) than of Trump (33%), DeSantis (31%), or Haley (23%).
---
Latino Faith Leaders To Gather for Summit on Christian Nationalism
Citing the recent Miami stop of the Christian-nationalism centered ReAwaken America tour, Alejandra Molina reports on the ways that white supremacy and Christian nationalism have made their way into the Latino community for The Washington Post. The Rev. Carlos L. Malavé, president of the Latino Christian National Network, said that some Latinos are unabashed in "supporting some of the tenets of this ideology" while others "are not even aware of the position they are supporting." Malavé's organization is organizing a summit of 60 Latino Christian leaders in September to discuss the emergence of far-right ideas in Latino Christian spaces. PRRI finds Christians who describe themselves as evangelical are each about five times as likely to be adherents of Christian nationalism as those of the same racial or ethnic groups who are Christian but not evangelical.
---
Mass Attendance Drops After COVID
Michael J. O'Loughlin for American Magazine reports on PRRI's latest study, which finds less than half of all Americans said they attended religious services at least a few times each year (43%), down from 54% in 2019, and approximately a quarter of Americans identified as unaffiliated. The survey also found that 78% of unaffiliated Americans left their previous religion because they stopped believing in its teachings, 43% cited negative religious teachings about the treatment of LGBTQ people, 34% said their family was not that religious growing up, and 32% cited scandals involving church leaders. O'Loughlin also notes that majorities of both white and Hispanic Catholics report worshiping in largely segregated communities, with 77%  and 74% respectively saying their church was mostly white or Hispanic.
---
Forced From Grand Canyon National Park, the Havasupai Tribe Embraces Spiritual Homecoming
Felicia Fonseca for AP News describes the rededication ceremonies that recently took place in Grand Canyon National Park to mark the renaming of area previously called "Indian Garden" to "Havasupai Gardens" or "Ha'a Gyoh." Over the course of two days, Havasupai tribal members conducted a blessing, singing, dancing, and praying to the spirits in the canyon. The Havasupai Tribe had lobbied for the new name as a way for the U.S. government to reckon with the removal of the tribe from its traditional farming area nearly 100 years ago. Currently, about 500 of the nearly 770 tribal members live in Supai Village on the reservation adjacent to the Grand Canyon that can only be reached by foot, mule or helicopter.
---
What's Buzzing?
Read PRRI's new report "Religion and Congregations in a Time of Social and Political Upheaval" here.