Could Republicans Jump Ship?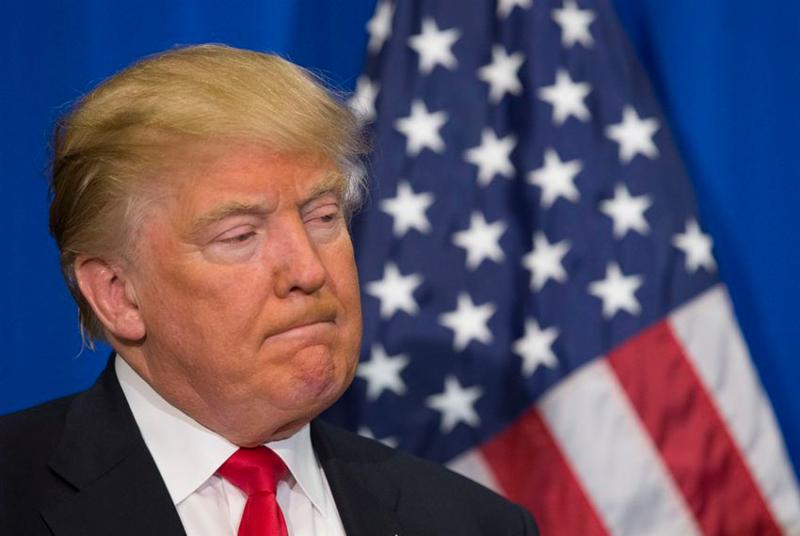 Could Republicans Jump Ship?
According to a new piece by Lee Drutman in FiveThirtyEight, if Senate Republicans are to ever turn on President Donald Trump, it would happen swiftly. Drutman explains the process of an impeachment inquiry and reminds that it would take every Senate Democrat, and 20 Senate Republicans to vote affirmatively to remove Trump from office. "We may not know until it happens. But be forewarned — if it does happen, it will likely take us by surprise. After all, political science has shown us that big political changes often come suddenly, after long periods of stasis," he writes. Right now, Drutman believes Trump helps other Republicans win more localized elections. Because of this, it would be hard for them to turn on the president. "Turning against Trump seriously jeopardizes their immediate political fortunes. So all signs point to Republicans sticking it out with Trump," Drutman writes. PRRI data from 2018 shows just 11% of Republicans think Trump should be impeached.
Democratic Congresswomen Mark 43 Years of the Hyde Amendment
This week marks the 43rd anniversary of the passage of the Hyde Amendment—a law that restricts federal funding for abortion services. In an effort to condemn the legislation, Reps. Barbara Lee (D-CA), Alexandria Ocasio Cortez (D-NY), and Ayanna Pressley (D-MA) appeared in a video for The Root where they spoke about their efforts to repeal the act. In the video, Lee recounts hearing about the Hyde Amendment as a young congressional staffer. "I couldn't believe it, because I knew exactly what this would do, and that would be to deny low-income women and women of color access to the full range of reproductive rights, including abortion," Lee says "I remember the days of back-alley abortions very well. Before Roe v. Wade, I had to go to Mexico for an abortion. That was horrible." According to PRRI data, 77% of Americans support Medicaid covering birth control for low-income women. PRRI's Molly Igoe additionally notes that there is widespread support for this cause, including support from Democrats (89%) and Republicans (64%). Within the parties, there appears to be more disparaging data.
PRRI Public Fellow Looks for Deepest Question in Amber Guyger Sentencing
"I love you as a person and I don't wish anything bad for you." These are the words of 18-year-old Brandt Jean, who moments later would embrace his brother's killer in a Texas courtroom. Amber Guyger was sentenced to 10 years in prison for the murder of Botham Jean, an innocent man who was alone in his apartment, when Guyger entered, thinking it was her own home, and shot and killed him. Video of the embrace has since gone viral, and with it a conversation about forgiveness. In an article for The Washington Post, Hannah Knowles looks at this moment, and what it says about race and forgiveness. Knowles concludes her piece with thoughts from Andra Gillespie, a professor at Emory University, and a member of the new cohort of PRRI Public Fellows. Gillespie believes that the Jean family showing forgiveness to their son's killer, was "their way of trying to fulfill their Christian obligation to forgive her in spite of everything that happened." Despite the emotional nature of the courtroom video, Gillespie cautions that it should not distract from the main question that should be asked following the trial. "Why do people kill black people before they ask questions they might ask of other people?" She asks. "My problem is when outsiders look at that situation and they get touched by the forgiveness and then they get lulled into thinking we don't have to do anything else for that situation. … We don't take the lessons from it that we should," Gillespie said.
Weinstein Book Talk Criticized for Male Moderator's Line of Questioning
During a recent event for "She Said," the new book by Jodi Kantor and Megan Twohey about the allegations of harassment and sexual assault against Harvey Weinstein, an audience grew restless when they felt the authors were being interrupted. Bob Woodward, of Watergate fame, was interviewing the two reporters before a live audience in Washington, D.C. According to attendees, he quickly lost the crowd after repeatedly interrupting his subjects, as well as asking continuous questions about Weinstein's motivations. Instead of focusing on the women who have come forward with tales of assault and harassment, Woodward focused on the man. At one point, an audience member took to the mic to vent her frustration. "Mr. Woodward, you're one of the legends of the profession, but hearing you repeatedly interrupt these women all night …" the audience member began before being drowned out by applause. PRRI data indicates a great gender divide among Americans and their views on aspects of sexual assault allegations. According to PRRI polling more than seven in ten (72%) women, compared to 57% of men, say that real experiences of sexual harassment or assault that are not reported or believed are a bigger problem than false accusations.