Chick-fil-A Ends Contributions to Anti-LGBT Organizations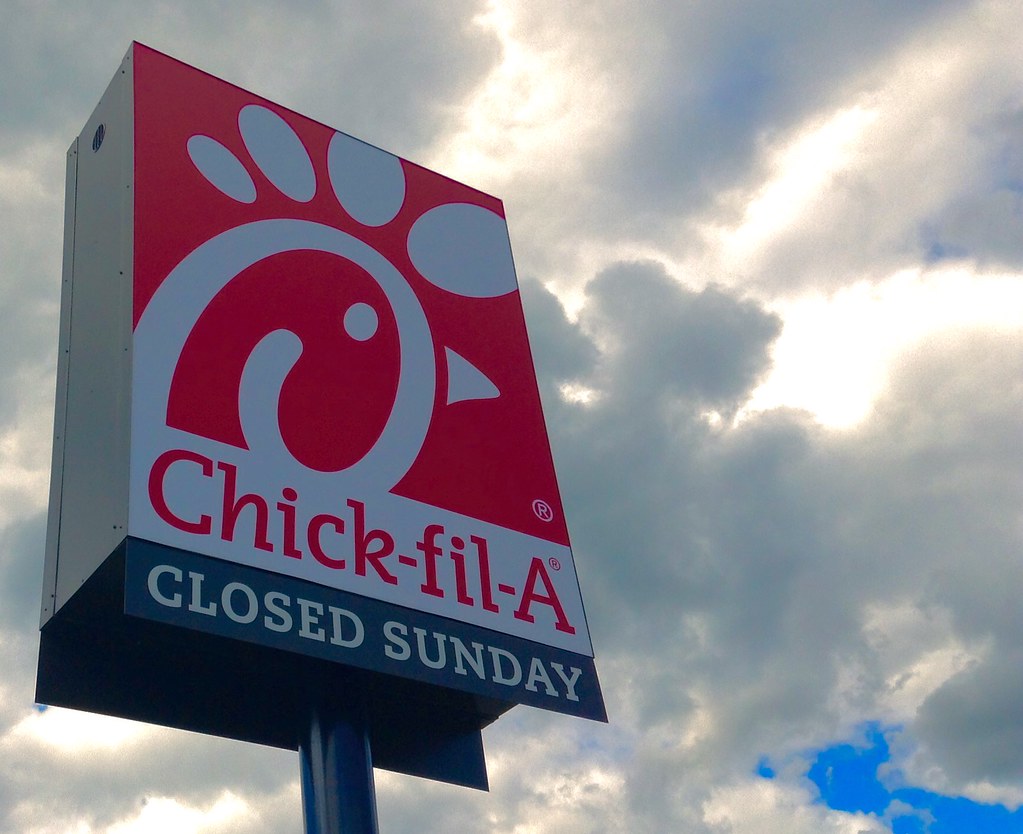 Chick-fil-A Ends Contributions to Anti-LGBT Organizations
Following a string of bad publicity focused around chicken sandwich rivalries and donations to right-wing and religious organizations, Chick-fil-A announced a change to its giving policy. The fast-food chain will no longer donate to the Fellowship of Christian Athletes and the Salvation Army due to their positions on LGBT matters. According to a representative, the group will make their financial contributions matter in other ways. "We made multiyear commitments to both organizations, and we fulfilled those obligations in 2018. Moving forward you will see that the Chick-fil-A Foundation will support the three specific initiatives of homelessness, hunger and education," the company said in a statement. The restaurant has faced backlash online and been at the epicenter of boycotts for its LGTBQ stance. PRRI data shows that less than three in ten Americans say they have signed an online petition (28%), or purposefully bought something to send a message (25%) in the preceding 12 months.
Examining the AAPI Community in California
In a recent piece for the Sacramento Bee, Theodora Yu analyzes a recent PRRI/AAPI Data survey on the Asian American and Pacific Islander community in California. Yu notes that 23% of AAPI Californians are working and struggling with poverty. According to Karthick Ramakrishnan, founder of AAPI Data, the survey shines a light on communities that are not often written about. "This is to better understand how economic struggle plays out in these groups, even including those who don't fit the federal definition of poverty," Ramakrishnan says. Data shows that Asian American and Pacific Islander California residents, including those who are working and struggling with poverty, are notably more likely than all Californians to believe that the American Dream—the idea that if you work hard, you will get ahead—still holds true today. A majority of AAPI Californians (62%) believe the American Dream still holds true, compared to three in ten (30%) who say that the American Dream once held true but no longer does today. Only 6% of AAPI residents say the American Dream never held true. In contrast, less than half (47%) of Californians overall say the American Dream still holds true today, while 43% say it once held true but does not anymore, and one in ten (10%) say it never held true.
NY Congressional Race Highlights Partisan Divide
Rep. Elise Stefanik (R-NY) has received a tremendous amount of publicity in recent days, following increased visibility during an impeachment inquiry into President Donald Trump. Stefanik was heavily featured during a Friday hearing with the former U.S. ambassador to Ukraine, Marie L. Yovanovitch. President Donald Trump took to Twitter and committed that "a star" was born, following Stefanik's performance. Democratic donors took notice, and sent a flood of donations to her 2020 Democratic congressional challenger, Tedra Cobb. "The sudden attention given to the race in New York's 21st Congressional District demonstrates how the nation's partisan divide can invigorate a little-noticed upstate outpost — covering a massive chunk of Adirondack forests and towns known as the North Country — and turn it into a major electoral battleground," reports The New York Times. Recent PRRI data shows how deep the partisan divide is in the United States. None of the top three critical issues for Democrats overlap with the top three critical issues for Republicans. Like Americans overall, Democrats are most likely to regard health care (77%) as critical. But Democrats rate climate change (72%) and foreign interference in presidential elections (63%) as the next most critical issues. By contrast, Republicans' top three critical issues are terrorism (63%), immigration (60%), and crime (50%).
NPR Looks at Abortion Availability in Texas
In 2013, Texas lawmakers approved strict restrictions on abortion providers in the state that would ultimately be debated by the U.S. Supreme Court. According to a new piece in NPR, abortion care in Texas has been hard to come by ever since. "Although abortion providers won the legal battle, they appear to be losing the ground war," NPR reports. "Most clinics are clustered in the major cities of Dallas, Houston and Austin, while women who live in smaller cities and towns that once had clinics now have to travel long distances to get an abortion. According to PRRI data, 48% of Texans believe abortion should be legal in all cases.