Challenging Misconceptions About LGBTQ Religion and Political Activism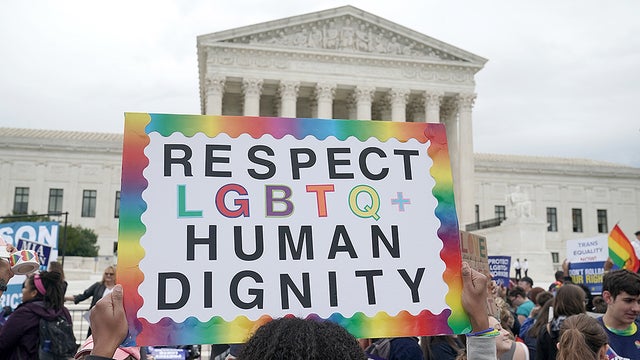 Challenging Misconceptions About LGBTQ Religion and Political Activism
PRRI Public Fellow R.G. Cravens, III, recently wrote a spotlight analysis on the correlation between LGBTQ religion and political activism. Cravens describes how frequently both the popular portrayals and social scientific theories about LGBTQ behavior are inaccurate and "rest on the assumption that white, wealthy, urbanite, non-religious gay cisgender men are the paradigm of the social category we call LGBTQ." He then debunks these theories noting that LGBTQ people—especially LGBTQ people of color and transgender people—are more likely than heterosexual and cisgender people to live in poverty, and also that an increasing proportion of LGBTQ people live in rural areas. To point out the religious diversity within LGBTQ Americans, the article cites PRRI's 2020 American Values Atlas, which found that while about 5% of Americans identified as LGBTQ in 2020, about 16% of Buddhists and 10% of Hindus and Jews identify as LGBTQ. On the other hand, about 2% of white mainline Protestants, about 3% of Black Protestants, and about 5% of Hispanic Protestants identify as LGBTQ. 
Cravens' own research from 2018 found religiously active LGBTQ people are more likely to participate in politics than non-religiously active LGBTQ people, which is consistent with both contemporary and historical trends in LGBTQ politics. Cravens concludes that LGBTQ people who attend a religious congregation that affirms their identity are more likely to engage in political activism than LGBTQ people who do not attend these congregations. Another study from 2021 by Cravens found that attendance is positively associated with both psychological resources and political participation across a number of indicators, including volunteerism, financial contributions, and voting.
---
Families Work on Making Up After the Pandemic
Clare Ansberry for The Wall Street Journal discusses an ongoing predicament many Americans find themselves in, just as we collectively arrive at the second anniversary of the start of the COVID-19 lockdown. Ansberry describes the disagreements over COVID-19, including discussion surrounding masks, vaccinations, and general pandemic precautions, that have left "many families struggling to talk to, love and respect the people closest to them." While the pandemic has brought some families closer together, there are "lingering divisions in others." This comes as the omicron variant seems to be waning, but also as other news continues to cause concern: the CEO of Pfizer has announced a fourth COVID-19 shot is "necessary" due to waning immunity, while there is now "solid evidence for a delta-omicron recombinant virus."
A PRRI-IFYC survey report from last December found that two-thirds of Americans who are vaccinated (67%) agree that they are "angry at those who are refusing to get vaccinated against COVID-19 and are putting the rest of us at risk," and more than seven in ten unvaccinated Americans (71%) say they are "angry at those who think they have the right to tell me to get vaccinated against COVID-19." Additionally, one in five Americans (19%) say disagreements over vaccinations have caused major conflict in their families.
---
The Meaning of 'Majority Minority' Shift
George Mason University Associate Professor of Policy and Government Justin Gest wrote a guest essay for The New York Times last year on the white majority of the United States' population becoming a white plurality, where the total of the nation's racial and ethnic minorities outnumber the white population, as well as the factors that contribute to the shift. Measuring this type of demographic change is necessary, Gest argues, making the case that we should "place far less stock in the importance" of the shift as it relates to the future of the country. "The truth is, just as populations in the United States ebb and flow, the salience of racial and ethnic identities emerges and disappears," he writes, noting the times throughout our history when the lived meaning of "whiteness" has also changed.
After the 2020 U.S. Census determined that the white population of the United States has decreased for the first time in the country's history, PRRI found that about one in four Americans (23%) say that this change is mostly positive, while less than one in five (17%) say it is mostly negative. A majority of Americans (59%) say it doesn't matter either way. In addition, a majority of Americans (56%) say that in general, newcomers strengthen American society, compared to four in ten (40%) who say that newcomers threaten traditional American customs and values. Gest presents his research in a new book, "Majority Minority," set to publish March 22. Described by Oxford University Press as "an innovative and rigorous examination of state and public responses to majority minority demographic transitions across six societies," the book wields historical analysis, polling, and interview-based fieldwork. You can pre-order his book here, and learn more about Justin Gest and "Majority Minority" here.