Brownstein: The Decline of White Christians in the U.S. is Bad News for Trump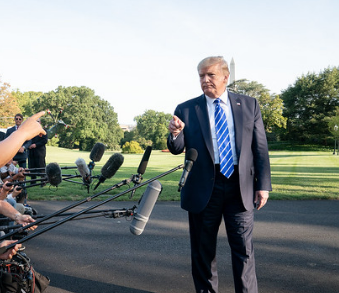 Brownstein: The Decline of White Christians in the U.S. is Bad News for Trump
A Record Number of Republican Women Are Running For The House of Representatives in 2020
Most Americans Disagree with SCOTUS on Religious Exemptions
In The New York Times
, Giovanni Russonello examines how recent U.S. Supreme Court decisions on religious exemptions are out of step with Americans' beliefs. 
PRRI CEO and founder Robert P. Jones
 spoke with Russonello about h
ow religious conservatives will combat this issue in the future
. "When you've lost the war, the question is how can you win a few battles, and I think that's where the religious exemptions argument really comes into play," Jones says. "The question is, how big can the carve-out be for religious exemptions? And even though we have a majority of Americans opposing those, it's a much more complex argument, and we see much more ambiguity."
Robert P. Jones' 'White Too Long' Featured in The Economist
PRRI CEO Robert P. Jones previewed his forthcoming book "
White Too Long: The Legacy of White Supremacy in American Christianity
," for 
The Economist
.  Jones suggested that "a reckoning is due in America's churches," and told reporter James Astill that "white Christian traditions are so steeped in historic racism that 'the norms of white supremacy have become deeply and broadly integrated into white Christian identity." "
White Too Long
"
 will release on July 28th and is available for pre-order now
Eric McDaniel: Religion Plays a Role in Propping Up and Tearing Down White Supremacy
.