'Bolster, Justify, and Intensify:' White Christian Nationalism and the Jan. 6 Attack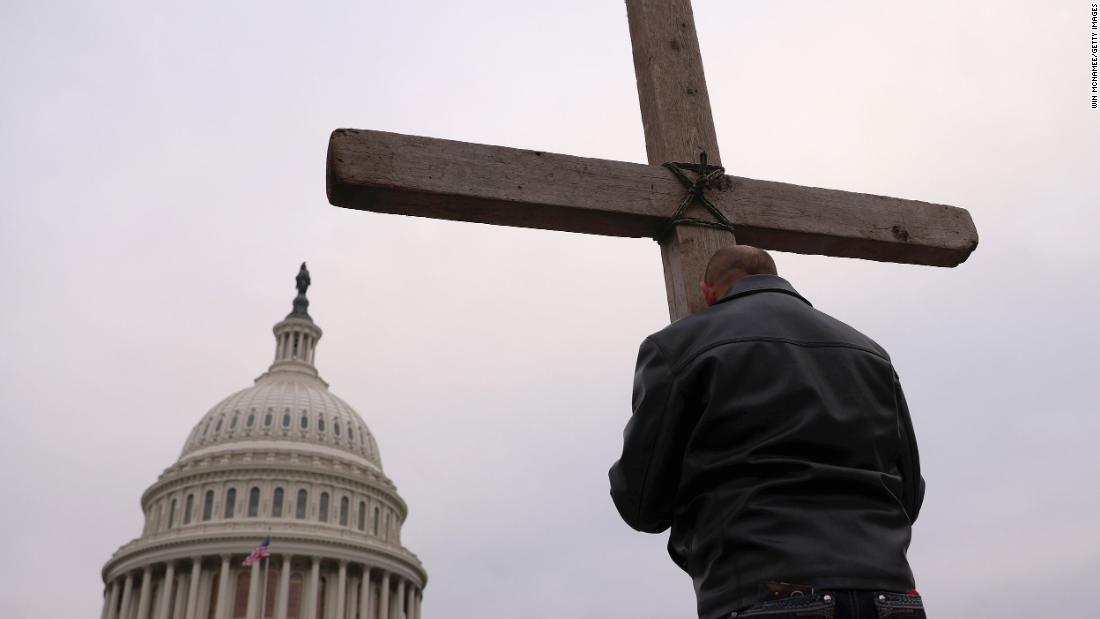 'Bolster, Justify, and Intensify:' White Christian Nationalism and the Jan. 6 Attack
For many Americans, the Jan. 6 insurrection at the U.S. Capitol marked the first time they realized how ingrained the white Christian nationalist movement has become in our political and cultural landscape, John Blake for CNN reports. The movement "uses Christian language to cloak sexism and hostility to Black people and non-white immigrants in its quest to create a white Christian America," he wrote. According to a report by a group of clergy, scholars, and advocates who support the separation of church and state, Christian nationalism was used to "bolster, justify and intensify" the 2021 attack on the Capitol.
While much of the U.S. House Jan. 6 committee's focus has been on right-wing extremist groups, Blake notes that some of those who participated in the insurrection have embraced the tenets of white Christian nationalism — often without knowing it, according to experts. Additionally, many have embraced "a warrior Christ [that] has shaped some white evangelicals' attitudes on issues ranging from political violence to gun safety laws," while some white Christian nationalists also hold the belief that the Second Amendment "was handed down by God." A PRRI survey from last year revealed that, of all respondents, white evangelicals were the religious group most likely to agree with the statement, "True American patriots might have to resort to violence in order to save the country."
---
Bill To Protect Contraception From Supreme Court Passes U.S. House
Alan Fram for Associated Press reports on a measure to protect access to contraceptives pushed through the U.S. House last Thursday in response to the conservative Supreme Court majority overturning Roe v. Wade. The vote was sharply across partisan lines, and the bill will move to the Senate, where it is unlikely to pass. "The bill is the latest example of Democrats latching onto their own version of culture war battles to appeal to female, progressive and minority voters," Fram writes. While Republicans have said the bill "went too far," and would cause more abortions, Fram highlights that every Democrat supported the legislation, while Republicans overwhelmingly opposed it by 195-8.
The bill would allow the use of contraceptives and also gives the medical community the right to provide them, covering "any device or medication used to prevent pregnancy." The bill also allows for federal and state governments, patients, and health care providers to bring civil suits against states or state officials that violate its provisions. A PRRI survey in June showed that 84% of Americans said they opposed laws that restrict what types of birth control can be used to prevent pregnancy.
---
SCOTUS 'Radical Decisions' Have Same-Sex Marriage Advocates Worried
Following the U.S. Supreme Court decision overturning Roe v. Wade, many Americans are concerned that same-sex marriage will be next, writes Kelsey Dallas for the Deseret News. The ruling in the Dobbs case, with a concurrence from Associate Justice Clarence Thomas criticizing the court's action in the 2015 Obergefell ruling, indicated "that the court is willing to make sort of radical decisions that are unpopular," law professor Robin Maril said. In an effort to protect same-sex marriage, Democrats in Congress are working to pass the Respect for Marriage Act, which cleared the U.S. House of Representatives on July 19 with support from 47 of the body's 211 Republicans. That said, Dallas writes that "gay rights advocates have said their work won't be over even if the new bill makes it to President Joe Biden's desk."
Kelsey explained that rights in America exist in two forms: they're either enshrined in law, or they're implied, "unenumerated" rights. Until Dobbs, abortion was an implied right, and with the reversal of Roe, other implied rights now seem vulnerable. However, Maril said that the court's majority drew "clear distinctions " between past rulings on abortion and same-sex marriage, with Associate Justice Samuel Alito noting abortion needed review because it involves the taking of a "potential life." Dallas cited PRRI data that support for same-sex marriage has "risen consistently since 2014, from 54% to … 68% in 2021."