Asian Hate Crimes Persist Without Much Notice: One Year Anniversary of Killings in Atlanta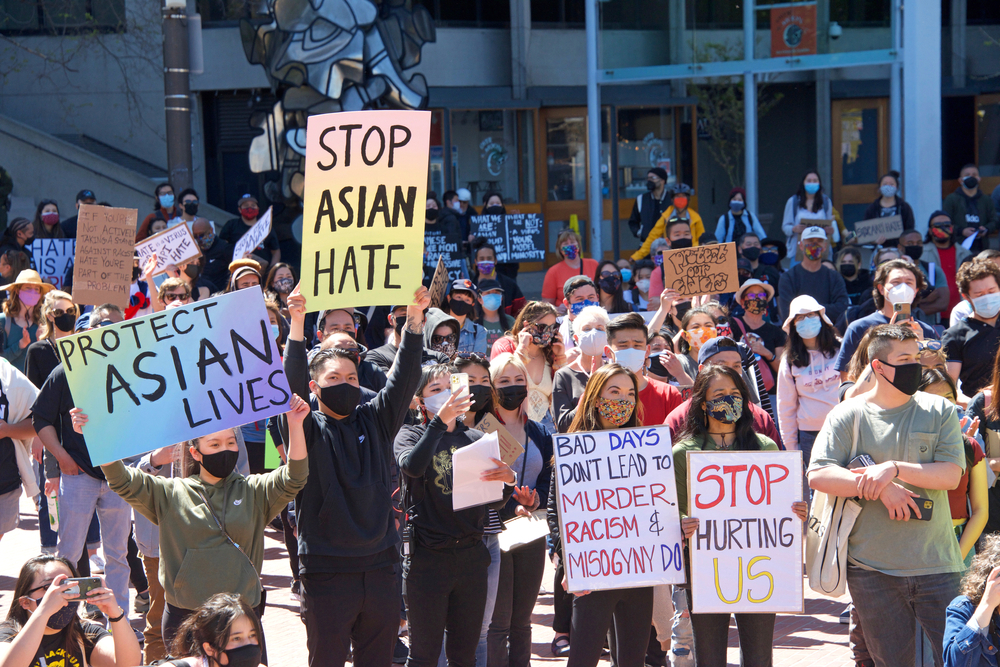 Asian Hate Crimes Persist Without Much Notice: One Year Anniversary of Killings in Atlanta
PRRI Public Fellow Jane Hong reflects on the one-year anniversary of the Atlanta spa shootings, which resulted in the murder of eight people, including six Asian American women: Daoyou Feng (age 44), Hyun Jung Kim Grant (age 51), Suncha Kim (age 69), Soon Chung Park (age 74), Xiaojie Tan (age 49), and Yong Ae Yue (age 63). The confessed murderer, Robert Aaron Long, was a 22-year-old white male who traveled across two counties to three massage parlor businesses. Hong cites that #StopAAPIHate, an online portal tracking anti-Asian hate crimes and incidents, has reported a large spike since the beginning of the pandemic, with two-thirds of victims being women. PRRI data from 2020 and 2021 revealed a growing belief among Americans that a rise in violent anti-Asian rhetoric contributes "a lot" to violent actions in society.
The Center for the Study of Hate and Extremism has found that anti-Asian hate crimes increased 339% in 2021. Furthermore, 2022 saw several harrowing attacks specifically on Asian women, including the murder of Michelle Go while she was riding the New York City subway; Christina Yuna Lee, who was murdered in her own home in New York City's Chinatown; and two Chinese American women in New Mexico massage parlors who were also victims of lethal gun violence. Jenn Fang, who writes about Asian American feminism and politics, notes that, "perpetrators are unlikely to face serious punishment under hate crime and non-discrimination laws ill-equipped to prosecute anti-Asian bias." Hong underscores that many people credit the persistence of the model minority myth as a reason why it is common for white Americans to have difficulty believing that Asians can be targets of racism and violence. This behavior is also seen within white Americans' proclivity to reject structural racism and "downplay the severity of racism against Black Americans, who remain the most targeted group in terms of hate crimes in the United States." PRRI research has found that white American Christian churchgoers are consistently more likely to deny the existence of structural racism than white people who do not go to church.
---
Four Myths About QAnon and the Movement's Impact on American Politics in 2022
PRRI's Research Associate Ian Huff recently wrote a spotlight analysis that addresses how QAnon has moved from cryptic message boards to permeating the sociopolitical world, and the myths that surround the beliefs of the 41 million Americans who subscribe to them. To set the stage for the conspiracy theories'  pervasiveness, Huff calls attention to the proclaimed QAnon ties of those who attacked the Capitol on January 6, the elements of QAnon folded into the recent trucker-convoy protests, and the 56 current or former candidates running for Congress in 2022 who have supported QAnon or appealed to its followers. The idea that QAnon is made up solely of ultra-conservative Republicans has actually been proven to false, though it remains a strong predictor of those who follow QAnon. In actuality, PRRI found that less than half of QAnon believers identify as Republicans (43%), with an additional 27% identifying as independents, 19% as Democrats, and 12% as something else. However, Americans who identify as conservative are nearly three times as likely as those who identify as liberal to be QAnon believers.
Another falsehood is that former president Trump leaving office would cause the fall of QAnon. On the contrary, the movement continues to retain believers, and the share of QAnon believers has increased slightly in 2021. Alarmingly, several prominent figures have blatantly acknowledged they believe in these conspiracies. This includes a spokesperson for Florida Gov. Ron DeSantis who said that someone who opposes the state's controversial "Don't Say Gay" bill was "probably a groomer," implying that political opponents are pedophiles. Another example of support for this belief cropping up in politics was at the Conservative Political Action Conference (CPAC), where conservative media personality Candace Owens accused political opponents of having pedophilic tendencies and of "sexualizing" children by speaking about gender identity. Read more about QAnon conspiracies, demographics, and its prominence in Huff's spotlight here.
---
Bill To Criminalize Health Care for Transgender Minors Clears Idaho House
Ryan Suppe for the Idaho Statesman reported that the Idaho House of Representatives on March 8 overwhelmingly passed a bill that would bar gender-affirming medical care for transgender children. Sponsored by Rep. Bruce Skaug, the bill would "alter current state code that outlaws female genital mutilation" and make it a felony to provide minors with puberty blockers, which stop or delay puberty, as well as hormones or transition-related surgeries. It was passed on a near party-line vote, and some Republicans said the bill "will preserve the ability to procreate and would protect children from regretting gender reassignment later in life." Republican Rep. Ben Adams quoted the Bible's account of gender after saying his own transgender cousin "had a mental health problem." Democrats have called the bill a "life or death" matter, as many transgender youths often face higher levels of general risk, in addition to depression or suicide if affirming health care is not available.
PRRI research found that Democrats (60%) are about three times as likely as Republicans (22%) to be somewhat or very comfortable finding out someone they know is transgender. Independents (46%) are in line with the general population (46%). PRRI also found that a majority of Americans (55%) say they would feel somewhat or very comfortable with having their own child tell them they are transgender, an increase from 48% in 2019. Parents of children under age 18 do not differ significantly from those without children under age 18 (55% vs. 58%).
A follow-up story in the Idaho Statesman posted early this morning states that Idaho Senate Republicans announced that the House bill will not advance based on concern that it "undermines parents' medical decision-making authority for their children."