Applebaum: How America Ends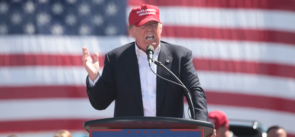 Applebaum: How America Ends
In a new piece for the December print edition of The Atlantic, Yoni Applebaum provides a sobering assessment of how President Donald Trump's rhetoric has transformed how people think and perceive the basic tenets of democracy. "Trump's apocalyptic rhetoric matches the tenor of the times," Applebaum writes. "The body politic is more fractious than at any time in recent memory. Over the past 25 years, both red and blue areas have become more deeply hued, with Democrats clustering in cities and suburbs and Republicans filling in rural areas and exurbs. In Congress, where the two caucuses once overlapped ideologically, the dividing aisle has turned into a chasm." To illustrate this partisan divide, Applebaum notes that in 1960, less than 5% of Democrats and Republicans said that they would be angry if their child married someone from the opposite party. A PRRI/The Atlantic survey in 2019 found that that number had risen to 35% of Republicans and 45% of Democrats. Throughout the rest of his piece, Applebaum further examines the divide and the impact it can have on how future elections, if Republican voters become convinced that fair elections are impossible. He concludes, "if Republican voters can't be convinced that democratic elections will continue to offer them a viable path to victory, that they can thrive within a diversifying nation, and that even in defeat their basic rights will be protected, then Trumpism will extend long after Trump leaves office—and our democracy will suffer for it."
PRRI Survey Featured on Late Night TV
During a recent episode of Full Frontal with Samantha Bee, PRRI data was used to illustrate a point about televangelist and White House adviser, Paula White. Bee showed a screengrab from the 2019 American Values Survey that virtually all Republican white evangelical Protestants (99%) oppose Trump being impeached and removed from office. "According to a new poll, one group remains unwavering in their support of Donald Trump; white evangelical Christians. It may seem surprising considering that he treats the Ten Commandments less like a rule from God and more like a sexy to-do list," Bee jokes. Paula White is considered to be President Trump's personal pastor, and a spiritual adviser for the White House. White was recently appointed as a special adviser for the Faith and Opportunity Initiative at the Office of Public Liaison. Following her appointment, White sent an email to followers, asking for $229 in exchange for instructions on how to defeat their enemies. 
New Study Looks at If College is Worth the Return on Investment
A new study from Georgetown University's Center on Education and the Workforce aims to help college applicants by looking at the return on investment for 4,500 colleges across the country. Among the top 10 colleges with the best long-term net economic gain are Harvard University, Massachusetts Institute of Technology, and Stanford University. Lesser-known colleges also made the top 10 list, including two maritime academies (Maine Maritime Academy and United States Merchant Marine Academy) and three pharmacy schools. Anthony P. Carnevale, director of the Georgetown University Center, said this drive for greater accountability and transparency from colleges has been gaining momentum due to the increase in college enrollment that began in the 1980s and the ever-rising costs of higher education. One of the study's main findings was that even after paying off higher amounts of debt, the average graduate of a private, four-year college has a net economic gain of $838,000 over 40 years, compared with a net economic gain of $756,000 for a public college graduate. PRRI data has shown that residents in two states are divided over whether college is a smart investment or a risky gamble. In PRRI's 2019 Nebraska Pluralism Survey, 42% of Nebraskans say a college education is a smart investment in the future, while 49% say it is a gamble that may not pay off. In PRRI's 2018 California Workers Survey, a majority (62%) of Californians say college is a smart investment, compared to 37% who say it is a risky gamble. However, young Californians (18-29) are less likely than seniors (65 and older) to believe that college is a worthwhile investment (51% vs. 66%).
PRRI Board Member Looks at Medicare for All
In a new analysis of the 2018 midterm results, PRRI Board Member and Emory University political science professor Alan Abramowitz looks at the implications for Democrats who have supported "Medicare for All," which seeks to eliminate private health care completely. Abramowitz looked at places where President Donald Trump won in 2016 by less than 10 points that were either open or had a Republican incumbent. He found that in the 60 closest House elections, Democrats who supported Medicare for All did worse than those who did not. According to his analysis, just 42% of Democrats who publicly supported this policy won in 2018, while 72% of Democrats who did not publicly support it won. Although House races and elections, in general, are hardly ever decided on a single issue, Abramowitz found similar results when he controlled for all other variables. This study, according to Chris Cillizza and Lauren Dezenski, raises important questions about the future of Medicare for All in a party where candidates like Elizabeth Warren and Bernie Sanders are advocating for a policy that the majority of Democrats don't support. PRRI data from 2019 shows that Democrats are most likely to regard health care as a critical issue (77%), compared to 64% of independents and 48% of Republicans.