"Anonymous" Author Publishes Scathing Review of President Trump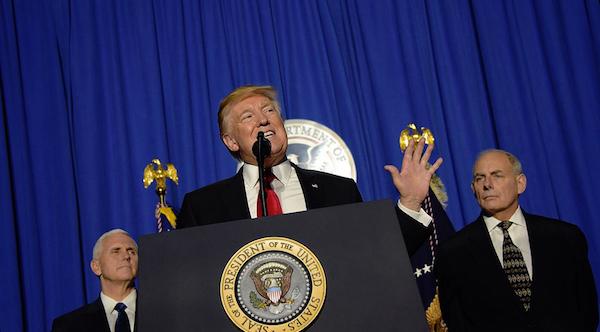 "Anonymous" Author Publishes Scathing Review of President Trump
The Washington Post has received an advance copy of "A Warning," a new book purported to be by a senior official in the Trump administration. The anonymous author made headlines in 2018 after writing a scathing op-ed in The New York Times about Trump's character. The book includes much of the same scathing analysis of the president, his motivations, and his actions. "I have decided to publish this anonymously because this debate is not about me," the author writes in the book. "It is about us. It is about how we want the presidency to reflect our country, and that is where the discussion should center. Some will call this 'cowardice.' My feelings are not hurt by the accusation. Nor am I unprepared to attach my name to criticism of President Trump. I may do so, in due course." The Justice Department has warned the book's publisher that its contents may be in violation of a nondisclosure agreement. The Post cautions that much of the book's contents should be taken with a grain of salt, as they are not backed up with evidence. PRRI data shows that nearly three in four (73%) Americans say they wish Trump's speech and behavior were more consistent with past presidents, but opinion is polarized. Less than half (46%) of Republicans say they wish Trump's behavior was more consistent with past presidents, compared to 74% of independents and 88% of Democrats who say the same.
GLAAD Report Shows Increase in LGBTQ Roles on TV
For the first time since GLAAD began tracking the LGBTQ presence on television, LGBTQ female characters outnumber LGBTQ male characters. According to the organization, LGBTQ characters make up a little over 10% of overall representation on television. "This increase is exciting to see, given that LGBTQ women have been historically underrepresented in media," GLAAD says. The Hollywood Reporter notes that lesbian representation on TV has spiked in the last year, while bisexual representation has dropped. The number of transgender characters on TV increased by half a percentage point this year, to now represent 5.8%, or seven characters. In a statement accompanying the release, Sarah Kate Ellis, president and CEO of GLAAD, cites PRRI data which shows that just 11% of Americans say they have a close friend or family member who is transgender. This means that for most Americans, what they know about transgender individuals comes from media. 
ABC News: House Readies Multiple Articles of Impeachment
According to ABC News, Democrats are discussing multiple articles of impeachment against President Trump. "Democrats have floated the possibility of charging Trump with abuse of power for efforts to pressure the Ukrainian government to investigate former Vice President Joe Biden's family and the 2016 election, as well as obstruction of Congress for the administration's refusal to comply with subpoenas for records and witness testimony," reports ABC. Public hearings regarding impeachment are reportedly set to begin next week.Recent PRRI data shows that for the first time ever, a majority of Americans support impeaching Trump. More than half (51%) of Americans currently support impeachment. Prior to the announcement of an impeachment inquiry, 99% of white evangelical Protestants did not support impeachment, along with 98% of Fox News viewers. Though Trump's base may firmly disagree with impeachment proceedings, there is a recent increase in support for impeachment among several subgroups. Nearly four in ten (37%) non-college-educated whites support impeaching Trump and removing him from office, up from 31% in mid-September. This change is driven by non-college-educated white women, 40% of whom favor impeachment, up from 29% in mid-September. Non-college-educated white men have not moved substantially from 32% in mid-September to 35% in mid-October.
Braunstein: What Would Jesus Cut?
In a recent piece for The Immanent Fame, PRRI Public Fellow Ruth Braunstein examines the Poor People's Campaign "Poor People's Moral Budget." According to Braunstein, the group "highlights the intrinsically moral nature of the process through which a nation decides how to spend its money; and demonstrates what it would look like for the federal budget to express the movement's moral values." Braunstein looks at problems facing morality in the United States, and how a group of religious leaders have attempted to bring morality back into the public lexicon. According to Braunstein, when the group visits lawmakers in Washington to help them examine the morality behind their budget decision, they will come with a simple question; what would Jesus cut?