An America Where Abortion is Illegal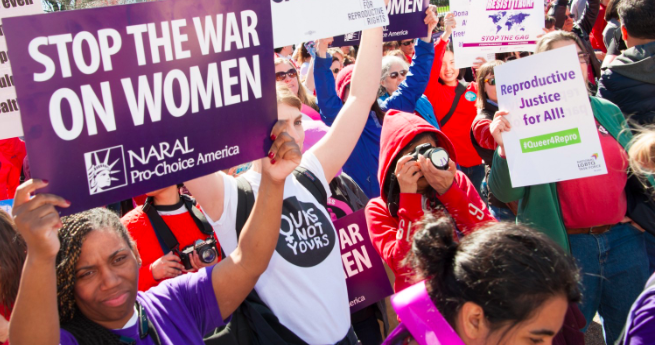 An America Where Abortion is Illegal
In a new edition for The New York Times' Op-Eds From the Future series, writer Lucy Ferriss fictionalizes the United States in 2040, where abortion is illegal in every state, save for New York and Hawaii. In Ferriss' piece, some of the key elements that reach that illegality are set in motion in the not-so-distant future. According to Ferriss' piece of fiction, 14 states outlawed abortion in 2022 after Planned Parenthood loses a court case that overturns Roe v. Wade. "Seven states — Alabama, Georgia, Kansas, Louisiana, Mississippi, Missouri and Ohio — began prosecuting women who traveled out of state for the service. As a result, thousands of desperate women left their homes, jobs and communities to move to an adjacent state, terminate their pregnancies and remain there, free from prosecution. Without employment or their usual networks of support, some of these women needed social services, a burden that these days falls almost entirely on the state," Ferriss writes. In this imagined world, the two states that do offer abortions mandate a 6 month residency before a woman is eligible to have one. PRRI data shows that 38% of Americans believe it is at least somewhat likely that abortion becomes illegal in their lifetime. Women are more likely (43%) than men (34%) to say this will occur. 
Transgender Workers Discuss Workplace Discrimination
NBC News published a series of interviews on Sunday that details how some transgender workers have been mistreated by colleagues and employers across the United States. In Texas, 41-year-old Aveda Adara says she quit her job at a prominent health care company due to constant discrimination. Despite 64% of Texans supporting LGBT nondiscrimination protections, Adara says she was constantly misgendered and faced issues at work. "I live in Texas, and there are no laws in Texas that protect people like me," she told NBC News. "I can be fired for being who I am." The U.S Supreme Court will begin hearing oral arguments today on the issue of LGBT nondiscrimination protections. While 20 states, Washington, D.C., and numerous other cities have put protections in place to shield LGBT workers from discrimination, there is nothing on the books at the federal level. PRRI data shows that nearly seven in ten Americans (69%) support LGBT nondiscrimination protections. 
'SNL' Skit Depicts Racial Stereotypes in the News
A recent Saturday Night Live skit is the subject of a piece in The Atlantic about race and media coverage. Shirley Li recaps the skit, which features two black and two white newscasters reading through different news reports and predicting the race of each suspect. "When the perpetrator of a gas-station robbery turned out to be white, the black anchors cheered. 'We're just glad we know what the criminal looks like, and he ain't one of us,' Thompson's character explained to his baffled colleague. The newscast then swiftly turned into a ferocious competition: With every crime, the foursome anticipated the race of the culprit. And with every reveal, the group found their expectations subverted," Li writes. Saturday Night Live dealt with a similar topic in the 2016 skit, "Black Jeopardy."In a 2017 poll of young people ages 15-24, young people showed division over the difficulty of having open and honest conversations about race with people of a different racial or ethnic background. Nearly half say such conversations are very (12%) or somewhat (36%) difficult, while a slim majority say it is not too (36%) or not at all (16%) difficult.
Robertson: Trump is Losing the "Mandate of Heaven"
Televangelist Pat Robertson, a man who has found himself at the root of many controversies, recently criticized President Donald Trump's foreign policy. The Trump Administration on Sunday announced that they would withdraw troops from Syria, in advance of a Turkish battle against U.S.-supported Kurdish rebels. According to Robertson, this—along with Trump's reaction to the death of journalist Jamal Khashoggi—was too far over the line. "I believe and I want to say this with great salinity, the president of the United States is losing the mandate of Heaven if he permits this to happen," Robertson told his followers. Fox News host Mike Huckabee, a fellow Trump supporter and former Baptist pastor, added on Twitter that it was a "HUGE mistake to abandon the Kurds." PRRI data has shown high support for President Trump among evangelical leaders throughout his presidency. In 2018, 61% of evangelicals believed the country was headed in the right direction under President Trump.